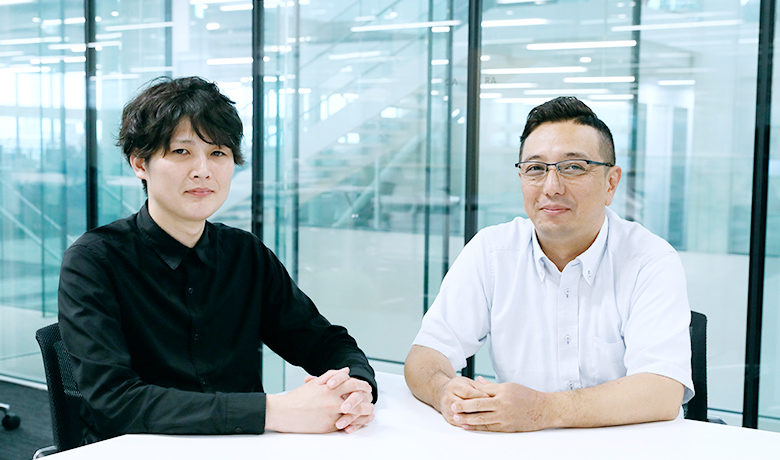 Designing products that are ahead of the times
Yuuichi Murai, DAIKIN design (Murai):
Our Advanced Design Group has about 20 members. Each of them serves as a designer for a specific product group such as residential air conditioners and air purifiers. The two of us, however, work independently without an assigned product and are tasked with designing something that does not yet exist, namely products that are ahead of the times.
DAIKIN design (Nakagawa):
Basically, we are always creating new things that can use the technologies of the TIC, which is short for the Technology and Innovation Center, Daikin's technology R&D center. The development team at the TIC develops new technologies every day and tells us about it, "Here's a technology you might be interested in." We take that technology, add our own ideas, and give it form.
Murai:
For example, members of the development team asked us if the air cannon technology that carries a mass of air can be applied to product development. From that we have this product that Nakagawa designed: an aroma diffuser. The product not only emits a puff of scented air but also detects human motion and sends it in the direction of people.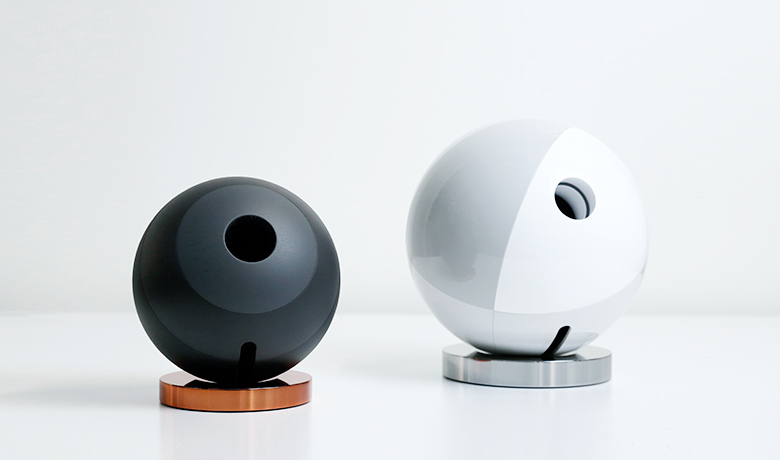 Nakagawa:
At first, the development team came to us and asked, "Can you design something combining air cannon technology and aromatherapy?" We added a feature to track human movement and proposed a design incorporating realistic situations. The development team accepted our proposal, and we worked together in close communication to materialize the idea.
Murai:
Not only that, we also proposed numerous other applications of the air cannon technology for various situations, such as an alarm clock that wakes people up with air and a baby bouncer that gently helps a baby fall asleep.
New ideas emerge from daily life
Murai:
I constantly think about what I wish I had in my daily life. So, I refrain from proposing eccentric, unrealistic ideas (laughs). I always try to be neutral and modestly think of places in which everyone can identify since there are still many unexpected and unexpressed things that remain in our daily lives.
Nakagawa:
A small change in lifestyle can further enrich our lives, and we have the ideas to create change. I'm always thinking of what combination of technologies will make that change happen. For example, when half-indoor, half-outdoor spaces for drinking and relaxing like terraces became popular, I noticed that these places did not have air conditioners. In considering the many possibilities of air conditioners suitable for such places, I suddenly realized that small-sized compressors might be used for that. That's how we developed this portable air conditioner.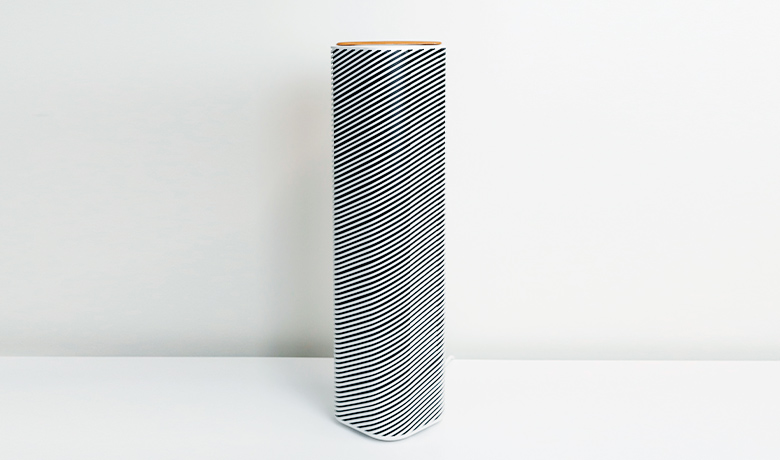 Nakagawa:
It may be absurd to think of this for ordinary monozukuri (manufacturing). It is not completely impossible, but requires a considerable level of difficulty. We adopted this diagonal pattern as a departure from typical home appliances for a design that blends into the environment where it is used. Still, in proposing this bizarre design, we risked incurring the wrath of the development team.
Murai:
The diagonal design is unusual in normal product development because the dies are too complicated. (laughs).
Nakagawa:
However, good design attracts people in the technology and engineering design teams and makes them say, "That's great! How do we make it!" In contrast, mediocre designs are outweighed by costs. That's the point we must overcome.
Murai:
I think the important thing is having the members of the development team and even the sales team like the design at a first glance. Great design creates a chance to motivate them and accelerate technology advancement. Our team should place a particular importance on such things.
Experiences and motivation create future products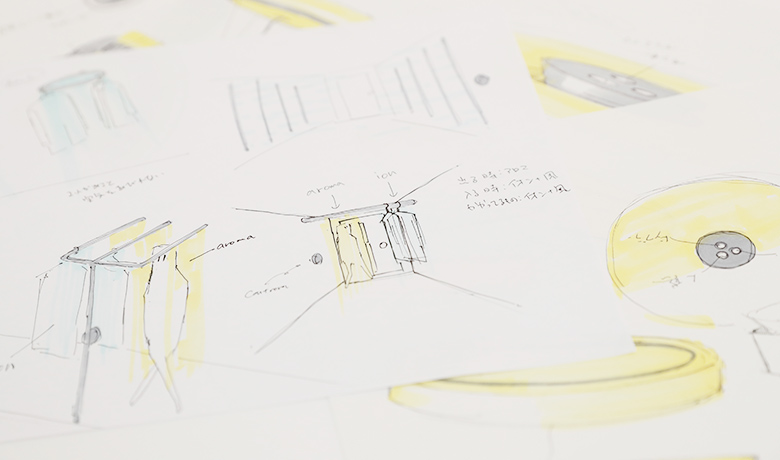 Murai:
What we are working on now is turning written concepts into design illustrations so that people from different divisions and departments can imagine and share them. We have countless ideas, such as air conditioners for baby strollers and new types of remote controllers. While most of our designs are created upon request, we sometimes propose designs that nobody asks us to create. Our focus is on energizing members and their activities with these illustrations. That's why we create many illustrations and make many proposals, though it is not easy.
We want to create designs that go beyond the level of conventional air conditioning manufacturers and broaden the experience so that people feel Daikin at the moment they encounter the designs.
Nakagawa:
Showing our vision of a desired future through design is important to motivate our members to keep a discussion going. If they like the design, we can go forward together in the same direction. I think our job is to continuously create a vision of a desired future that resonates with all members.
Discovery from experiences as an exhibitor
Murai:
Daikin will participate for the first time in the exhibition CEATEC, which will be held in October 2018. At the exhibition, we will relate air conditioning with IoT to propose spatial value we can create, instead of just the value of air conditioners. The role of our design group is to encompass many different thoughts and ideas of members involved in the exhibition.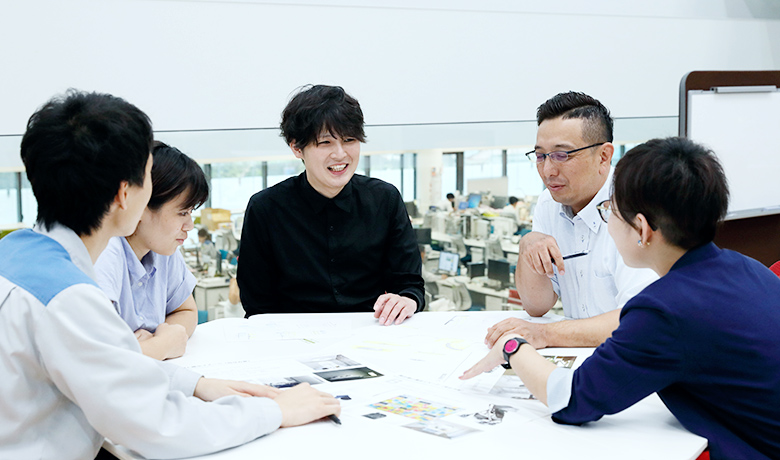 Nakagawa:
I hope our design acts as a means to demonstrate our resolve to create unconventional, higher levels of home appliances. As well as motivating our members engaged in monozukuri, our critical missions also include externally presenting what we aim to create as the Daikin brand at the CEATEC and in other situations.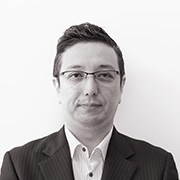 Yuuichi Murai
User Experience Designer / Technology and Innovation Center / Daikin Industries, Ltd.
Since joining Daikin Industries, Ltd., Mr. Murai has been involved in a wide range of business areas, from product planning to overseas marketing, product design, and space design. He won the Good Design Award in 2003, 2004, and 2006. He is an avid collector of information on things embodying new design challenges as well as their expressions, and is working on the development of user experience that allows people to "feel" the design along with visualizing the air.