The generation of digital natives—people born around 1990—is on the rise in today's society. Daichi Yamaguchi is one of the people who belong to this generation. At Takenaka Corporation, he designs architectural perspectives by using the new "architectural visualization" method to visualize stories behind architecture. Interested in the airflow visualization project "Visualization of Air Conditioner" carried out by Daikin in collaboration with the Faculty of Environment and Information Studies of Keio University, he came to the TIC and shared his thoughts on future designs and notions of a designer's work with Daikin product designers Mana Yamashita and Takaaki Sanagi, who are also of his generation.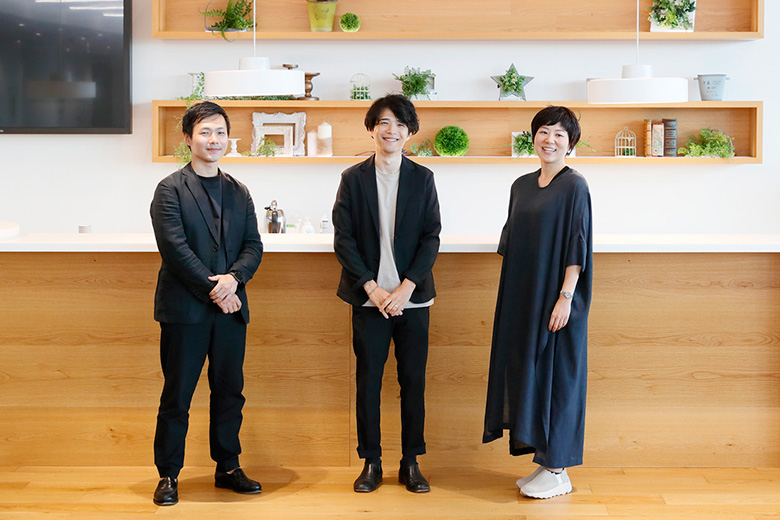 Having regular conversations is important
Sanagi:
I've been looking forward to seeing you today. Thank you for coming.
Yamaguchi:
It's my pleasure. I've been looking forward to seeing you today, too. I'm very interested in how creative professionals in my generation think and feel.
Yamashita:
You are working as an architectural visualizer. Could you tell us the difference between "architectural visualization" and so-called "architectural perspectives"?
Yamaguchi:
An architectural perspective is a three-dimensional image converted from a two-dimensional drawing, and it is made to visualize client needs and communicate with them. You may have seen an architectural perspective with the sun and blue sky behind an architectural structure. However, the sun and blue sky are not always the best elements that effectively showcase architecture. Architectural visualization is a technique to more strongly appeal to the hearts of clients. For this purpose, I sometimes even create computer graphics and videos by myself.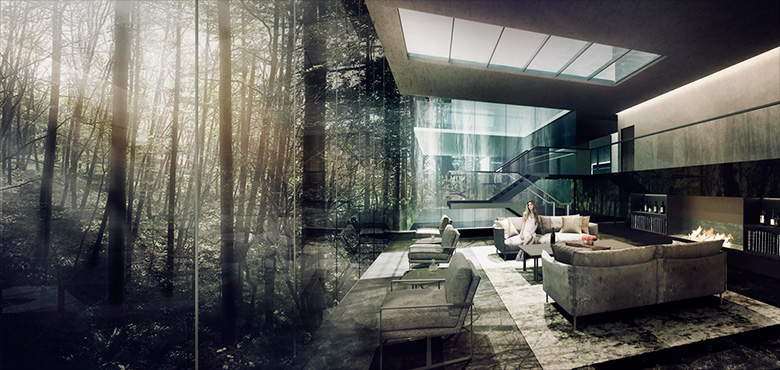 Yamashita:
To expand into a new field, you must have needed to change conventional work practices in the company. Is there anything that you keep in mind at work?
Yamaguchi:
I always try to have regular conversations with the people I work with. You should never use lack of time as an excuse to neglect communicating with colleagues. By doing so, I've started to connect with people like me who aim to create something great.
Designers inevitably tend to be at the forefront of architecture. In reality, however, management, inspection, and other types of professionals engage in architecture. It is not about one meister giving instructions to workers. It is about creating things together. This is why conversation is so important.
Sanagi:
Basically, the same is true for product design. A culture of talking about products with professionals from different fields is not created overnight. Regularly having conversations is imperative.
Growing opportunities for creating new things
Yamaguchi:
My impression of Daikin products is that Daikin is generating many new ideas without being constrained by conventional thinking of air conditioners.
Sanagi:
That's right. The TIC has an especially large number of members who are eager to create new things.
Yamashita:
We also have an internal contest to seek ideas for creative products. New products have been produced through this contest.
Yamaguchi:
Such internal contests often fail to end in commercialization. I'm impressed by Daikin's ability to turn these ideas into actual products.
Yamashita:
The product cycle is particularly short these days. The fast-paced approach to releasing and testing products in the marketplace helps drive commercialization of proposed ideas. This gives opportunities to young designers and helps motivate them.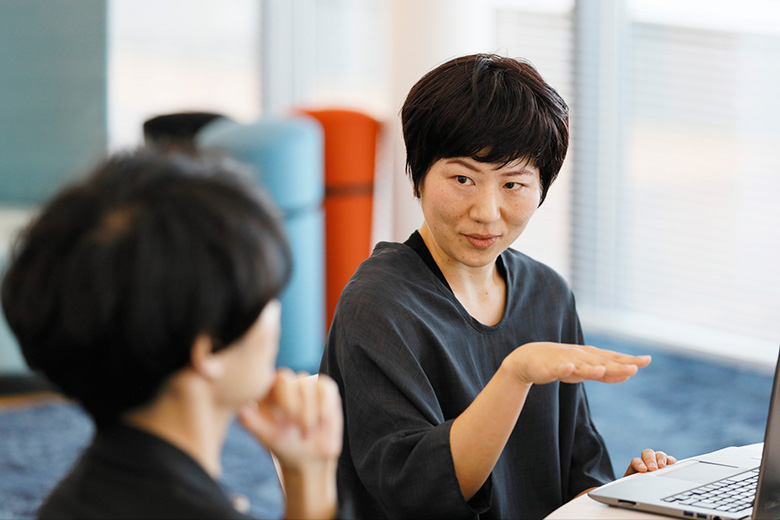 Expanding work field of designers
Yamaguchi:
Is there anything else that you think has changed in design work?
Sanagi:
For example, product designers go to photography locations when making magazine advertisements and think together about how to display a product. The product design field is expanding into the examination of the way to convey our thoughts on products to clients.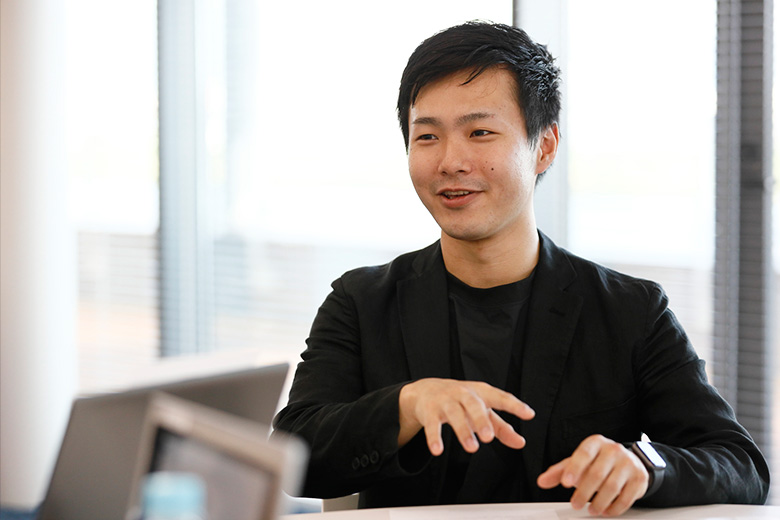 Yamaguchi:
You also perform art direction.
Yamashita:
I convey my view to experts who actually produce the magazine design. I want us to do more than just product design to externally share our ideas. So, we actively communicate with people outside our department and company.
Yamaguchi:
I agree. Some professional design engineers are not very good at conveying stories behind products or sharing mental images.
Sanagi:
How long do you work on a project when you visualize stories behind architecture?
Yamaguchi:
It takes a month at the longest and two weeks at the shortest.
Yamashita and Sanagi:
It's quite short.
Yamaguchi:
Yes. This is why I have to utilize communication skills to quickly figure out what clients want to do in a certain space and understand their personalities and auras. Speed matters.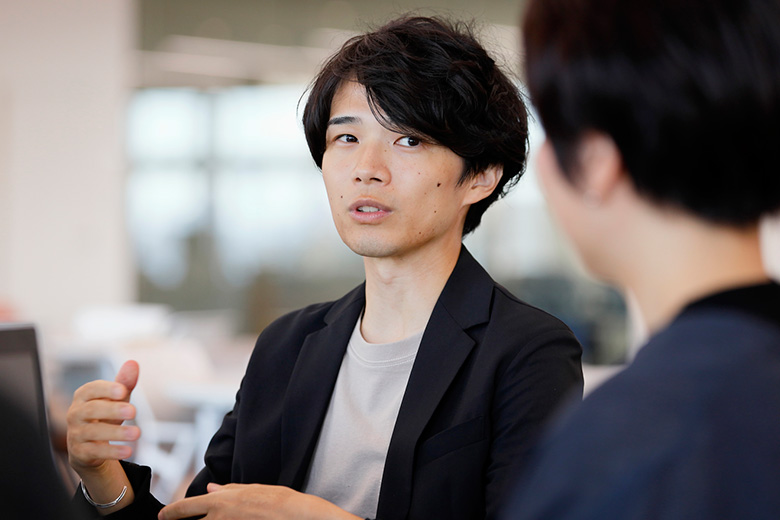 Sanagi:
When do you feel successful at work?
Yamaguchi:
I feel delighted when my clients and architectural members are excited to see the visual images I have created to express the stories behind architecture based on what I heard from them. I consider myself an "excitement builder."
Yamashita:
I can relate to that. As a product designer, I also feel that the way of displaying a product affects the degree of excitement. Members who were inspired by our design sometimes give us a new offer. The work in the design field is growing into a job that connects to people.
(Continued to Part 2)