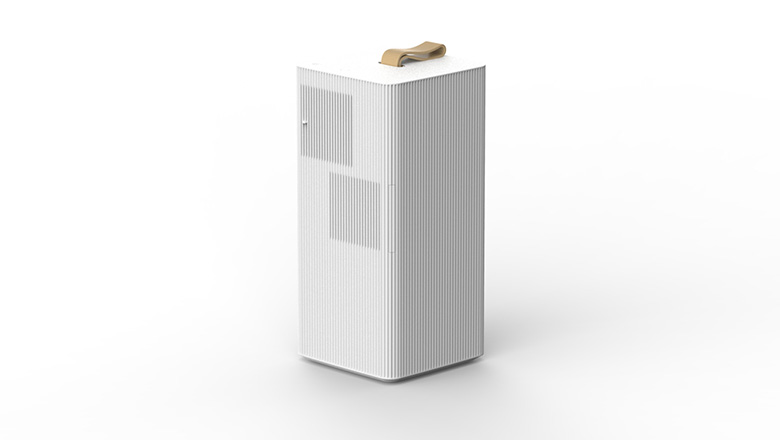 DAIKIN LAUNCH X is an innovation platform that directly connects to customers to identify potential needs and create new value of air. This platform led to development of the portable air conditioner "Carrime," which Daikin created in cooperation with customers as a new product to enrich people's lives.
What is DAIKIN LAUNCH X?
To propose new value of air, we at Daikin generate a variety of ideas every day that extend beyond room air conditioners. However, because most of these ideas are new to the world, there is uncertainty as to whether these ideas will actually improve people's lives as intended.
For this reason, we thought it important to ask customers what they truly needed before turning ideas into products. In the past, we received customer feedback after product release but realized this was unsuitable for proposing new value of air, so we developed DAIKIN LAUNCH X. DAIKIN LAUNCH X works as an innovation platform where Daikin announces a new product concept and directly communicates with customers to incorporate the voice of the customer into product development.

On the website, DAIKIN LAUNCH X presents features of products under development. A voting system allows customers to assess products just by clicking a button so that we can see the level of customer anticipation for a product. The function of "anticipation comments" also enables us to directly obtain customer reactions, such as "I prefer a design like this" and "I want this kind of function." We also offer forums to incorporate customer feedback into product development, such as inviting fans of Daikin to give advice to members of the Daikin development and planning teams.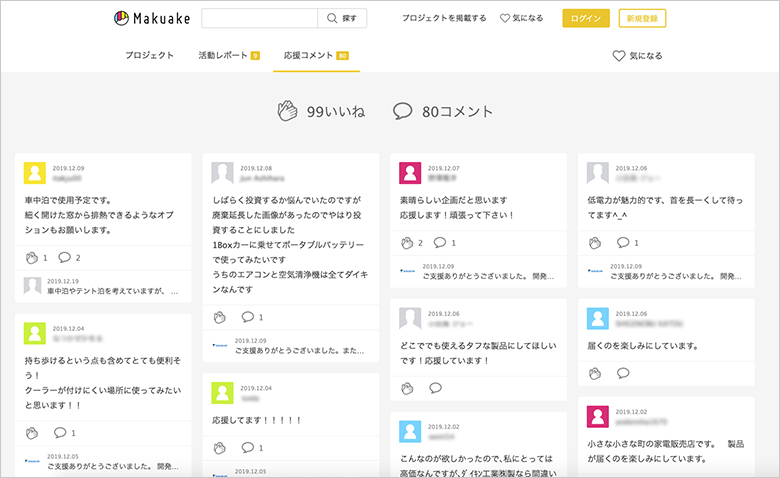 * First time use of a crowdfunding site (Makuake) by Daikin in development of "Carrime"
Capturing customer needs
Before being selected for commercialization, the portable air conditioner "Carrime" was one of the products created utilizing DAIKN LAUNCH X.
The development of "Carrime" originated from a desire by customers to spend a relaxing, comfortable time in their favorite spaces such as dens, sunrooms, and skip floors. Although Daikin has a product lineup, including air conditioners for small spaces, to meet such needs, these products require installation work that creates a high barrier to purchase. Aiming to create air conditioners for small spaces that anyone could use easily, we started developing Daikin's first portable air conditioner.
Based on the development concept of a "portable air conditioner," we examined specifications and quickly created a prototype. Because it was equipped with all the functions we considered necessary for operation, the first prototype weighed 10 kg and was much larger than it is now. When we presented this prototype at an exhibition, customers liked the concept and functionality of the product but said it was too heavy to carry.
Project members met again and envisioned what value customers would want from "Carrime." In this fashion, we decided to pursue the true value of the product: "lightweight and portable."
Specifications and design were modified, and batteries, the heaviest parts of the product, were removed to significantly reduce the weight. In the initial conceptual phase, batteries were believed essential to portable equipment since they would enable customers to conveniently use the equipment anywhere with no concern for a power supply. However, in our communications with customers, we realized that a lightweight and portable unit was the essential value that they sought the most.
Instead of mounting all the possible functions, we focused on providing what customers truly wanted. Having DAIKIN LAUNCH X enabled us to make bold decisions for changes to the "Carrime" specifications.
The improved version of "Carrime" weighs only 6 kg but functions perfectly as a small air conditioner. It has almost the same weight as a kitchen pot filled with food so that anyone can easily carry around.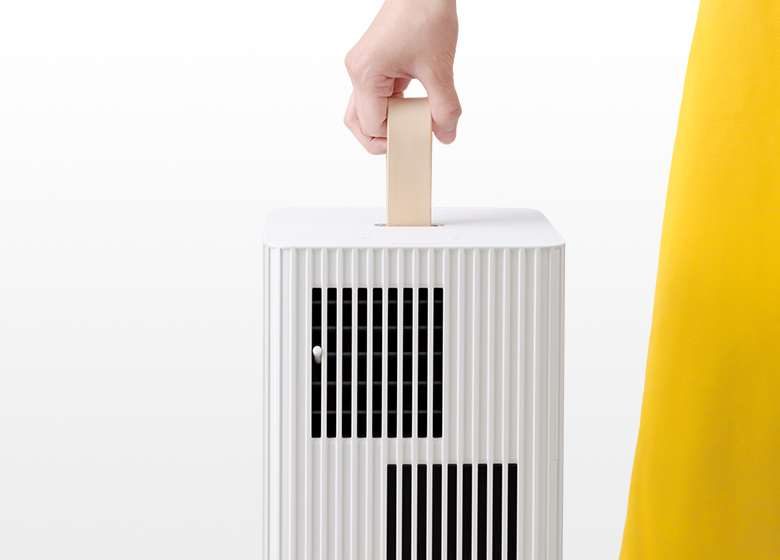 In product styling, we reflected on the various locations of use and created a design unlike any previous Daikin product. After identifying the various environments where its portability might be fully utilized, we created a simple design akin to a tool having only the minimum essential functions.
The pursuit of simplicity while enhancing the sensation of quality made us pay attention to every detail behind the simple appearance including the bonding surfaces of partition lines between parts. This approach resulted in creating an uncharacteristic Daikin design and helps increase product appeal.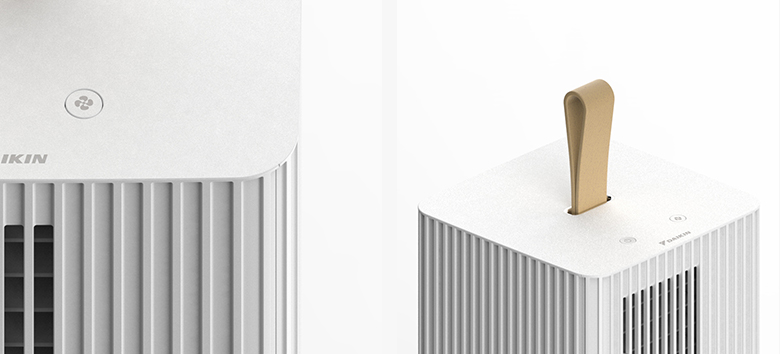 Sensation of quality enhanced with bonding surfaces set at 45° angles and a leather material handle
Creating opportunities by trying new things
For Daikin, this was our first attempt in the operation of DAIKIN LAUNCH X. Designing new, unconventional products provides a great opportunity to me as well.
While the conventional development process of air conditioners enables us to quickly provide customers with products and services based on the technologies we have developed so far, there has been no opening to incorporate new elements. In contrast, "Carrime" is a new type of product that provided us with numerous first-time experiences in both the development and design processes. Conversely, the strong enthusiasm of development team members to try new things served as a driving force to create the product.
Communicating directly with customers also provided us with an opportunity to try new development processes and design methods that we are not usually able to adopt. I believe this initiative will positively affect development of typical projects in the future.
Creating new momentum with customers
"Carrime" was originally intended to be a portable version of room air conditioners for use in small rooms such as dens, sunrooms, and skip floors. However, we discovered that many customers wanted to use it not only indoors but also outdoors and on terraces. Customer imagination for portable air conditioners led us to create from various perspectives. We were able to release "Carrime" because we were able to incorporate an array of comments into product development while enjoying the process of design.