Daikin opened Daikin Open Innovation Lab Silicon Valley (DSV) in May 2017 as a satellite office of the Technology and Innovation Center (TIC), located in Japan. In the course of the project, an interactive website was needed to not only provide information but also to convey Daikin's vision and build a communication hub that brings many people together.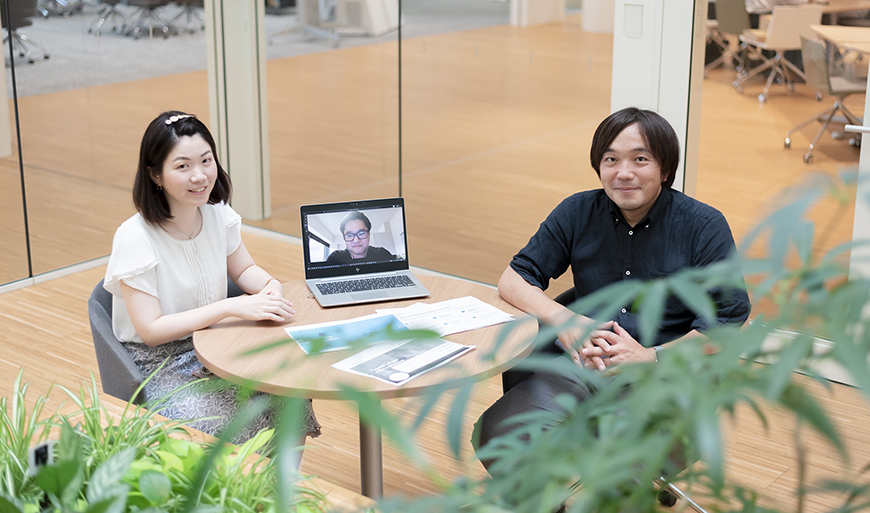 From left to right: Haruka Kinoshita (a member dispatched from the TIC to DSV for public relations activities, including the website project.)
Kevin Ninomiya (a DSV member involved in public relations planning and coordination with the innovation pipeline)
Junichi Ikeda (a TIC member participating in the project as a designer)
― What made you open the website?
Kinoshita:
Although Daikin initially had a small team performing activities in Silicon Valley from 2014, a decision was made to significantly broaden its function with the establishment of the Open Innovation Lab Silicon Valley (DSV) in the autumn of 2018. To attract excellent human resources and improve our presence in Silicon Valley, we developed a new medium for conveying information that would enable two-way communication. Since it would be in English, we created the DSV website with the understanding that it would also serve as the Open Innovation Gateway for collaborative innovation throughout the global Daikin Group.
Ikeda:
When I joined the project in 2016, Daikin was little known in Silicon Valley. I remember the general manager giving a bitter laugh and saying, "When I show my business card, people mispronounce Daikin as 'Deikin.'" Silicon Valley in California, which is known as the world's leading technology hub, enjoys a mild climate with little rainfall and allows people to wear short-sleeve shirts throughout the year. In such a place, there is little awareness or understanding about air conditioning. That is why we produced a presentation video for DSV in 2017 and developed the website in 2019.
Kevin:
As suggested by its name which includes the words "Open Innovation," DSV represents Daikin's commitment to collaborative innovation with external parties. From a business perspective, KPIs are obviously important. To achieve KPI targets and continuously grow, we need to increase the number of collaborative innovation projects and find collaboration themes of even better quality. Creating a website is a must for doing business in the U.S., particularly in Silicon Valley, which is home to many startups and IoT companies. Not only offline communication, we also needed an online platform to connect with many people and attract talent.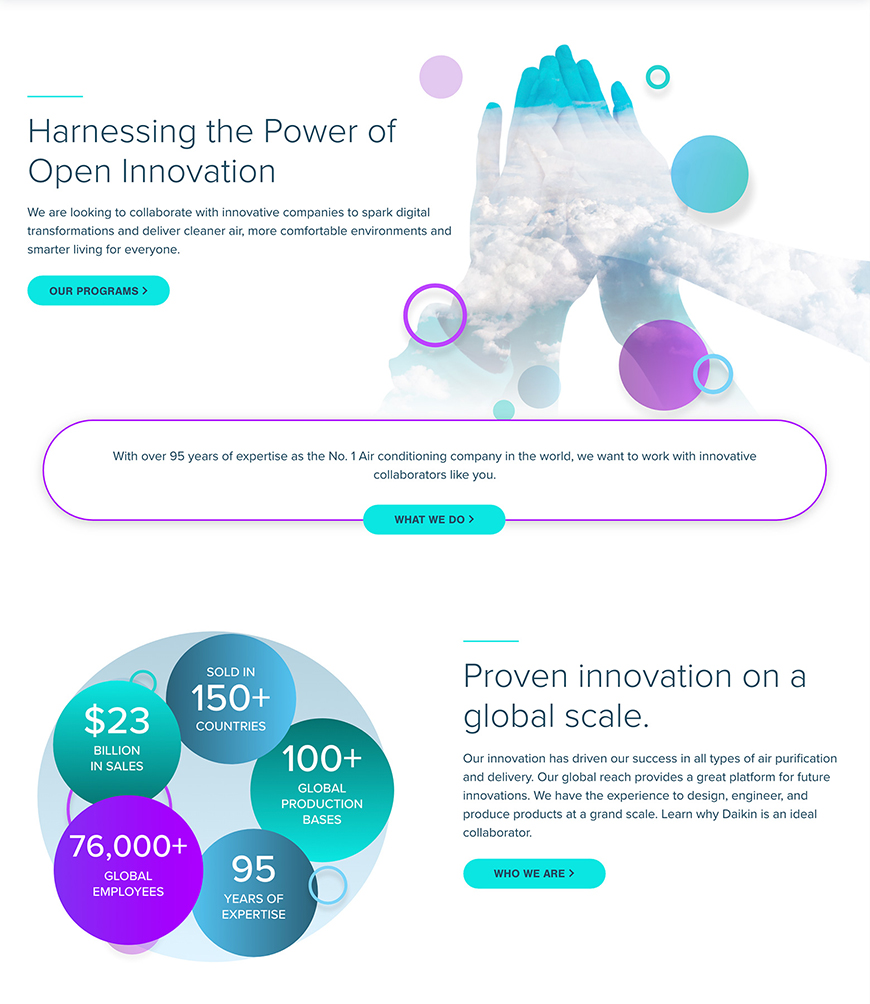 ― What did you value when creating the website content?
Kinoshita:
What was particularly important was showing actual collaboration examples and the specific needs of Daikin to attract attention from startups. We thoroughly discussed what type of content was necessary, not only to raise the awareness of Daikin, but also to make startups want to collaborate with Daikin and contact it. Before creating specific content, we also spent much time discussing Daikin's vision and mission in order to clearly state them.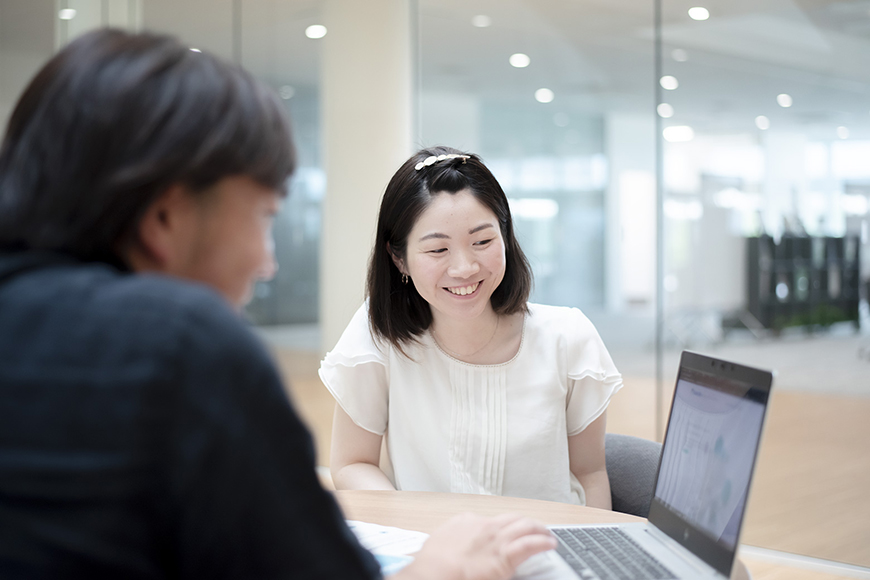 Ikeda:
While the number of pageviews is a general indicator of website performance, the aim of DSV activities is to create new value in collaboration with excellent human resources, technology, and partners in Silicon Valley. Merely posting interesting content to increase pageviews is meaningless. What's important for us is to express what dreams (visions) we envision, what missions we pursue, and what value we aim to create, along with how these activities can address social issues. We thought doing this would allow us to connect with the people who shared our thoughts.
Kevin:
To that end, the focus was placed on copywriting. Our message had to "strike a chord" with startups and potential colleagues. However, we faced the challenge of a language barrier. Most of the website visitors are Americans. In the United States, regional characteristics vary greatly according to state and within a state. Although we frequently had discussions to bridge the gaps in perception, having a shared understanding proved more challenging than expected. Despite this, our discussions eventually resulted in creation of an outstanding website that we all can feel proud of.
― Did you have any special thoughts about UX such as design and interface?
Ikeda:
No matter how important vision and value may be, sites providing information only about themselves are boring. So, we tried to create a UX design that stirs the imagination of visitors toward what it would be like for them to collaborate with Daikin. In Silicon Valley, there are many pitch events where startups make presentations in a few minutes, and investors make investment decisions on the spot. In this exciting, fast-paced world of technology, nobody would look at a text-intensive website to understand Daikin. When developing the website structure, we aimed to convey our vision, mission, and value within a minute as if we were making a pitch to visitors while increasing the understanding of the people who were interested in DSV.
Kinoshita:
We also tried to display a relaxed, casual atmosphere of DSV through design.
Kevin:
A great deal of attention was also paid to color schemes in design. Website visitors are said to spend less than 30 seconds evaluating design. If that is true, the first impression is of utmost importance. For instance, we tried to create an impression of an open, sophisticated company that startups would want to work with and a trendsetting company that future colleagues would want to work for.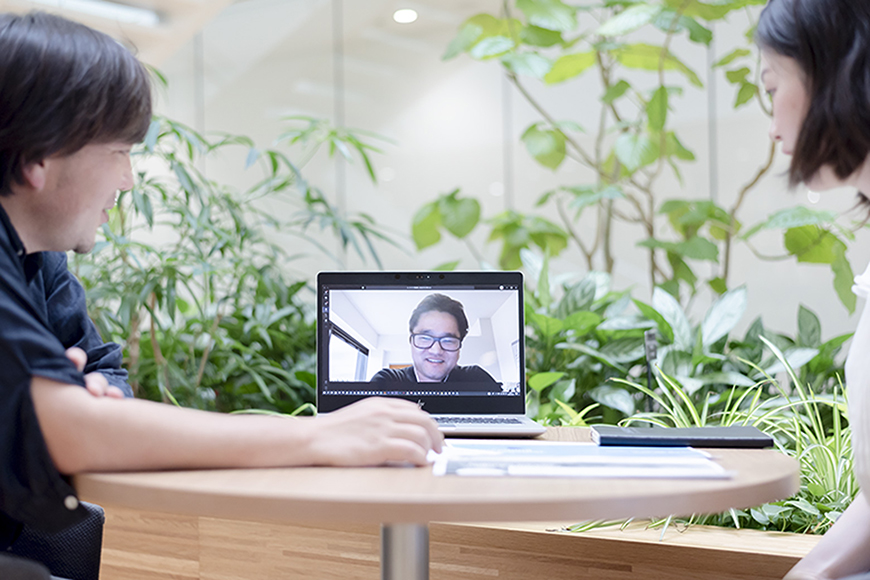 ― Did you have any difficulties in promoting the international project between Japan and the U.S.? If so, how did you overcome these difficulties?
Ikeda:
In this project, we worked with a creative agency based in Los Angeles. Although we had both verbal and visual communication, conveying our ideas was difficult at first, and their proposals were different from what we had expected. However, to convey our thoughts to people in countries other than Japan, focusing on the perceptions of the people living there is more important than insisting upon synchronizing with conventional Japanese values and theories. So, we tried to enjoy the process and utilize viewpoints different from our own.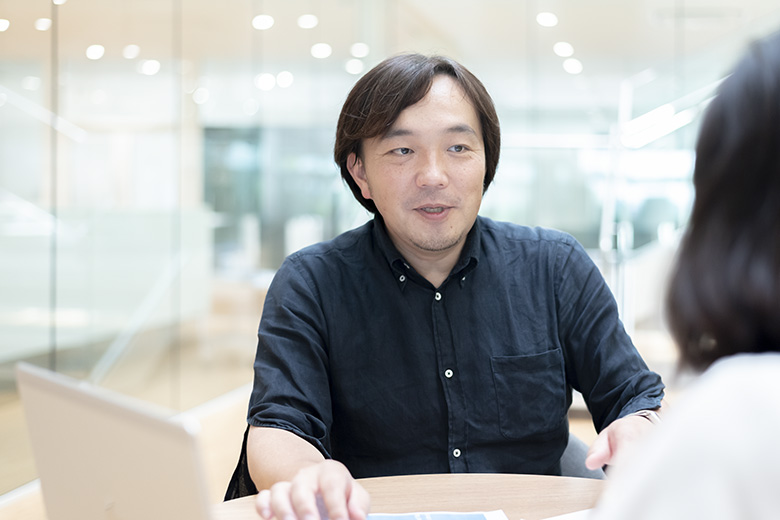 Kevin:
This tendency may be associated with Daikin being a company of engineers. I am also a graduate of engineering, but engineers, for better or worse, tend to place more emphasis on logic. In other words, we are not very good at focusing on emotions. This may be the reason why we initially struggled to accept the opinions from the agency. However, we tried to increase their understanding of our needs and intentions and listened to their opinions for better understanding, which ultimately led to producing great results.
― Could you tell me about what you found or learned from this project?
Ikeda:
Not only providing information and videos through one-way communication, our website also aims to provide interactive communication with partners by linking with social media. Even though different expressions and approaches are used, thinking about what kind of user experience we can offer and how customers will respond to us is akin to product design and interface design. For me, it reaffirms the idea that the designer's role is designing experiences. Although it has just started, I feel excited to see this website and its videos serve as a communication hub that connects us with future partners in Silicon Valley where global companies, advanced technologies, and excellent people gather from around the world.
DSVHP
DSV Linked In