Air Conditioner (Cassette Air Conditioner)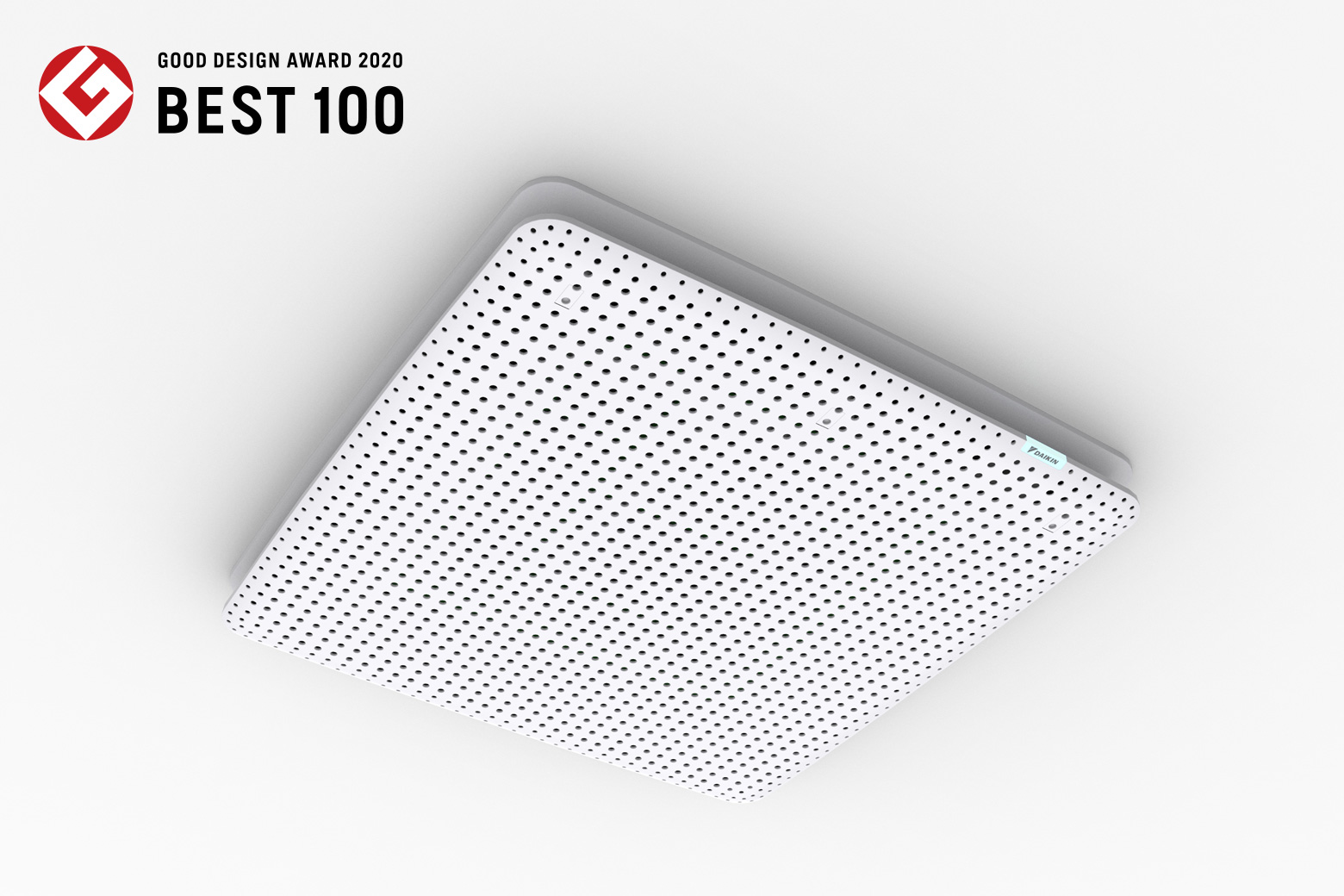 ■Outline
A cassette air conditioner that redefines air experience in Southeast Asia and is designed to provide optimum comfort through 360° all-around uniform cooling
■Jury Conclusions
This product has a variety of innovative design features, including a new technique using the Coandă effect to create airflow that keeps cold air from coming into direct contact with the body and a design that can be installed without any major changes to existing facilities. Unquestionably, the design is a user-driven concept for providing a comfortable cooling experience to a large number of people. While incorporating these elements, the designer has also succeeded in creating a simple, distinctive form. These are the reasons why it has received acclaim for achieving a high overall standard of design.
■Thoughts from the Designer
To meet user needs for various spaces such as cafés and offices, we focused on the essentials in the pursuit of simplicity. By understanding the local context in Southeast Asia, we were able to create a solution with the optimum balance of functionality and aesthetics. We are very pleased that our approach resonates with jury members.
Designer: Nicholas Ee Cao Cin (Daikin Malaysia Sdn. Bhd)
Air Conditioner (CX/C series)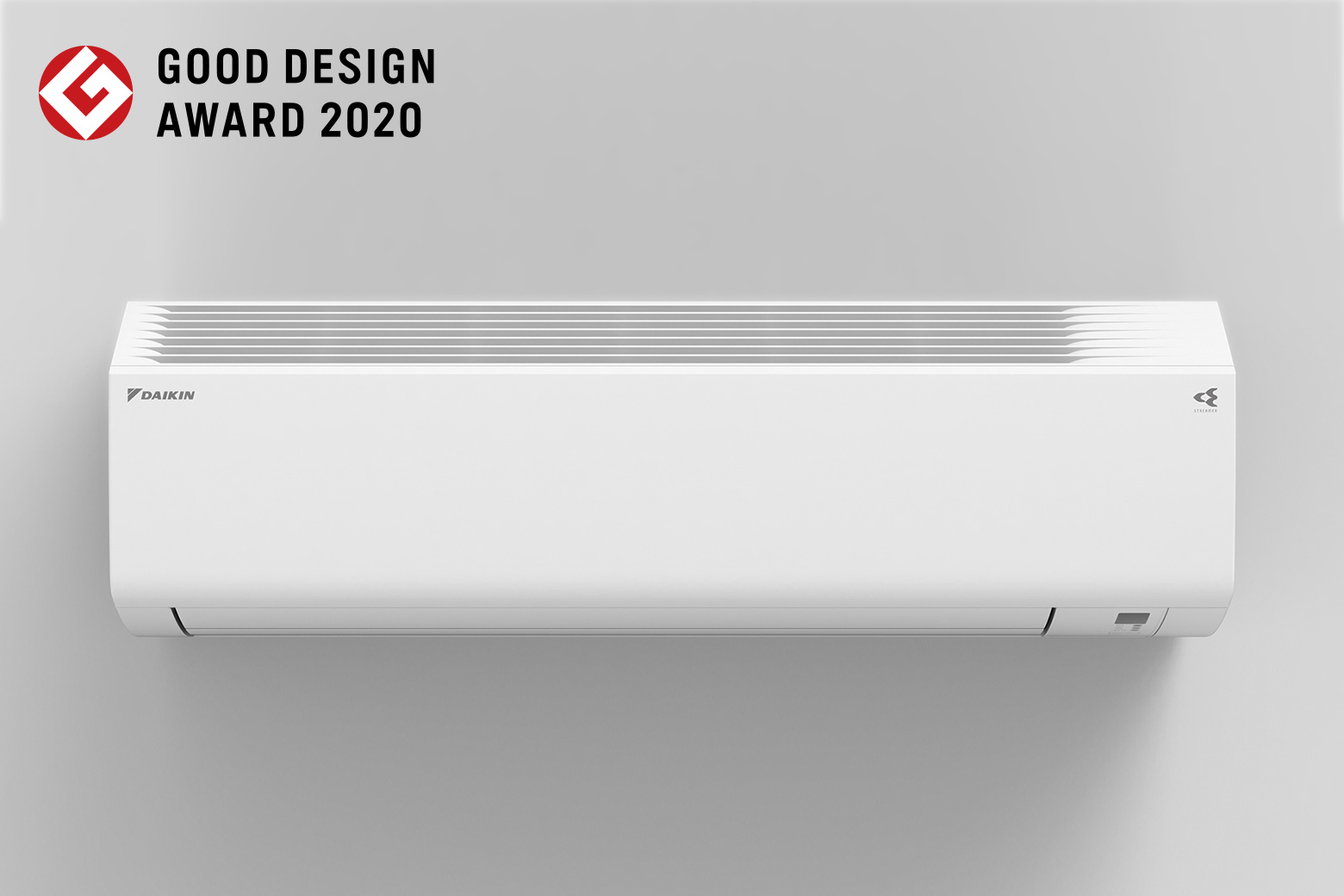 ■Outline
A compact air conditioner that redefines the relationship between the ceiling, wall, and air conditioner based on airflow that provides new options for the installation environment
■Jury Conclusions
The product is praised for its beautiful presence and improved functionality that mitigates limitations on installation space. It excels in a design that was envisioned based on extensive interviews with people at the frontlines and dealers, has flexibility in installation location, and pursues beauty with a minimum of surface obtrusions. While designs of air conditioners seem to have little room for innovation, a beautiful design was created by seeking new possibilities and reconsidering functionality from a perspective of installation space.
■Thoughts from the Designer
Although wide open spaces with large doors and windows have been increasing in recent years, installing air conditioners has become increasing more difficult. We developed this air conditioner to provide comfortable air to these spaces. By designing with an understanding of the scenarios in modern lifestyles that it will be used, we have created an air conditioner with a unique air intake channel and shape that is not affected by the distance from the ceiling.
Designer: Takaaki Sanagi
Air Conditioner (FTKZ09VV2S)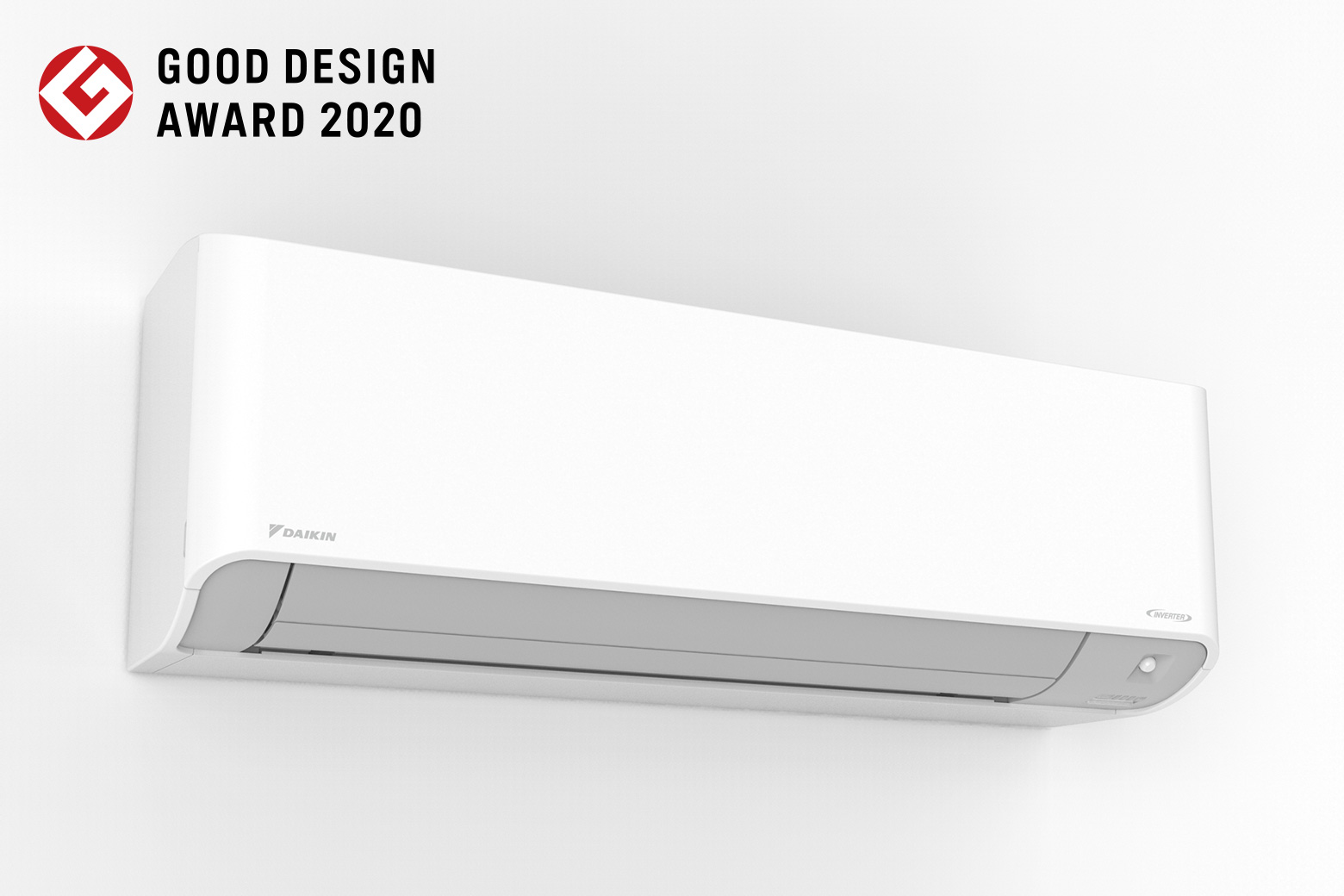 ■Outline
A cooling-only air conditioner focusing on maintainability under severe conditions of Southeast Asia
■Jury Conclusions
The product is praised for its simple appearance and ease in cleaning that surpasses conventional air conditioners. It boldly uses a different color for the front panel from the outside of the flap to match the interior color of the air conditioner, showing a great sense of design. In addition to the appearance of the air conditioner when turned off, detailed attention was also provided to how it looks when in operation since it is used for long hours. Not only that, a commonly seen notch in the piping cover has been concealed inside the casing to eliminate obtrusions and maintain a beautiful appearance.
■Thoughts from the Designer
We thoroughly reconsidered the notion of air conditioners for Southeast Asia and earnestly confronted issues and needs in the region to develop the product. The product not only cools space but also assumes a role in creating a comfortable air environment. Our aim in design is to provide a comfortable air experience to users by providing a "clean" product in terms of both ease of cleaning and exterior design.
Designer: Hiroki Hayashi
Deodorizer (Loop Streamer)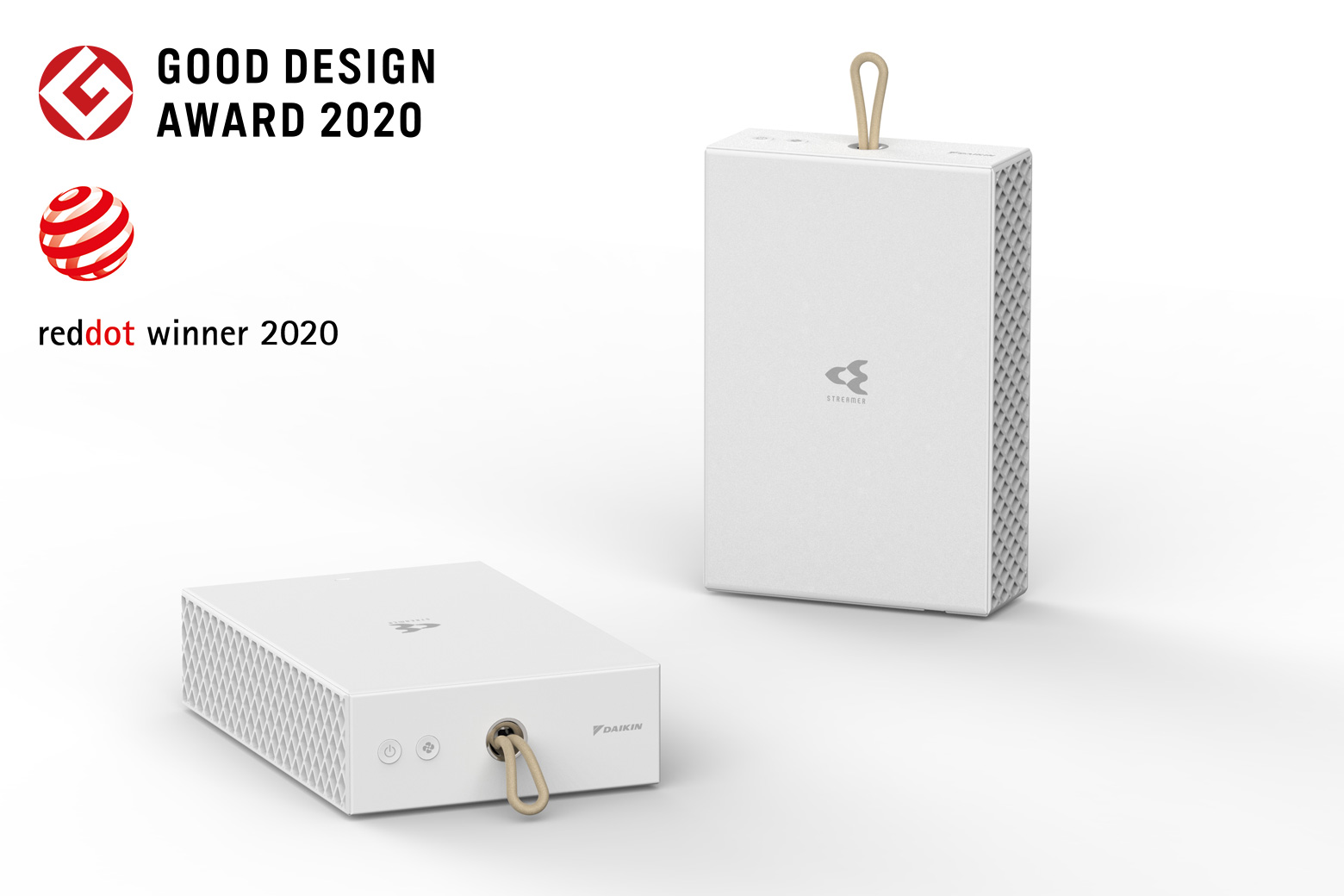 ■Outline
A compact deodorizer that removes unpleasant odors in small spaces such as entrances and wardrobes
■Jury Conclusions
Although the style is simple, the product is filled with well-considered details. The unique shape of louvers is also impressive. The product is small, but its design provides great satisfaction to users. The deodorizer is designed to provide comfort even to spaces such as closets and shoes cloakrooms. Like the portable air conditioners for small spaces, which also started as a new initiative, it has begun to create a new worldview and become the talk of the design world. The long-established air conditioning company explores every possibility of air conditioning based on the technologies it has developed so far and has started to take on a new challenge. Such an approach of the company is also highly appraised.
■Thoughts from the Designer
I am very pleased that the ease of use and detailed design to blend into space were favorably received. This product was created through a new approach in which we publicized the product concept and had users share their insights and concerns to proceed with production. We aim to continue providing a comfortable air environment through this kind of activity.
Portable Air Conditioner (Carrime)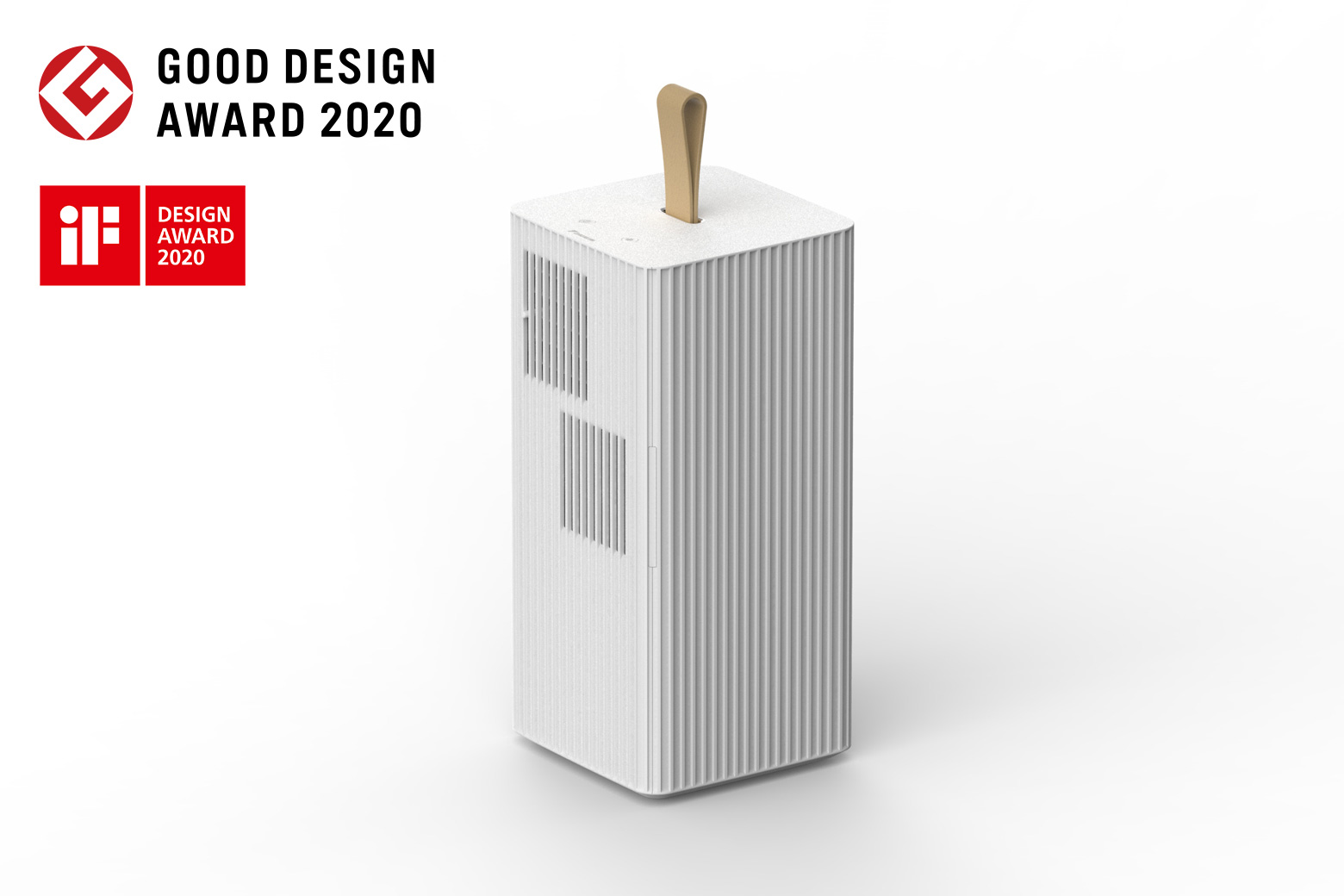 ■Outline
A portable air conditioner that provides comfort to small spaces where it is difficult to install air conditioners, such as in a kitchen, dressing room, study, or skip floor
■Jury Conclusions
Portable air conditioners that can be carried anywhere need to have a design that harmoniously blends into any space. This air conditioner realizes an exquisite, straightforward style that will be loved for a long time. The switch and filters also fit into the main unit, and all obtrusions have been eliminated in pursuit of quality, showing the spirit of the designer and developers. The product weighs only 6 kg, and anyone can easily carry it around. In addition to the ultralight weight for an air conditioner, its unique compact size allows users to easily carry it and place it anywhere to create a comfortable space in every corner of the house. The leather handle that absorbs the weight of the air conditioner is not only easy to hold but also proposes a new design for a portable unit.
■ Statement by the Jury of iF
Skillfully combining forms and materials, the slim design and practical details of the air purifier ensure uncomplicated handling.
■Thoughts from the Designer
I am very pleased to receive recognition for the product for which project members made a strong commitment to take on a new challenge as an air conditioning manufacturer.
We aim to continue creating a comfortable environment suited to ever-changing user lifestyles.
Heat Pump Convector (Altherma HPC)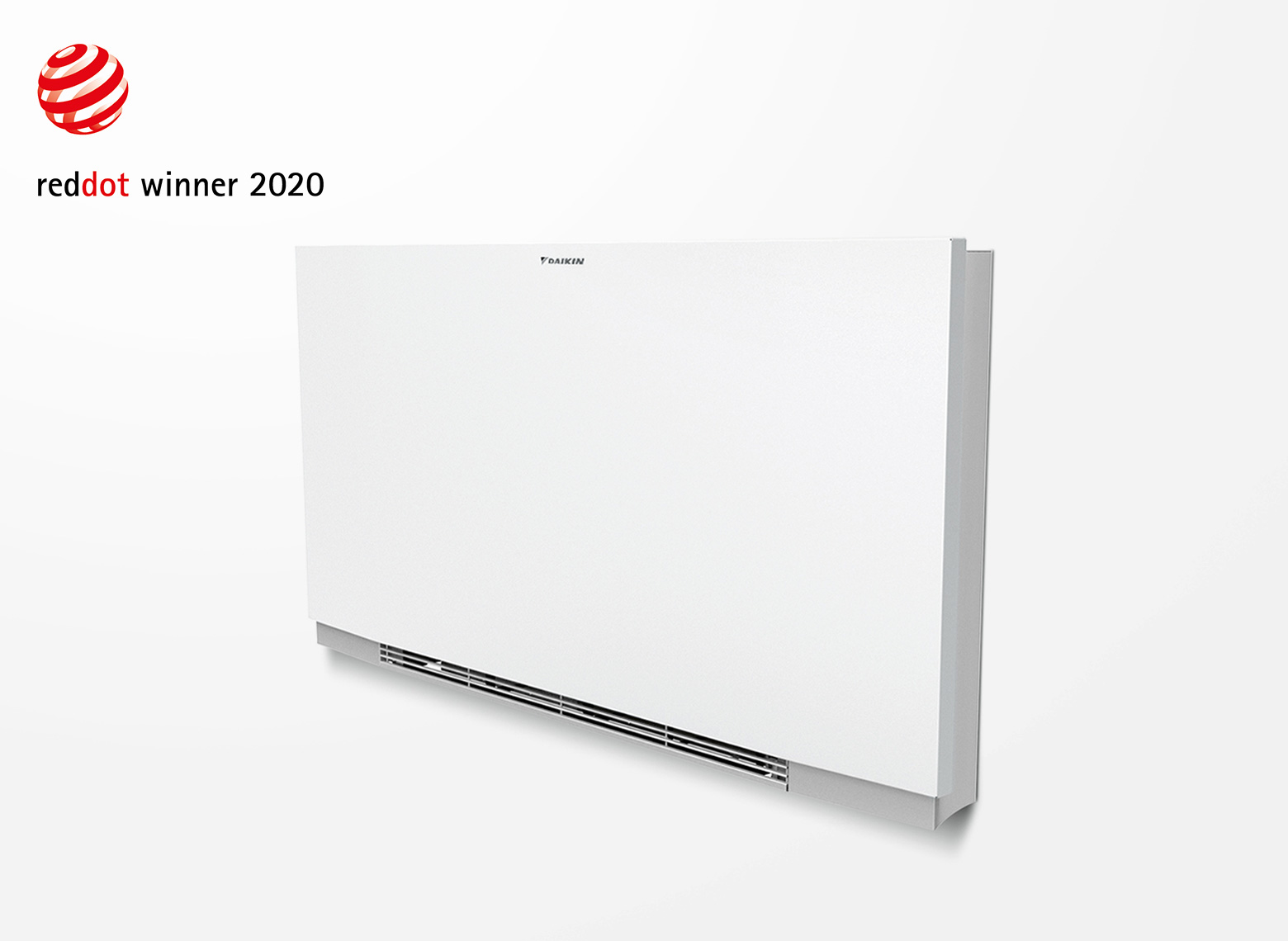 ■Outline
A high-efficiency heat-pump convector for the European market
■Thoughts from the Designer
The design concept uses a large panel and matt white color to perfectly blend into space, instead of adding something to the building. In designing, careful attention was also paid to materials. All parts of the indoor unit are made of accurately welded sheet metal, making the product durable for long-term use that will not deteriorate and is easy to recycle.
Designer: Alexander Schlag (yellow design gmbh)
Air Conditioner Sensor (Butterfly Mobile)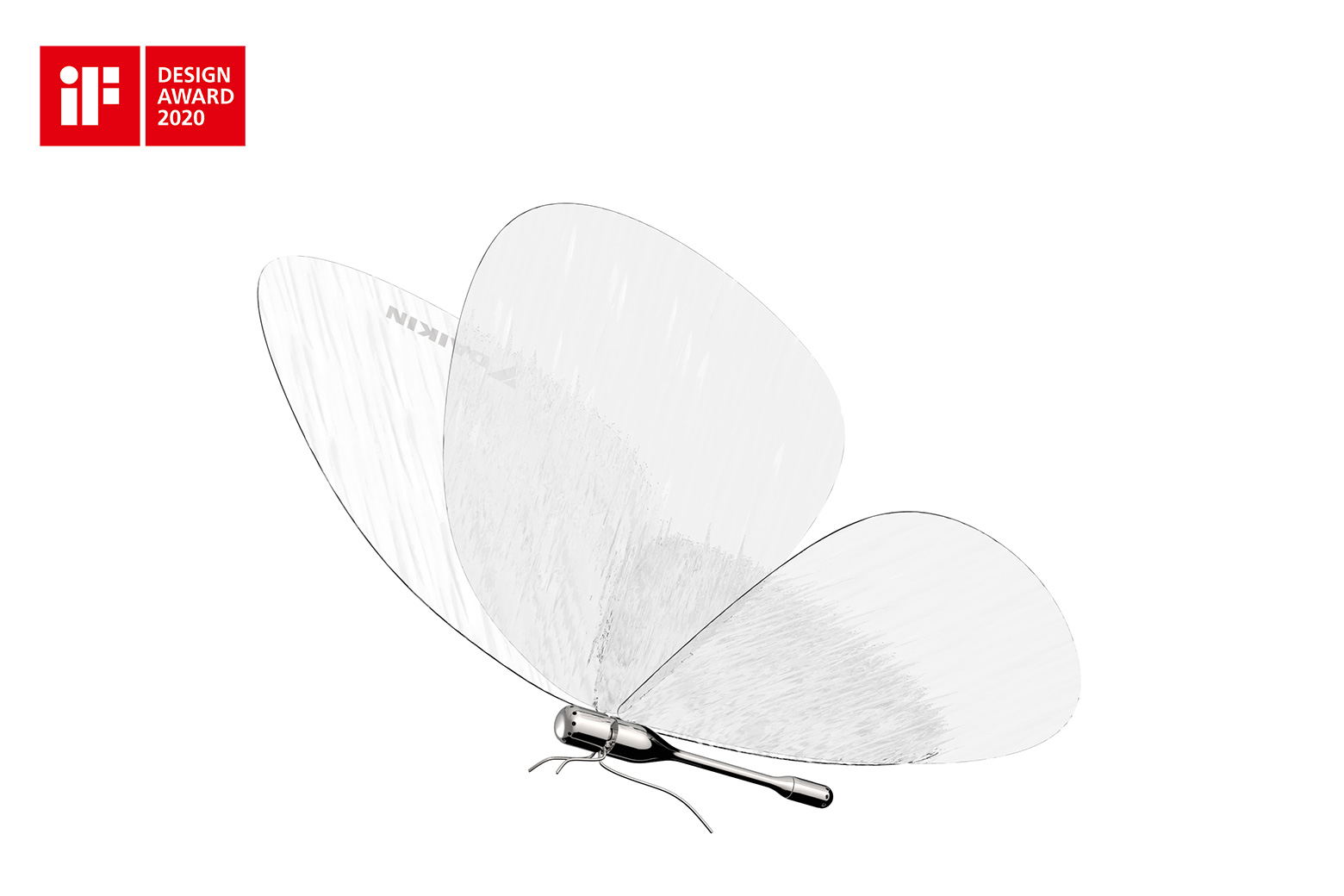 ■Outline
Butterfly Mobile is a conceptual model for a sensing tool that collects ambient room data to centrally control air conditioning units.
■Thoughts from the Designer
Daikin performs a variety of research to achieve both creation of a comfortable space and reduction of environmental impact, and a part of this research is sensing.
This concept was created to not only send the data collected through the sensor to the equipment but also to attract people and change their impressions.
Food Container (Air Container)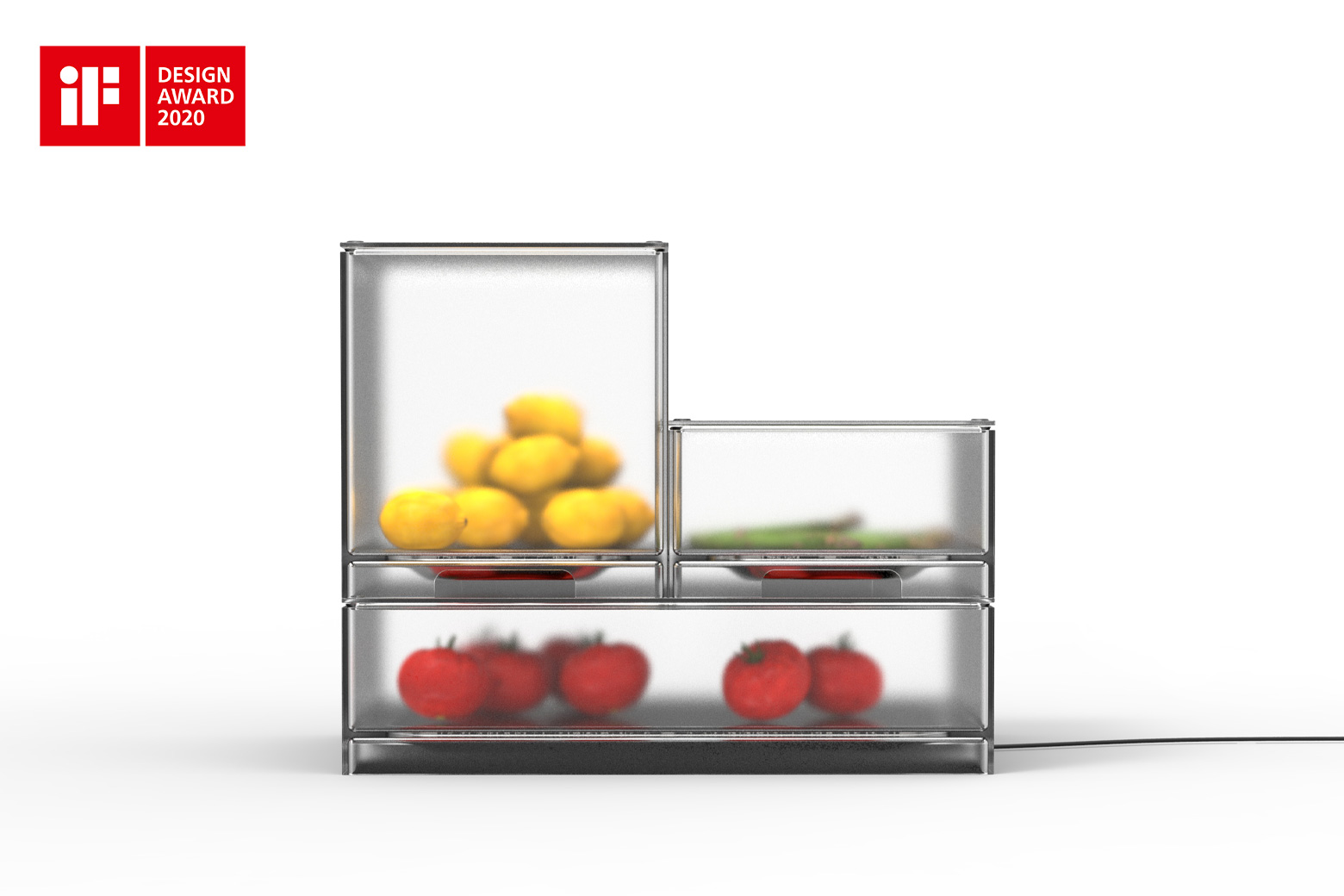 ■Outline
Air Container is a conceptual model for a food container that fills with nitrogen collected from the air to inhibit respiration of fruits and vegetables and control maturation.
■Thoughts from the Designer
Daikin performs research and development for not only air conditioners but also for chemical products and refrigeration units. This also includes the freshness preservation technology for fruits and vegetables that are transported through marine containers. By expanding the application of that technology, we aim to contribute to resolving the social issue of food loss. With that thought in mind, we created the concept of Air Container.
Designer: Ryoichi Nakagawa