With all the difficulty that busy people have in modern life finding time to exercise, wouldn't it be great if they could easily improve their health at the office? That's what we thought when we partnered with point 0 marunouchi* to conduct a demonstration experiment for a hypoxic training space as a proof of concept (PoC).
*A membership-based co-working space opened by Daikin Industries in 2019.
Not only does it build muscle strength, but hypoxic training can also contribute to better dieting and anti-aging through lower secretion of appetite hormones and increased production of mitochondria, making this equipment the optimal solution for busy people with no time for the gym. So, when you are tired from long hours of sitting or feeling a tad frustrated, I hope that you will feel free to fully utilize this training space.
The hypoxic training solution originated in the product development of a device using air for medical purposes. That product was a medical oxygen concentrator called LiteTEC. Leveraging the know-how gained through this PoC, my goal is to create a space where people can easily and efficiently improve their health in a variety of social settings, including workplaces and schools.
Providing a space rather than conveying data
Instead of simply displaying numerical data, this project aims to provide a space. Hypoxic training is a health solution that allows people to easily incorporate the benefits of alpine training even when they are in the city or at the office. So, once you open the door to the training space, you'll find yourself transported to a trekking course far from the city center. Here your daily stress will fade away, and you will feel refreshed with a new emotional state. That's not possible when looking only at systematic numerical information.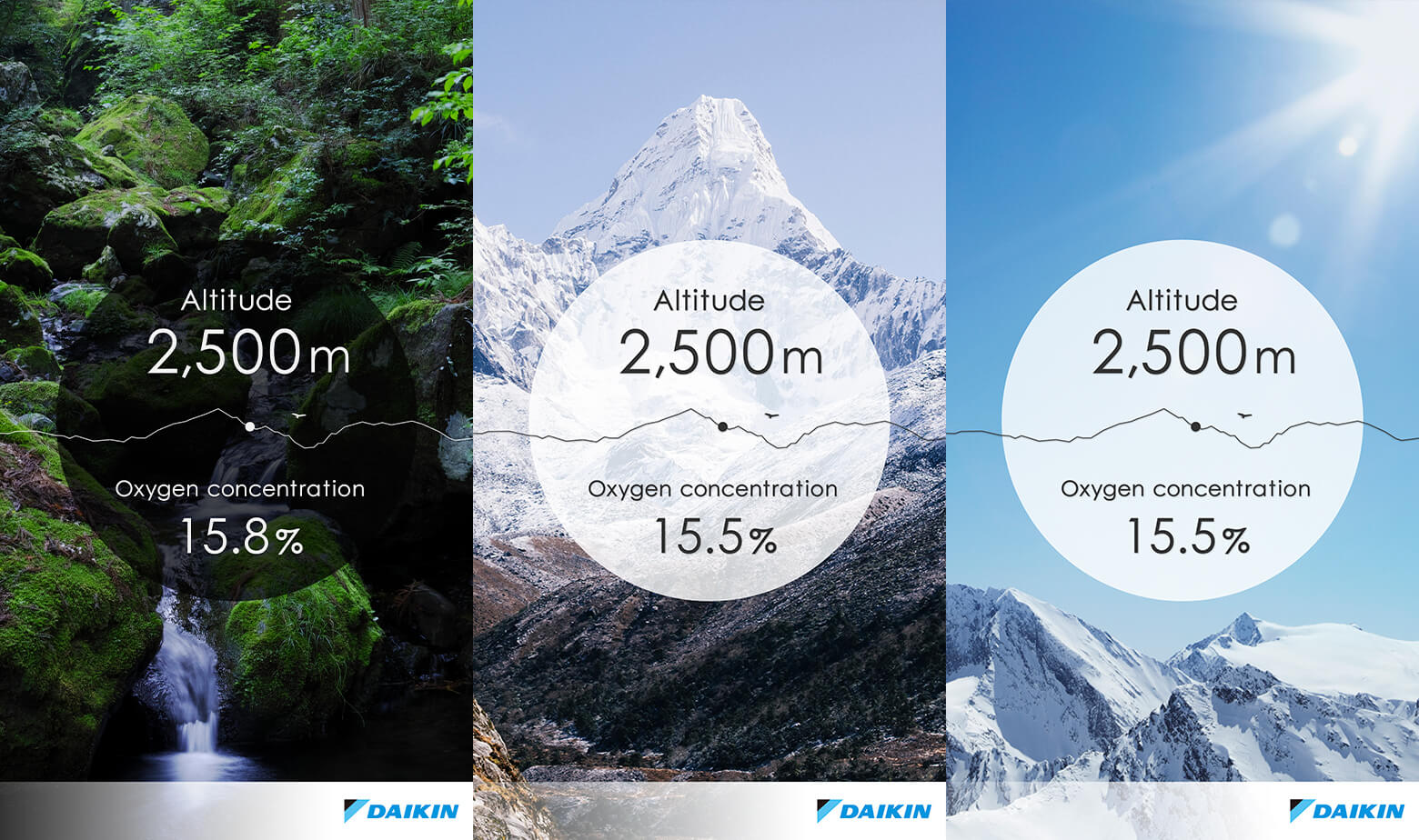 To reach that level of relaxation, I used images evoking the sound of gently burbling streams, the cries of birds singing, and the feeling of cool, clear air, but I needed to create graphics that would not detract from them. For now, the natural landscapes are only expressed visually on the screen, but I am hoping to fully recreate the elements of nature within this space to include the sounds of birds singing, streams flowing, and wind randomly blowing. To this end, I plan to continue making proposals in the future.
UX design to communicate intuitively
What gave me the most trouble for the screen display was the design of warning displays. Using hypoxic equipment to control oxygen concentration in the room provides a training experience equivalent to that of high altitudes and can increase exercise efficiency. Oxygen concentration can be set from the administrator's screen, but numerous discussions were necessary for how to display a warning message in the unlikely event of oxygen concentration falling below the set value.
Because oxygen concentration that falls -1% below the set value poses no danger to those people using the equipment, I created a graphic that partially adds yellow to convey the situation. However, a danger does exist when oxygen concentration drops below 12%, and this may cause acute negative effects on human health such as oxygen deficiency. In this case, the people exercising would have to leave the room immediately.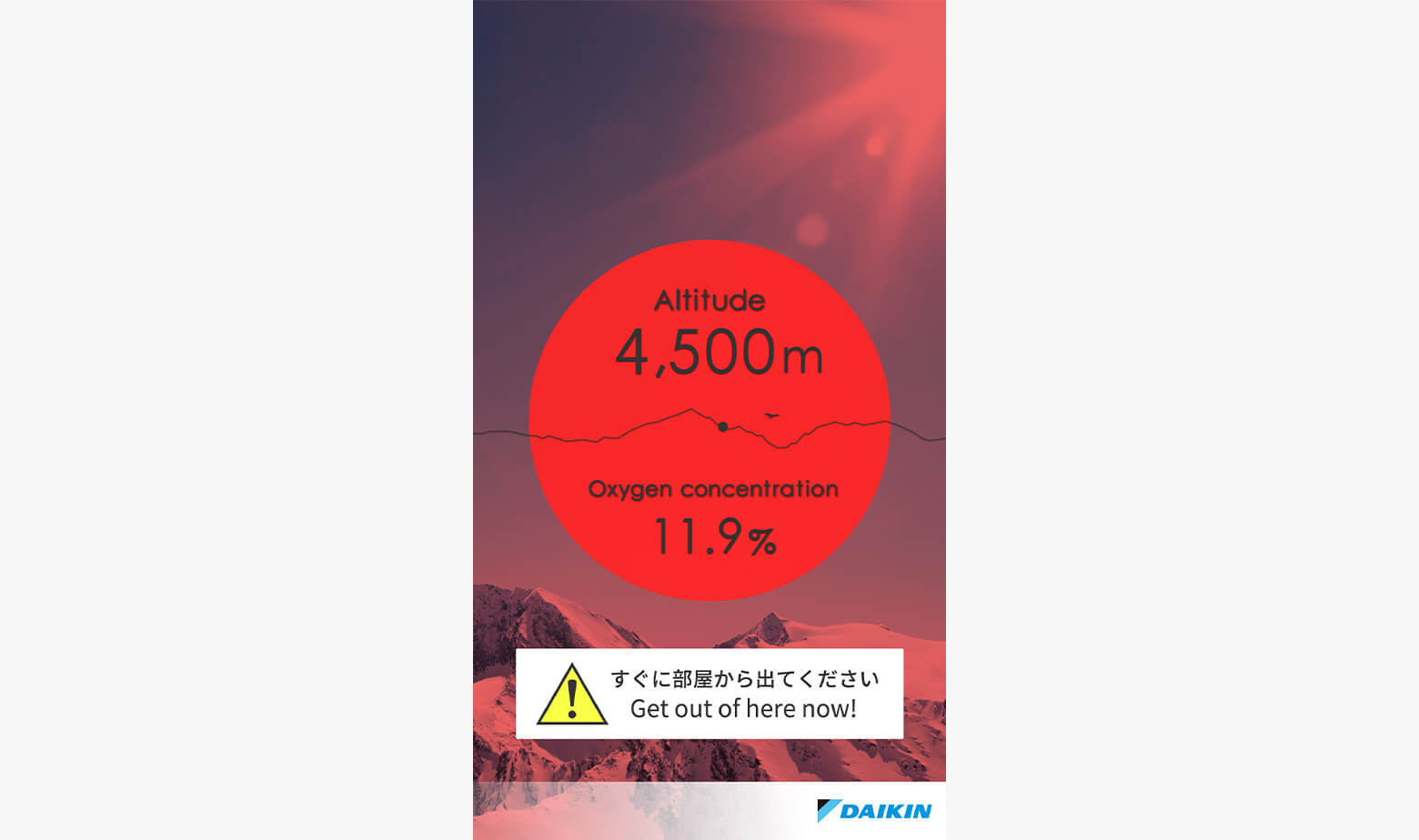 I considered various options, such as making only round graphics red and whether to display text or not, but my top priority was protecting our customers. To convey the immediate danger regardless of the primary language, I adopted intuitive graphics that are fully masked in red and written in both Japanese and English.
Coming from a product design background, I felt a little lost when I first started working in the UX field. However, through this project, I realized that distinctions such as "product" and "service" were irrelevant. Even when designing objects, I was constantly aware of what I wanted to do with the space and the moment in which the product was located. In addition to modeling and CMF, the number of roles that a designer has to assume increases with the development of technology such as sound, light, and screen movement, but the work needing to be done remains the same. Naturally, I must obtain more skills to express things through UI, but I'm working on acquiring them, and I intend to expand the scope of my work while consulting with colleagues who are experts in UI.
Give shape to your ideas, no matter how small
This time, the work was done in the context of a PoC, but I feel that many results had implications that go beyond the experimental. New businesses are subject to intense scrutiny within the company regarding whether they will be properly accepted by society and whether they can be built as envisioned. Consequently, realization of a new business requires great time and effort, but when the desire of members to start with PoC takes shape, new ideas can be proposed from a small start, and this becomes an engine for generating new experiments.
By repeatedly making improvements during a PoC, you can continue to dig deeper into the issues to develop a persuasive plan that may eventually lead to a major project in the future. From that perspective, I feel that this has been a very meaningful process for us as we advance to a new stage.