Activity Report
Daikin makes an annual report on its support of activities to protect nature in Shiretoko.
Latest report
Report on Activities from October to December 2018
Annual Tree-Planting Festival Held
Autumn is a season of numerous events. In October, volunteers from all over Japan joined Daikin in a tree-planting event using the seedlings from trees cultivated in the Trust Area. Also in October, many participants visited the Shiretoko forest in events coinciding with the Shiretoko Outdoor Film Festival.
In preparation for the coming six-month-long winter, other work, such as repair of the deer fence and removal of the electric fence, was carried out.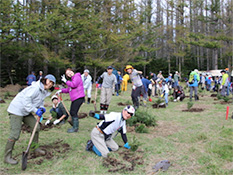 Past Report on Activities
Note: The photos on this website are courtesy of the Shiretoko Nature Foundation.