Daikin Advantage
Energy-Saving Operation
Precise individual control and inverter technology minimize energy consumption to deliver optimum energy savings.
Individual Control
VRV systems enable individual climate control settings for each zone to provide the utmost in comfort to commercial building settings.
Adaptable Design
Modular design of outdoor units and wide selection of indoor units ensure system designs that are ideally suited to the environments where they are installed.
Flexible Layout
In addition to a maximum connection of 64 indoor units to a single system, large allowances for piping length and level difference provide a flexible layout.
About
VRV
When Daikin launched the VRV air conditioning system in 1982, it introduced the world's first use of variable refrigerant flow control. This technology circulates only the minimum amount of refrigerant needed at any one time and enables individual climate control of air conditioning zones. The name VRV * derives from this technology that we call "variable refrigerant volume."
*

VRV

is a trademark of Daikin Industries, Ltd.

Next Generation
VRV

system for buildings of various sizes
Energy Savings
Energy savings during actual operation have been further improved by advancement in the VRT Smart Control and a new compressor.
Design Flexibility
Increased flexibility of refrigerant piping, such as extended maximum height differences between indoor and outdoor units, enables support for a variety of buildings.
New Reinforced Design
The new large-capacity casing, up to 24 HP, is equipped with unique functions.

For Large-Sized Buildings
Energy Savings
By uniting advanced software and hardware technologies for greater energy savings during actual operation and combining the technologies of VRV, VRT and VAV, we have attained both energy savings and comfortable air conditioning.
Automatic Refrigerant Charge Function
The automatic refrigerant charge function* automates the charging of the proper refrigerant amount and the closing of shut-off valves by simply pressing a switch after pre-charging. This function contributes to optimised operation efficiency, higher quality and easier installation.
High Reliability
The control functions of inverter technology have been integrated on printed circuit boards. As well as improving reliability, this has reduced the number of parts and enabled downsizing.
PRODUCT LINEUP
Technology

Greater Energy Savings During Low-load Operation
Software Technology
VRT Smart Control (Fully Automatic Energy-saving Refrigerant Control)
*

This is a

VRV

X and A series movie, but the functions that are explained in it are also available in the

VRV

H series.
Learn More
---
Hardware Technology
New Scroll Compressor Back Pressure Control Mechanism
*

This is a

VRV

X and A series movie, but the functions that are explained in it are also available in the

VRV

H series.
Learn More
Automatic Refrigerant Charge Function
*

This is a

VRV

X and A series movie, but the functions that are explained in it are also available in the

VRV

H series.
Learn More
Wired Remote Controller
Stylish Remote Controller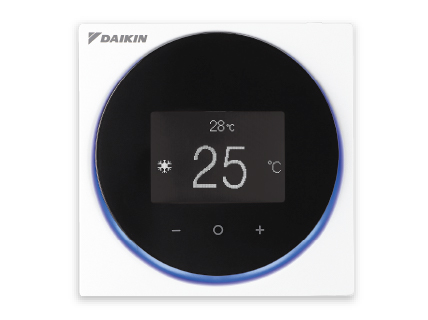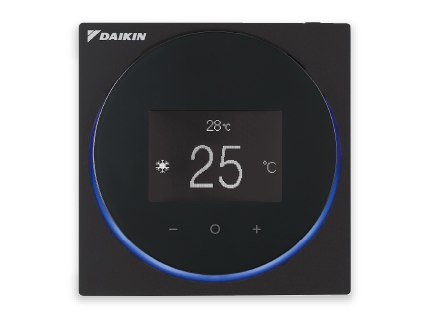 Sleek stylish design
DAIKIN APP for Installer simplifies the advanced settings such as field settings
Useful administration / Shorter and Easier installation
Navigation Remote Controller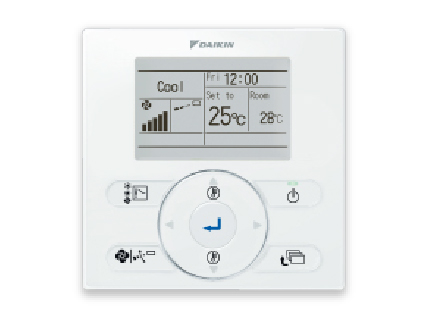 Operation is easy and smooth, just follow the indication on the remote controller
Weekly schedule can be set 5 actions per day for each day of the week
Circulation airflow, a function for the latest cassette type can be set
Simplified Remote Controller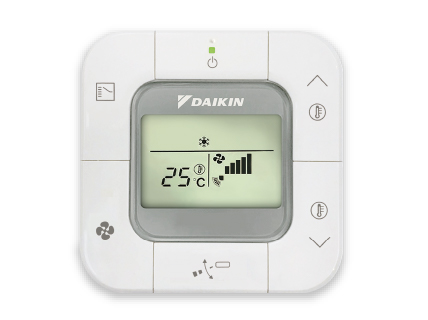 Simple operation by using only six buttons, and users have direct access to basic functions
Intuitive design by using pictograms enables user-friendly interface
Overseas guests at hotels understand functions without having to know a foreign languages
VRV

Smartphone Control System

A smartphone or tablet PC can be used to monitor and control air-conditioning from anywhere. Our solutions are not only for commercial buildings, but also for houses, stores, hotels, hospitals, schools, high-rise buildings, and compound buildings.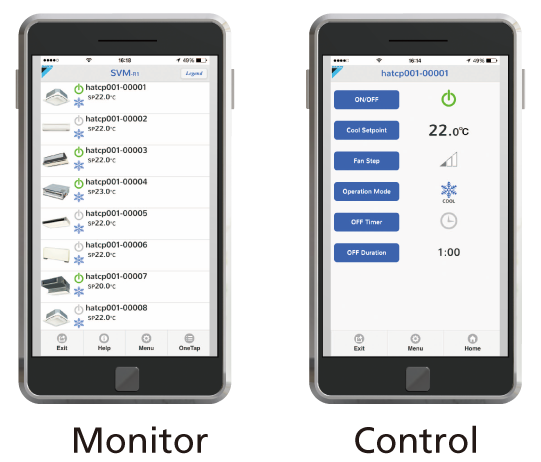 Movie for office solutions
Movie for hotel solutions