Vietnam
Mobile app to book professional technicians for transparent and reliable maintenance services
In Vietnam, consumers are increasingly concerned about the health of themselves and their families, especially fresh air. Air conditioning is often used for this concern, but there is a possibility for bacterial growth if not maintained regularly.
In the current maintenance market, technicians tend to be unprofessional and unequipped with the latest methods. Consumers are often faced with having to pay expensive costs for unnecessary and unexpected services. Therefore, many consumers hesitate to arrange maintenance of air conditioners.
Therefore, Daikin has launched a mobile app service that allows you to make reservations at anytime with only Daikin-certified personnel. Servicemen are trained to Daikin standards, so we can provide high quality maintenance services such as in-flight disinfection with high temperature steam, technology to minimize dust, mold, allergen substances, etc.
Furthermore, by clarifying the preliminary estimate and presenting it to the applicant, it is now possible to receive maintenance services with peace of mind. The app also offers services such as tracking maintenance history and, setting up alerts for the next maintenance appointment which will automatically pop up to notify.
Daikin will create an environment where people can continue to use air conditioners with peace of mind not only in terms of product value but also in providing maintenance services.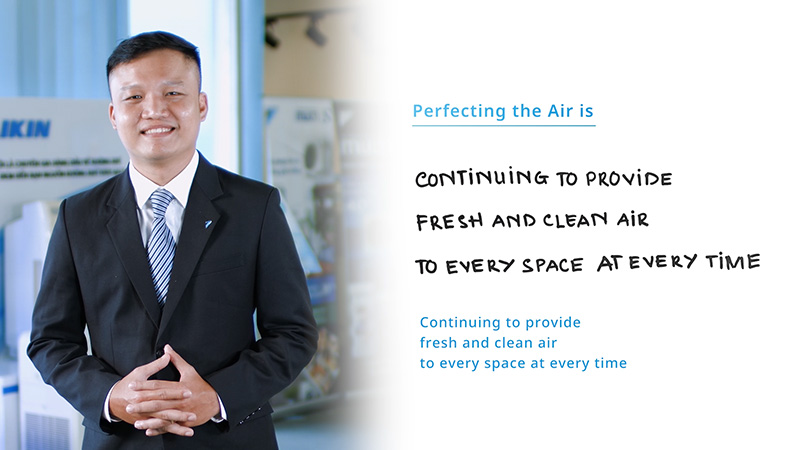 Team Leader
Residential Service Department
Doan The Dang Khoa
Interview
This easy-to-use app can connect customers and Daikin technicians just with a click.
Prices and ratings of technicians are transparently shown before booking so that customers can feel assured.
We particularly focus on recruiting qualified technicians selected by Daikin, having to pass training courses and examinations to meet Daikin's high standards of maintenance service.
They can perform not only basic maintenance but also advanced deep cleaning packages.
Being the 1st air conditioning maintenance service app developed by a top-notch air conditioning brand with 4 core values as convenient, professional, transparent and advanced technologies, and our app has received positive feedbacks from customers and the market shortly after launching.
It's an encouraging signal for us.
In the future, we will add-on a comprehensive insurance package, Daikin Care, to maintain customers' peace of mind from any problems that might arise with their air conditioners.
We would like to contribute to keeping consumers in a clean and healthy atmosphere.
Perfecting the Air is
Continuing to provide fresh and clean air to every space at every time