Contact your local Daikin for warranty and servicing information.
Servicing request
Parts and Consumables
Equipment replacement
Warranty Registration
Troubleshooting (Chatbot)
Start here with a free word search or selecting from a menu of choices.
Container Refrigeration Service
Visit here for marine containers, server rooms, and container refrigeration.
Go to website
Marine HVAC Service
Visit here for marine HVAC and engineering designs.
Go to website
Member Portal Site
This site provides various technical materials to existing distributors.
Go to website
Daikin Advantage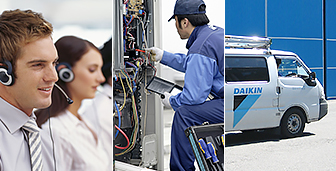 Global customer service centers answer questions from each country around the world to provide unsurpassed after sales service according to the specific needs of our customers.
Overview
User's Voice

It had been 16 years since the installation, and cooling was starting to go bad. I called Daikin thinking the system needed replacement, but after Daikin inspected it, I was told I only needed servicing. 'If you replace these parts,' a serviceman told me, 'the system will work fine for another 4 or 5 years.' I was impressed with Daikin's spirit to do what is best for me.

Clinic in Tokyo, Japan