Future's Challenge
Q. What is Daikin's next challenge?
A. Daikin will continue to innovate to achieve a sustainable refrigerant and equipment lifecycle.
In addition to refrigerant selection, how a refrigerant is managed through its lifecycle, including recovery and reclamation, is also very important. And while we strongly support the Kigali amendment, and the effort to phase down HFCs in CO2 equivalent, GWP is not the only measure for evaluating refrigerants, even within the Kigali framework. A comprehensive approach, including leakage prevention, recovery, reclamation and destruction is required. We will also continue to improve the energy efficiency of each of our products to reduce their overall environmental footprint.
These measures will be quite effective for achievement of HFCs phasedown in CO2 equivalent such as the Kigali Amendment.
Action on Refrigerant and Goals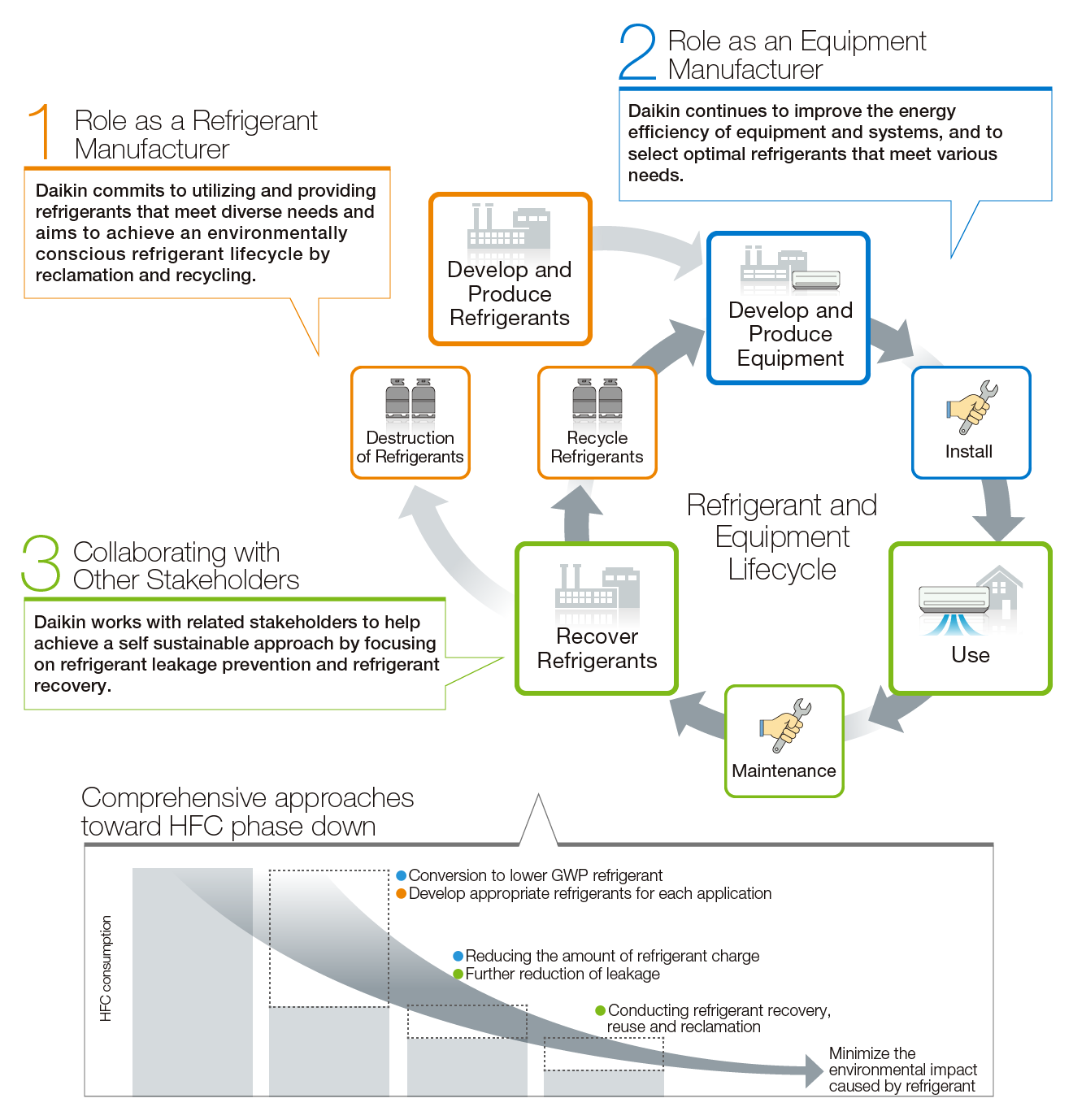 1 Role as a Refrigerant Manufacturer
Daikin commits to utilizing and providing refrigerants that meet diverse needs and aims to achieve an environmentally conscious refrigerant lifecycle by reclamation and recycling. This includes:
Development and production of refrigerants with the following properties:

Compliance with all environmental regulations
Emphasis on system safety and reasonable cost for customers
Improving the energy efficiency and reducing the environmental impact of air conditioning, heating and refrigeration equipment

Improvement of recycling/reusing technologies
2 Role as an Equipment Manufacturer
Daikin continues to improve the energy efficiency of equipment and systems, and to select optimal refrigerants that meet various needs. This includes:
Selection of the optimal refrigerant for each application through cooperation with various refrigerant manufacturers, including both fluorochemical and non-fluorochemical refrigerants
Equipment designs that minimize refrigerant emissions and that reduce the amount of refrigerant required for system operation
3 Collaborating with Other Stakeholders
Daikin works with related stakeholders to help achieve a self sustainable approach by focusing on refrigerant leakage prevention and refrigerant recovery, which includes:
Support the recovery of refrigerants by developing recovery technology
Improve installation procedures to prevent leaks
Provide education and technical training to support the proper management of refrigerants
Establish schemes for recovery, recycling and destruction