Services Extending to All Products
Long Product Life with Overhaul
Daikin Advantage
Rejuvenated Functions
The replacement of main parts returns system operations to factory condition performance comparable to a new system.
Breakdown Prevention
With a Daikin overhaul, parts prone to breakdowns are replaced to prevent system failures and costly repairs.
Longer Life
Replacement with new parts extends durability and product life.
Savings
Not only are breakdown costs avoided, but long product life further saves customers the cost of purchasing new HVAC equipment.
Overview
One extremely important part of preventive maintenance is the overhaul. Overhauls provide opportunities to disassemble and inspect parts for wear and abnormalities.
A consultation with a Daikin service engineer helps customers determine a suitable interval for overhaul.
More than being a precautionary measure to avoid product breakdowns, overhauls are pro-active measures to return system performance back to factory condition efficiency.
In an overhaul, rotating parts (wear parts) are visually inspected for scuff marks, and dimensions are measured. Parts are cleaned, or replaced if faulty. An overhaul, therefore, eliminates the causes of deterioration resulting from aging (abrasion, looseness, and dimensional changes in rotating parts), thus restoring the equipment to original condition.
An overhaul extends the equipment service life and assures many years of trouble-free operation.
Example of Overhaul for a Semi-Hermetic Screw Compressor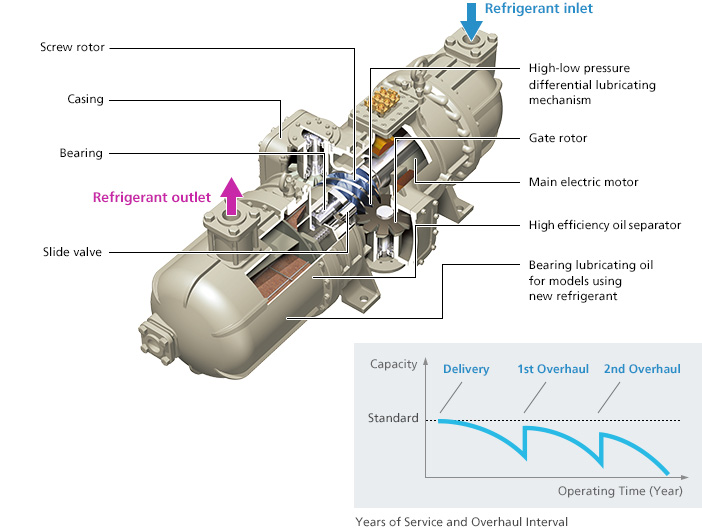 KEEP AIR CONDITIONERS OPERATING AT MAXIMUM CAPACITY
1.REPLACING FAN BEARINGS
Replace fan bearings when experiencing abnormal noise and vibration
Air conditioner fans operate continuously throughout the year -- not only during the cooling and heating seasons but also during the interim periods for ventilation. Abnormal noise and vibration can indicate the need to replace fan bearings. Rather than waiting for a breakdown during peak cooling and heating seasons to have repairs made, contact Daikin today to have your system checked.

2.CLEANING HEAT EXCHANGERS AND FANS
Clean heat exchangers to ensure efficient operation
Air conditioners collect dust when they operate. Dust accumulates in various places inside the air conditioners. Dust adhered on heat exchangers, fans, and drain pans can become the cause of serious damage to equipment. Accumulated dust not only lowers heat exchanger efficiency but also reduces the amount of airflow to affect the overall performance. Dust also leads to mold generation, odors, water leakage, and equipment breakdowns.

Replacement of High Efficiency Filter

Services Extending to All Products
Services for Efficiency of Buildings and Factories
---
Related Products