Press Releases
Strategic Management Plan [Target year: Fiscal 2020 (ending March 31, 2021]
Formulation of Fusion 20 Latter-Half Three-Year Plan
Co-create New Value in the Air and Environment Fields with Wisdom and Passion
5 June 2018
Daikin Industries, Ltd. has formulated the latter-half three-year plan (from FY2018 to 2020) for its strategic management plan Fusion 20 with fiscal year 2020 as the final year.
This year marks the mid-year of Fusion 20, which started in fiscal year 2016. Despite changes in the external business environment, such as currency fluctuations and sharp price increases for raw materials, Daikin has been expanding business until now while improving its management constitution through initiatives that include strengthening of sales capabilities and promotion of total cost reductions. Consequently, Daikin expects to achieve an operating income of 270 billion yen for this term as set forth in the original budget.
Based on first-half results and business environment changes, Daikin set quantitative targets of 2,900 billion yen for net sales and 348 billion yen for operating income for fiscal year 2020 in the Fusion 20 Latter-Half Three-Year Plan. In addition to fortifying existing businesses centering on the United States and Asia, the plan serves to further expand business through aggressive investments and specific policies in line with the changing times. These include expansion of the Air Conditioning Solutions business, which capitalizes on the widespread use of AI and IoT technologies, and the strengthening of environmental technologies.
Looking to fiscal year 2020, Daikin aims to become a truly global and excellent company based on the newly established business foundation.
1.Quantitative Targets for the Latter-Half Three-Year Plan
1) FY2020 Targets (Financial Results)
FY2015 Results
FY2018 Forecast
FY2020 Targets(Announced here)
Net sales
2,043.7
2,480
2,900
Operating income (%)
217.9
(10.7%)
270
(10.9%)
348
(12.0%)
2) Investment Plan
| | |
| --- | --- |
| (Unit: billion yen) | FY2018-20(3-Yr Total) |
| Investment Plan | 360 |
| R&D Investment | 220 |
2. Direction of the Latter-Half Three-Year Plan
In addition to further strengthening of existing businesses in each region, such as the Air Conditioning, Chemicals, and Filter businesses, Daikin will actively invest to enable quick response to changes in the business environment. Specifically, Daikin will formulate a response to the era of IoT and AI and engage in full-scale business expansion of its Air Conditioning Solutions business, which includes the Energy Service Solutions Business and IAQ & Air Environment Engineering businesses. Moreover, efforts to promote low global warming potential (GWP) will be accelerated to take the lead in environmental initiatives, such as expansion of R-32 equipment and development of next generation refrigerants.
Group Strategy Themes in the Latter-Half Three Years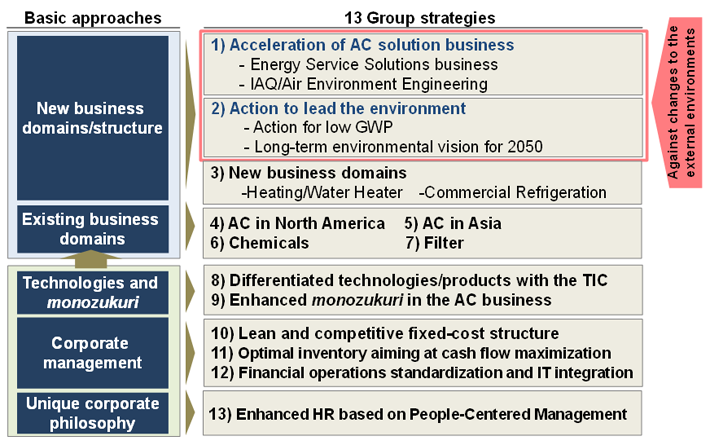 Achievements of the FUSION 20 First-Half Plan
Daikin made active investments for future growth that included improvements in production capabilities in the United States and Asia and M&A to strengthen the filter and solutions businesses.
Despite the steep prices for raw materials, Daikin boosted profitability by expanding sales of high value-added products and promoting total cost reductions to post another record high in financial results for the fifth consecutive term.
Comparison of Financial Results for FY2015 and FY2017
(1) Financial Results for FY2015 and FY2017
| | | |
| --- | --- | --- |
| (Unit: billion yen) | FY2015 | FY2017 |
| Net Sales | 2,043.7 | 2,290.6 |
| Operating Income | 217.9 | 253.7 |
| Operating Income Margin | 10.7% | 11.1% |
(2) Sales and Achievements by Region: Air Conditioning (Unit: billion yen)
| | FY2015 | FY2017 | Main Achievements |
| --- | --- | --- | --- |
| Japan | 416.9 | 449.3 | Development focused on design and idea products, and sales expanded even in a mature market. |
| United States | 496.3 | 569.5 | New factory and R&D center were established. Improvements in the sales and service networks led to business growth. |
| Asia | 284.7 | 325.1 | Dealer development and products based on regional needs significantly expanded sales. New factories in India and Vietnam improved production capabilities. The Airmaster acquisition enhanced service and solutions businesses in Australia. |
| China | 313.6 | 342 | Sales of multi-split type AC for residential use increased, and the direct sales channel was strengthened. |
| Europe | 251.3 | 301.1 | Growth is expected in refrigeration business from acquisition of Italy's Zanotti. |
Related Links

Visit the Contacts page for inquiries concerning the information described above.