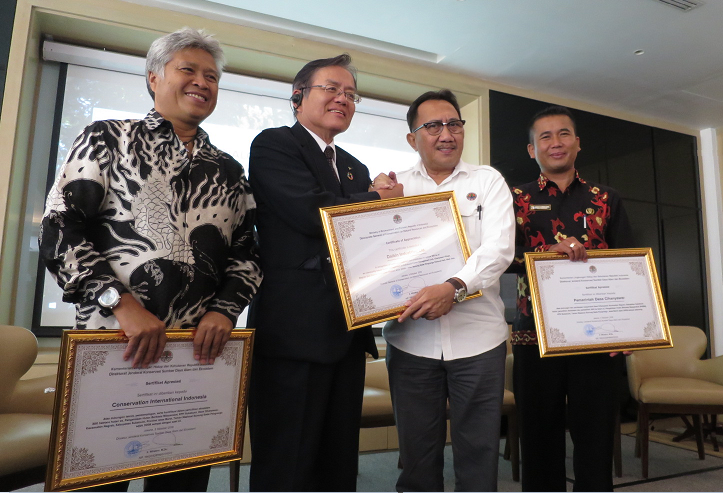 Daikin Industries, Ltd. recently received a certificate of appreciation from the Indonesian government for its ten-year environmental and social contribution activities on the Island of Java. In addition to the reforestation of the area serving as the water source for Jakarta, the capitol city of Indonesia, this recognition acknowledges the contribution Daikin has made to solving social issues affecting the local community, including poverty and education.
In 2008, Daikin partnered with Conservation International (hereinafter referred to as "CI"), an international nongovernmental organization, and started forest conservation activities at Gunung Gede Pangrango National Park on the Island of Java, Indonesia.
Logging and the cultivation of farmland as a means for local residents to earn a living had been a cause of deforestation for this area with the underlying issue being the poverty faced by the residents. To conserve the forest in a sustainable manner, integrated support is essential, not only for planting trees, but also for improving environmental awareness among local residents and establishing a local infrastructure. For this reason, Daikin, in cooperation with CI, has been promoting agroforestry* together with afforestation, while continuing to implement such measures as agricultural support to eliminate the dependency of local residents on logging for a livelihood, environmental education for the local community, a crackdown on illegal logging and poaching, and consensus building and training for all of these. Furthermore, Daikin created facilities for a pico-hydro power generator that operates by water drawn from the forest to the village.
Ten years have passed since the start of this initiative, and local residents are united in moving forward in forest conservation activities. This has led to 120,000 trees being planted to present along with the rejuvenation of approximately 300 hectares of forest.
Based on the model for forest conservation activity that began in Indonesia, Daikin has broadened activities since 2014 to seven global locations as "Forests for the Air" Project. In addition to Indonesia, the company has also been working to solve region-specific social issues through forest conservation in Brazil, China, Cambodia, Liberia, and India as well as on the Shiretoko Peninsula in Japan.
Through these activities, Daikin will contribute to the achievement of sustainable development goals (SDGs) through conservation of approximately 11 million hectares of forests worldwide by 2024 and the reduction of more than 7 million tons in CO2 emissions.