The architectural firm TORAFU ARCHITECTS attracts great attention for its unique creative works spanning a broad spectrum of designs from products to buildings. We visited their office eager to know just how air inspires ideas for visualizing the unseen and what form those ideas might take. Koichi Suzuno, one of the founding partners, provided us with a multitude of valuable insights.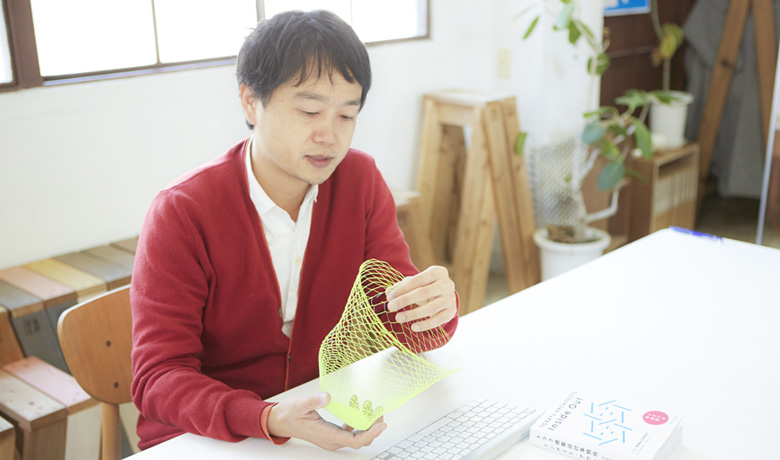 Thinking first from the aspect of site for all things
In the middle of a quiet residential area stands an intriguing building called "Hideouts for Creators" that dwarfs the neighborhood with its strong presence. Here on the first floor of this renovated factory building we find the office of the architectural firm TORAFU ARCHITECTS. Invigorating sunlight greets visitors through the large windows in an otherwise austere space resembling a white four-corned box.
"We liked the dynamic created by a simple, one-room office. Even though we create a wide variety of office designs, we wanted the layout for our own office to be as plain as possible so we could freely change it."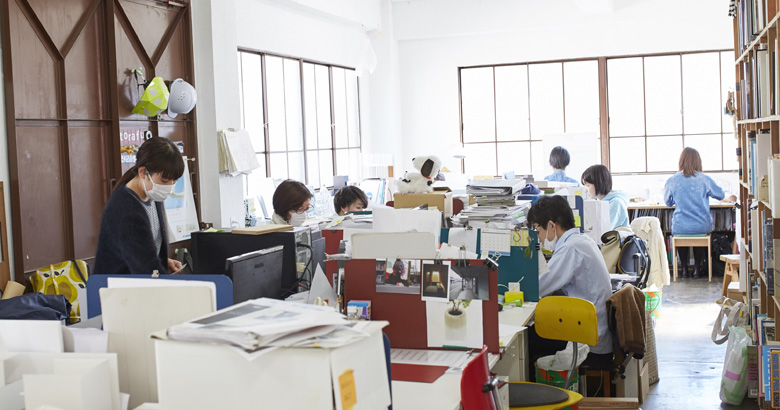 Naturally, because it is an architectural firm, there are numerous building mock-ups, but seeing the different materials piled up in every corner of the floor gave us a nostalgic feeling of having arrived at a school art department. In this respect, it was plain to see that TORAFU ARCHITECTS was working on diverse projects from small things to buildings.
"When we first received work for furniture and products, we were completely baffled. To us, people who had studied architecture, we were terrified because there was no site. If there had been a site, we could analyze it and think about how to incorporate the light.
"It is because we decided to change our approach and create a site where one did not actually exist. For example, this is our "Sky Deck." You use it by attaching it to railing where it becomes a small table. In imagining and expanding upon the idea of a narrow terrace as the site, we conceived of a space that can be utilized for a variety of purposes. Thinking from the aspect of site in this way also broadens the concept of furniture."
Comfortable air created from 50-meter table
Various creative works can be investigated from the aspect of site in the same way as architecture. To Suzuno's explanation, we responded, "This concept (of thinking from the aspect of site) could achieve TORAFU-like ideas for a wide range of creative projects. How do you formulate ideas for larger spaces."
"First, the impression you get from the atmosphere when you first go to the site of that project and the inspiration you received from it are extremely important. For example, if you take a look and think 'office' from the outset, you tend to conceptualize it as something you might commonly find anywhere. I think it is important to improve one's own sensitivity to be able to recognize the advantages or differences of each site.
"This is a something we did called 'Gulliver's Table.' It was built at the large grass field in Tokyo Midtown in conjunction with an event. It is a long, straight table of 50 meters and the height at the front is about two meters high and at the end it becomes extremely low but the table itself is, in fact, flat.
"In the beginning, I assumed that the site was level, but when you go and actually see it there is a gentle slope. By drawing a horizontal line here, anyone can see that there is an incline.
"What's interesting is that you can often see children playing at the front under the table as if it were a jungle gym and have meetings there. Gradually as you move along to the other end, some people are having lunch or sitting on the table relaxing. People sharing the same table in the same location and space gives birth to a variety of new relationships and activities. Time passes enjoyably in a comfortable air environment."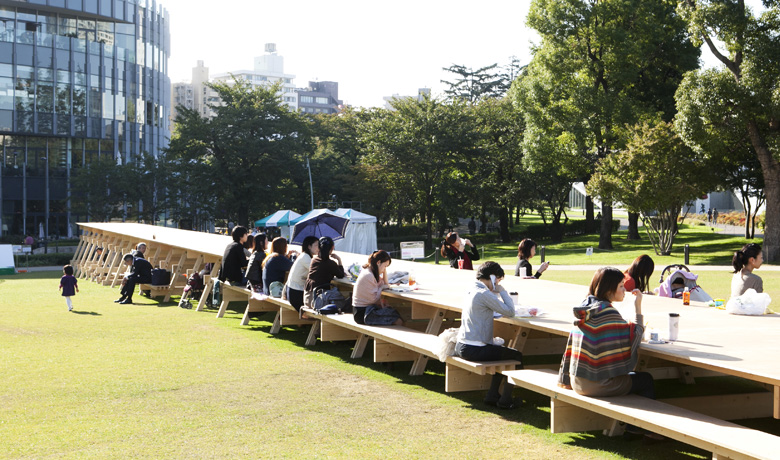 Visualizing air and light
This comfortable air environment created by "Gulliver's Table" is the result of thinking from the aspect of site and changing expression to a form that makes the slope of the field visible to the eye. An idea that makes the unseen visible is also utilized in "Air Vase," which can be said to be representative of TORAFU ARCHITECTS. It is a paper container that envelops air with a shape that can be freely changed.
"To us, air is something that we cannot live without but because we can't see it we tend to take it for granted. However, by making a container from this paper, air can be filled to the brim, and you can actually experience the air inside when you hold the air vase. It is not a matter of being empty. You are able to hold the air, the most important thing to humans, in the container."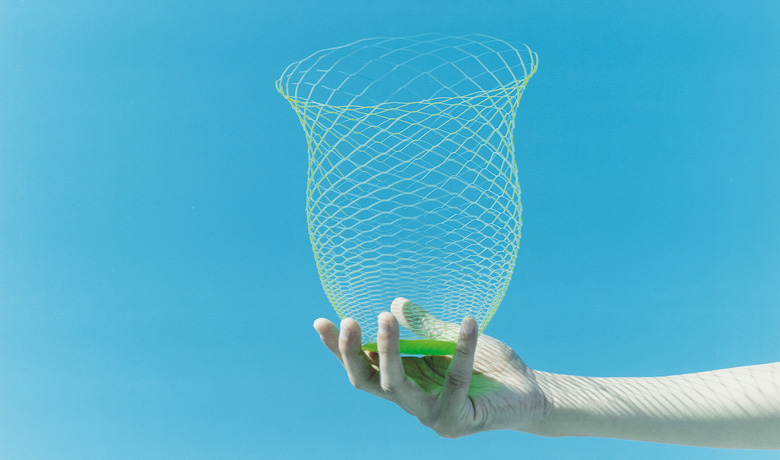 The idea of visualization of TORAFU ARCHITECTS extends not only to air but also to light moving through air. That concept was explored in its creation of "Light Loom" for the Canon exhibition hall at the 2011 Milano Salone design festival.
"We tried to rethink the relationship of projector and screen. When you do that you notice that something else exists in front of the movie images being projected on the screen. Even at a movie theater, light beams can be seen in the air through the illumination of floating dust particles. To accentuate that light for greater visibility, a large number of threads were hung from the screen and extended to the vicinity of the lens projector.
The people who came to the exhibition hall wondered whether or not it was done with optical fibers but it was actually done with ordinary thread. Not only did everyone watch the screen, but they also watched the light being emitted from the projector."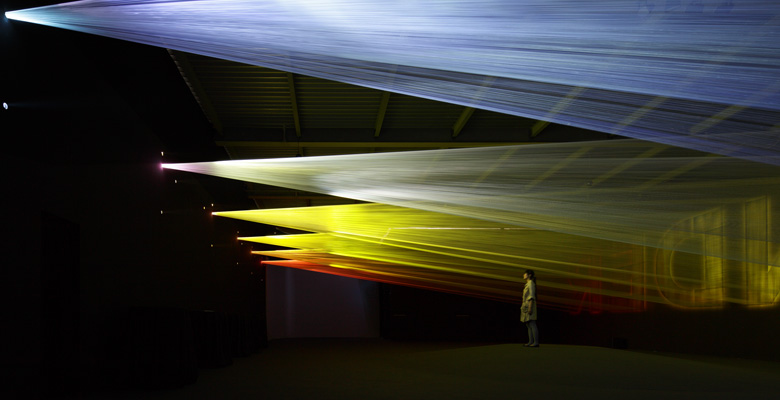 Improving the world with an "inside out" approach
"Inside Out" is the title of a collection of creative works published in conjunction with the TORAFU exhibition held at the TOTO Gallery in 2016. The term "inside-out" expresses the sentiment of TORAFU ARCHITECTS to "flip-over" a subject and examine it from the reverse side.
"About the time we were studying at university, a design concept would be a central part of city planning. It would emerge next in architecture, and then be seen trickling down to interior design and other areas. Design concepts always seem to reach things and products last. However, we like to flip that process and work in reverse. We want designs to first emerge from small items such as things and products and move in reverse until they subsequently reach the city.
"For example, even the design of outdoor units for air conditioners can significantly change the scenery of a city. From a small thing, design goes toward making cities and the world better. This is what we mean by "Inside Out."
While flipping conventional thought on its head by freely changing scale from small products to large cities, the architectural firm TORAFU ARCHITECTS takes an idea and gives the idea form. The light air that fills that creative thought is very comfortable and attractive no matter where you go.