Good Design Award 2017 ― Good Design Best 100
Air Conditioner: "cocotas" Multi-Cassette-Type Air Conditioner for Small Spaces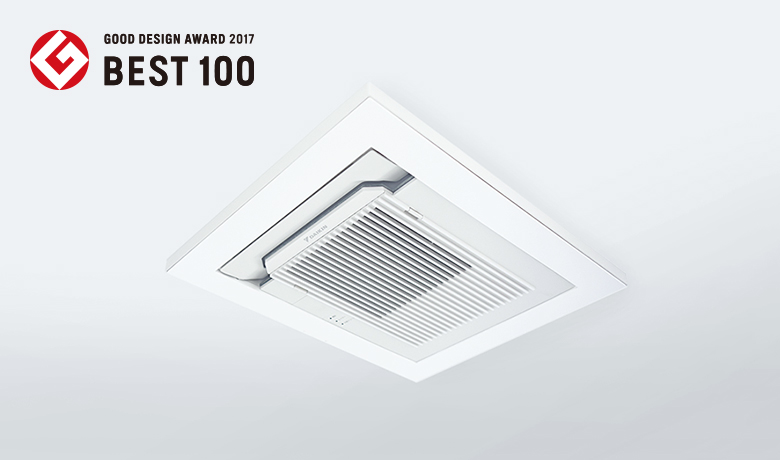 Daikin Industries' "cocotas" air conditioner is the industry's smallest* cassette-type small-space unit for in-home use. Designed for installation in small spaces, the "cocotas" is capable of eliminating temperature differences in homes and preventing residential accidents such as heat shock and heat stroke, which have become a societal concern. In addition, the unit is intended to meet a diverse array of needs concerning space creation to facilitate the realization of more comfortable and more luxurious living spaces.
*

Among ceiling-embedded cassette-type air conditioner (as of October 2017).
Jury Conclusions
The "cocotas" air conditioner's size makes it ideal for the narrow spaces found in many Japanese homes―from studies and tea rooms to kitchens, washrooms, and children's rooms―and other buildings. While the needs in many situations could only traditionally be satisfied with larger air conditioners, the presence of these larger units can be perceived as a heavy burden in small spaces. In contrast, the "cocotas" has been meticulously designed―both in size and in detail―to suit the limited spaces of Japan.
The added ability to control the air conditioner via an app is also indicative of the careful consideration given to users.
Thoughts from the Designer
Designing a small, never-before-seen air conditioner for small spaces required extensive collaboration. Being recognized for the careful attention to detail this project required to meet the diverse needs of space creation is a great honor. We are confident that the "cocotas" will bring comfort to every corner of the house and to the lives of those within.
Mana Yamashita, Designer
Air Conditioner: "cocotas" Multi-Cassette-Type Air Conditioner for Small Spaces
---
Good Design Award 2017
Air Conditioner: "risora"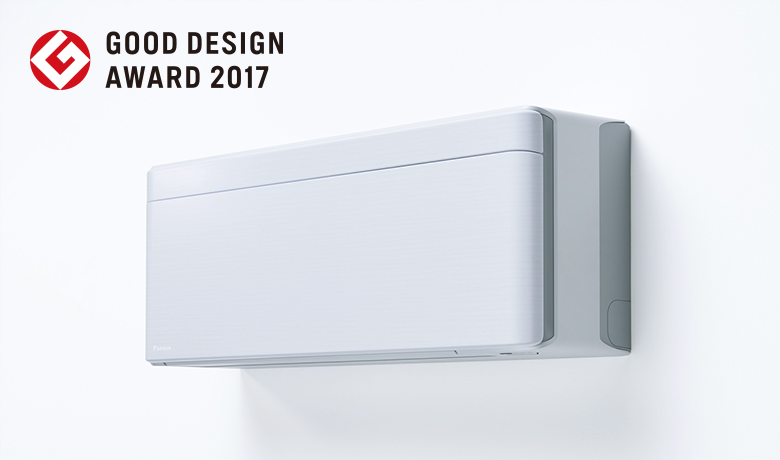 At less than half a ken*, the "risora" air conditioner is designed to better suit Japanese living environments while featuring a shape and texture meant to compliment lifestyles as an element of interior design. The "risora" offers added energy savings as well as greater comfort in a 185 mm thick by 798 mm wide body. Adhering to a size less than half a ken gives the "risora" greater installation flexibility, making it ideal for those with a keen eye for interior design.
*

A ken is a traditional unit of Japanese measurement, and a half ken is about 90 cm.
Jury Conclusions
Recent trends concerning necessary living space functions such as air conditioners have seen a greater emphasis on wall and ceiling mounted designs that eliminate the "presence" of the device. The issue has thus become how to deal with the physical presence of air conditioners that are instead added to an existing space. With this in mind, we carefully evaluated the "risora" based on the premise that it would be less than the half-ken size of traditional Japanese interior units while also looking at the air conditioner's simplicity of shape, color, and texture.
Thoughts from the Designer
Whereas advances in energy conservation have given rise to heavier, longer air conditioners, I am pleased to see that the re-evaluated design of the "risora" from the consumer's viewpoint and an interior design perspective―in addition to the goal of ensuring that it was less than the half-ken size of conventional units, making it more suitable for living spaces in Japan―has been well received. I am confident that the "risora" will become a fitting interior design component in the lives of consumers.
---
Good Design Award 2017
Humidifying Streamer Air Purifier (MCK70U)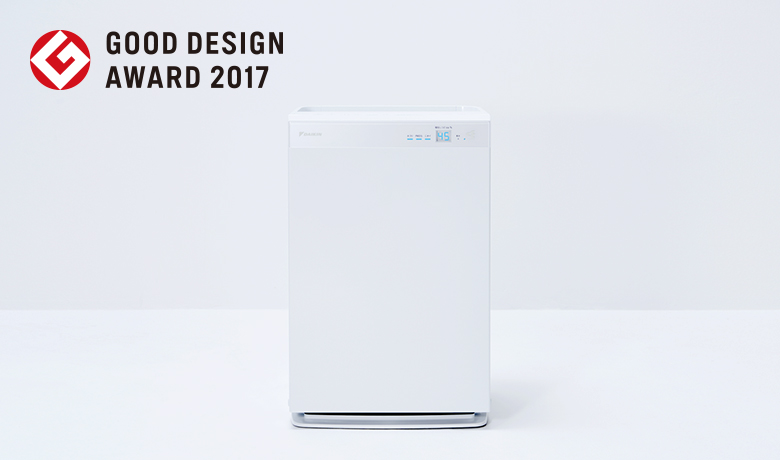 Daikin's MCK70U is an air purifier that makes living with clean air a reality. The device is designed to express a feeling of freshness through a variety of aspects, from a linear shape that exudes a sense of tension and gloss that feels almost transparent to a display that turns all blue when the air is clean.
Jury Conclusions
Although the design of Daikin's Humidifying Streamer Air Purifier (MCK70U) is simple, the goal is obviously an homage to its purpose of providing purified air rather than a simple collection of shapes and colors. The virtuous linear shape, the white color with a glossy aura, the transparent-like textured finish―every detail seems carefully designed. On top of that is an easy-to-understand user interface that turns all blue when the air becomes clean, providing users with an added sense of calm. The MCK70U earns high marks for its overall expressiveness of clear, purified air.
Thoughts from the Designer
While aiming for simplicity, I also wanted to express a casual feeling of "airiness." I am pleased that my intention of creating a design that brings the image of air to mind was recognized, even though that image is the result of various smaller details. I am grateful for the help of my team members who helped me work through the tough points. We hope that users will become as attached to this brainchild―our embodiment of clean air―as we have.
Chihiro Yoshikawa, Designer
Humidifying Streamer Air Purifier (MCK70U)
---
Good Design Award 2017
Air Conditioner for the Taiwanese Market (FTXM25SVLT)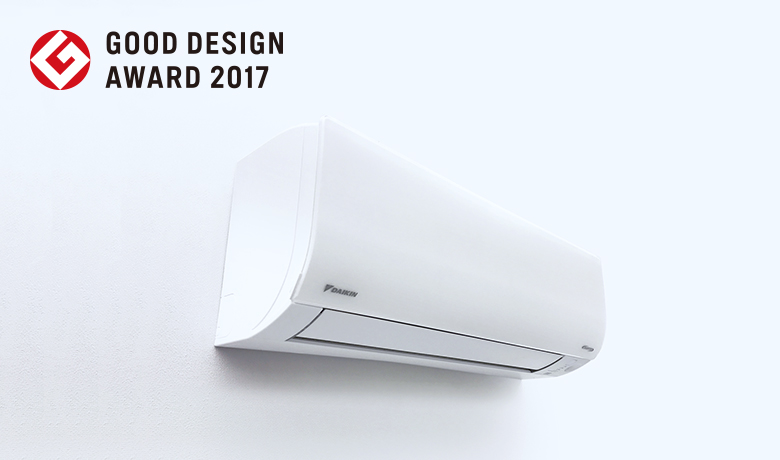 Designed to meet the needs of air conditioning culture in Taiwan, which has seen increased adoption not only in living rooms but also bedrooms as a result of economic growth, Daikin's sleep-inspired air conditioner provides a gentle air flow ideal for bedtime. This top-of-the-line model for the Taiwanese market includes not only energy-saving and air-conditioning technology to help ensure sleeping comfort but also an exterior design meant to fit effortlessly in the bedroom.
Jury Conclusions
Creating products for Taiwan―a country with high temperatures and high humidity―and for the Taiwanese market―with its increasing penetration rate of air conditioners―while also researching consumer demand for higher quality sleep is no small feat. On top of that, however, is a clear dedication to product development and design. In addition to unique features such as the ability to detect the user's sleeping position so as to limit where the cooler air is directed, the air conditioner includes many praiseworthy characteristics, including a carefully selected external design meant to not be a hindrance in narrow rooms.
Thoughts from the Designer
In designing this air conditioner, I faced the question of how an air conditioner that suits the Taiwanese lifestyle should be by physically going to the country and feeling the atmosphere and life there for myself. I couldn't be happier that this approach was appreciated, and I hope users in Taiwan will enjoy their own experiences with the unit's design and comfort.
Masahiko Choji, Designer
---
What Is the Good Design Award?
The Good Design Award is a comprehensive design-promotion system that picks good design out of a variety of unfolding phenomena, and aims to enrich our lives, industries, and society as a whole by highlighting and celebrating these works.
The precursor to the award, the Good Design Selection System (or G Mark System), was founded in 1957 by the Ministry of International Trade and Industry (the current Ministry of Economy, Trade and Industry), and has been engaged in design analysis for about 60 years. Submissions come from a wide range of fields, and roughly 1200 designs are recognized every year. Over 60 years, around 44,000 designs have been recognized by the awards. Recipients of a Good Design Award are granted use of the G Mark symbol, which has been an emblem of good design for over half a century.