Red dot award 2018
Air Conditioner: "Linea"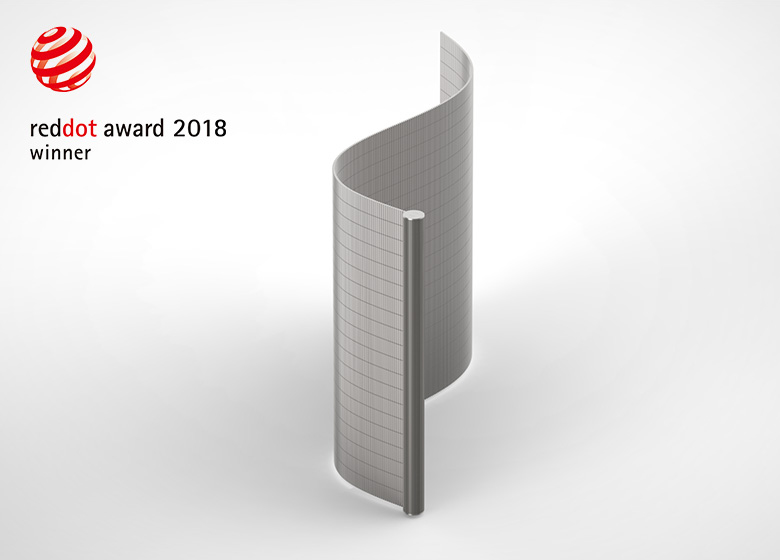 Linea is a personal air conditioner designed for portability and corresponds to the recent trend of open-space offices.
When you especially need to concentrate, you can instantly change an open space to a personalized space by expanding the partition-style sheet. Equipped with an air vent, this sheet can evenly air condition the entire area around the user. Furthermore, an environment favorable to concentrating can be created by utilizing the sensing function to detect the physical conditions of the user to control temperature, humidity, and odors.
Thoughts from the Designer
Linea's air conditioning concept was created by envisioning an air conditioner that is truly useful in the office.
We are honored that use of this new air conditioner has been favorably received and at the same time extremely pleased that our concept has gained acceptance. Our wish is to continue creating optimal designs that provide an ideal environment for air.
Good Design Award 2018
Air Conditioner: "Urusara 7"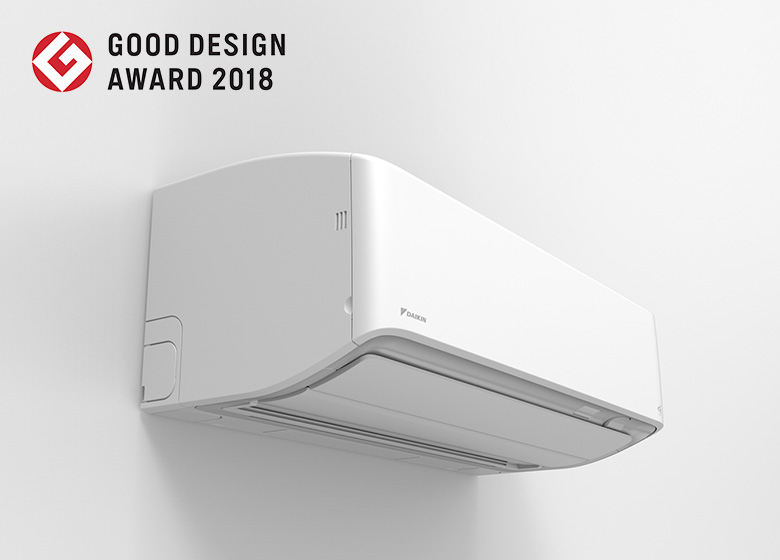 This is the flagship model for residential-use air conditioners that focuses on the entire area of a room to offer both comfort and energy savings. By measuring conditions for the entire space, including thermal storage of the home, we achieved air conditioning that is optimized to not only sustain comfortable spaces with no uneven airflow but also maintain long-term energy savings.
Jury Conclusions
The product concept highlights the fact that the heat stored in the ceiling and walls from the summer sun imposes a substantial load on the indoor environment. Although using sensors to detect and track human presence has become the recent trend, measuring thermal storage of a building offers a better method for constant control of conditions in providing optimum air environment and comfort. Eliminating uneven temperatures can also help relieve user stress, and when you factor in its superior energy savings, you have an extremely appealing product.
Thoughts from the Designer
To develop an air conditioner through such an unconventional approach required us to work from the start in close consultation with the engineers. In receiving recognition with this award for our product, including its concept, we were also able to understand some of the many challenges related to air and the air conditioning market. For now, we want to share the pleasure of winning the award with our project members before applying our newly-acquired knowledge to the next challenge.
Takaaki Sanagi, Designer
---
What Is the Good Design Award?
The Good Design Award is a comprehensive design-promotion system that picks good design out of a variety of unfolding phenomena, and aims to enrich our lives, industries, and society as a whole by highlighting and celebrating these works.
The precursor to the award, the Good Design Selection System (or G Mark System), was founded in 1957 by the Ministry of International Trade and Industry (the current Ministry of Economy, Trade and Industry), and has been engaged in design analysis for about 60 years. Submissions come from a wide range of fields, and roughly 1200 designs are recognized every year. Over 60 years, around 44,000 designs have been recognized by the awards. Recipients of a Good Design Award are granted use of the G Mark symbol, which has been an emblem of good design for over half a century.