Air Purifier with Humidifying and Dehumidifying Functions (MCZ70W-T) 
An air coordinator that supports people who want to live by their own values
■ Jury Conclusions
This multi-functional air purifier performs operations ranging from humidification and dehumidification to dust collection and deodorization. Considering that multiple products had been needed to provide the same level of functionality, this product occupies a meaningful place for its capability to independently deliver the ideal in air comfort. Meticulous humidification control technology that helps to properly maintain delicate musical instruments is just one example of Daikin aiming to go beyond mere functionality in support of human lives through creation of optimal air environments. A quiet design blending into living space represents an honest attempt to avoid intrusion on the center of people's lives.
■ Thoughts from the Designer
We considered new value that we could provide to customers through air in modern society where values are diversifying and developed this product in the belief that we could utilize air to support people who wanted to live according to their own sense of values. As an air specialist, Daikin will continue to expand possibilities of new experiences through air. We hope that this award will help us encourage even more customers to use this air purifier whose development is the result of the hard work of the entire development team.
Hiroki Hayashi, Designer
Outdoor Air Conditioners (SPP71AV)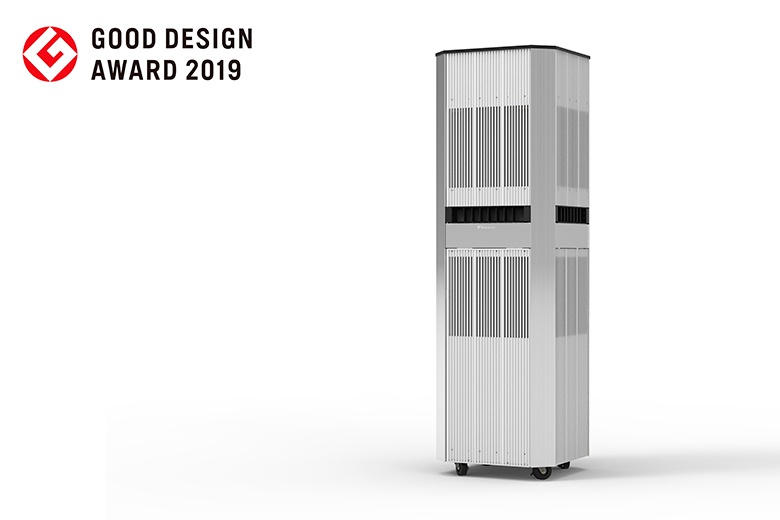 The Outer Tower is an outdoor air conditioner that sends a cool breeze to sweltering places in summer, such as outdoor event venues, cafe terraces, parks, and stations, and expands the possibilities of summer outdoor spaces.
■ Jury Conclusions
This air conditioner is designed to be used under any weather conditions in various outdoor spaces including public spaces, such as squares, and commercial facilities, such as open cafés. The product is highly evaluated for overcoming many issues to achieve robustness, maintainability, all-direction airflow, and safety in crowds. It can also be installed both permanently and temporarily to satisfy new outdoor needs expected to emerge due to an increasing number of outdoor music festivals, marché, and other activities utilizing public squares. This highly-needed product is expected to serve as a new measure in today's society against the extreme heat of hot weather in public spaces.
■ Thoughts from the Designer
Although this project was very challenging since we needed to quickly develop a product capable of withstanding harsh conditions of outdoor use, all development members worked hard with a strong passion to quickly release a quality product and maintain our commitment to technology as a dedicated air conditioning manufacturer. We are very honored to receive such a distinguished award and appreciate the belief in the potential of this product in public spaces.
Mana Yamashita, Designer
Air Conditioner for Stores and Offices (SSRHU40BCT)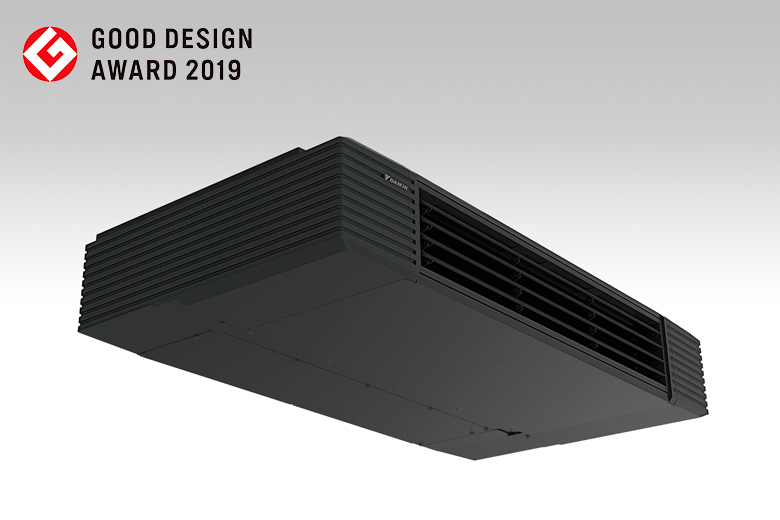 This is an indoor unit of a commercial air conditioner designed to harmonize with various spaces including open ceilings. We developed this product in the hope of realizing the air conditioning expectations of interior designers and occupants without any trade-offs.
■ Jury Conclusions
This air conditioner is designed to be used in open ceilings in commercial spaces. The product is highly evaluated for its ceiling-suspended appearance, its slim design, attention to details, and a wide range of color variations. Considering conventional needs for the installation of ceiling-suspended cassette air conditioners and on-site coating, this product is expected to make a significant contribution to improvement in design quality.
■ Thoughts from the Designer
Because we have few opportunities to make commercial air conditioning products known to customers, receiving the Good Design Award helps us increase architectural and interior designers' awareness of Stylish Flow. We hope this product will satisfy both space producers and occupants as an indoor air conditioning unit that improves the design integrity of certain spaces and can be used in various spaces in the future.
Kentarou Niki, Designer
Vehicle Air Purifier (MCV03ACD2-K)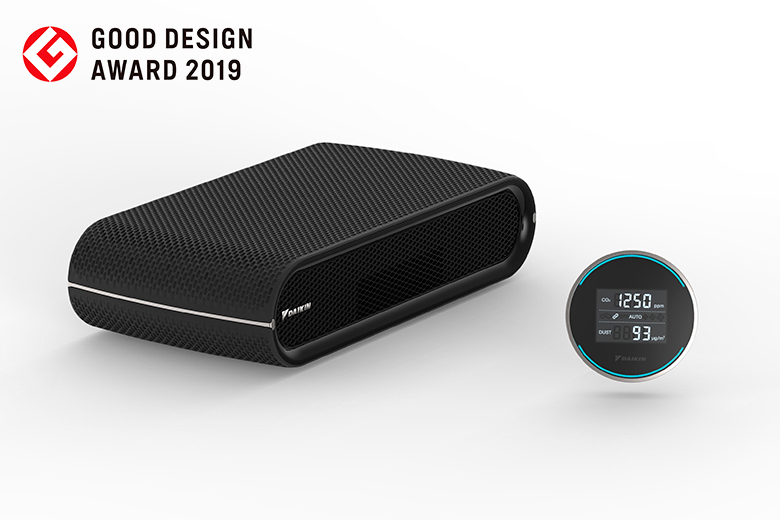 This product is made for people in Asia who suffer from air pollution. This air purifier purifies air inside the car and monitors air components. If the component concentration exceeds the threshold, ventilation is recommended to the driver.
■ Jury Conclusions
We highly appraise the compact design of the air purifier with its high performance and functionality. The simple interface fits into the small spaces of vehicles. In addition to the air purification function, the product helps to remind drivers of ventilation, which is often forgotten, and suggests the optimal timing. Considerations for scalability, including connectivity with smartphones and tablets, also raises expectations.
■ Thoughts from the Designer
Project members for the product fundamentally examined what is needed for the air inside automobiles and tested functions and air conditioner use to create a new product concept that Daikin has never developed before. We are very pleased with the recognition by the jury of our careful consideration of functionality, use, and concept of the product. We will continue to design air environments appropriate for various situations and propose them to society.
Daikin Altherma Outdoor Unit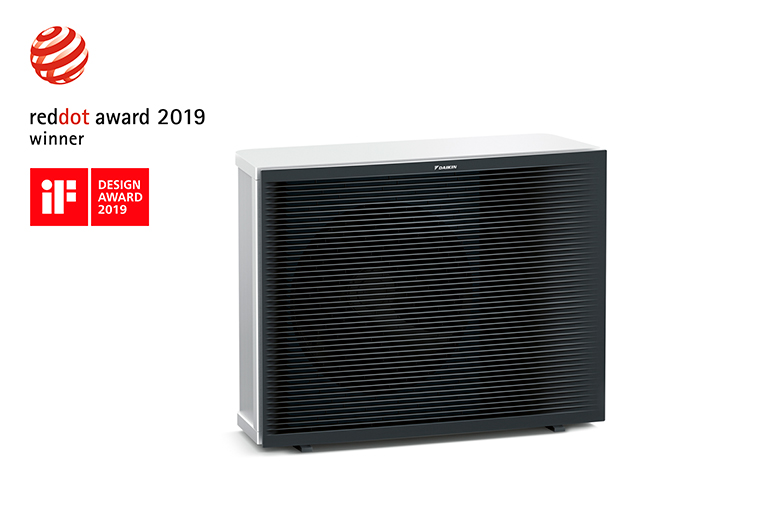 This is an outdoor unit of "Altherma," a product of Daikin Europe. Altherma is a system for air conditioning, floor heating, and hot water supply using the electric air heating technology, which Daikin has acquired through its air conditioning business.
■ Thoughts from the Designer
Because air conditioners are less common in the targeted European market than in Japan, consumers consider it strange to see outdoor units in their gardens, entrances, and other outdoor spaces. We hope that outdoor air conditioning units can match the excellent designs of our indoor units.
When developing this product, I participated in all processes ranging from design proposal in upstream production to the final manufacturing process. The biggest challenge was grille design, which is also an appealing point. Some members doubted if we could achieve the size that had never been created before in the company. We produced many prototypes and had repeated discussions with engineers. Things that have never been done before are worth doing. The European development team closely worked together in the hope of changing air from Europe with the beautifully-designed outdoor unit.
As a company committed to air, Daikin is globally expanding the area of environmental consciousness. We will continue to make efforts to provide both micro and macro designs that consider not only indoor air but also outdoor environments and landscapes.
Joint design by Hiroyasu Kosuge, Designer of Daikin and yellow design gmbh