Designers sometimes need to depart from conventional thinking and discard what other people often take for granted. Developing the "Altherma" outdoor unit, which was released onto the market by Daikin Europe, required us to do exactly that.
This time, we developed an outdoor unit for "Altherma," a heating and water heater system. Employing technology cultivated in our air conditioners for using electricity to heat air, this system provides hot water for showers, underfloor heating, and air conditioning. Although it would be unusually large in the Japanese market, the system features, despite its compact size, outstanding performance in its capacity range.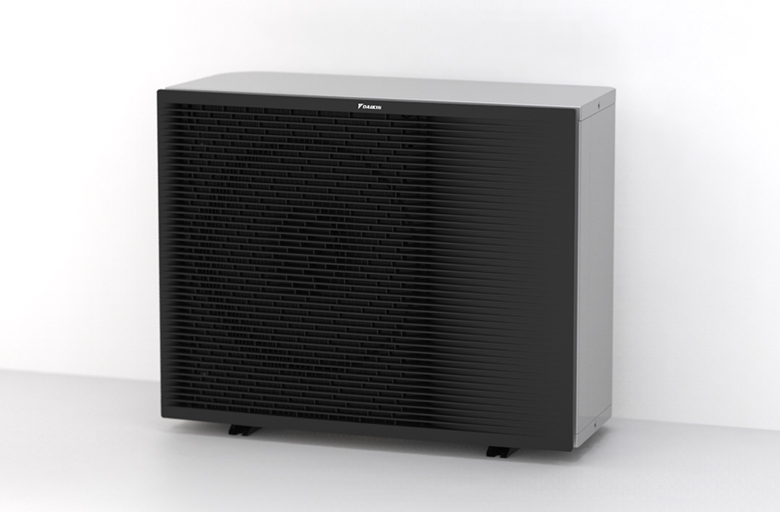 Differences in Outdoor Units between Europe and Japan
Development began with a sales subsidiary in Europe saying, "We want you to improve the design of outdoor units." Because residential air conditioners and heat-pump heating are less common in Europe than in Japan, people in Europe rarely see outdoor units outside and discovering such an unfamiliar object placed in their gardens and entrances would be unsettling.
In contrast, outdoor units are omnipresent in Japan. In Japanese comic books, utility poles and outdoor units are illustrated as part of landscapes because they are perceived as objects blending into the background. However, in Europe where outdoor units are not as common, customer needs for outdoor units are different from those in Japan. Just as with interior design, Europeans want outdoor units to look aesthetically pleasing and provide them a sense of pride. This led us to regard outdoor units as a part of the landscape and give them the same level of design quality as indoor units.
But what level of design quality is required for an outdoor unit? Mulling that question myself, I wrestled with the idea of changing awareness for outdoor units and further raising awareness for higher design quality. "I want to transform all Daikin outdoor units!" and shared my strong enthusiasm with the members of the development team.
Incorporating the Installation Environment into Design
This product differs significantly from conventional ones in that we examined the environment where the outdoor unit would be installed, instead of thinking it as a standalone product. Observing the living environment in Europe, we found large gardens along with windows, doors, and entrances.
The sides of these objects always cast shadows in contrast to the light, and I thought we could purposefully use these elements.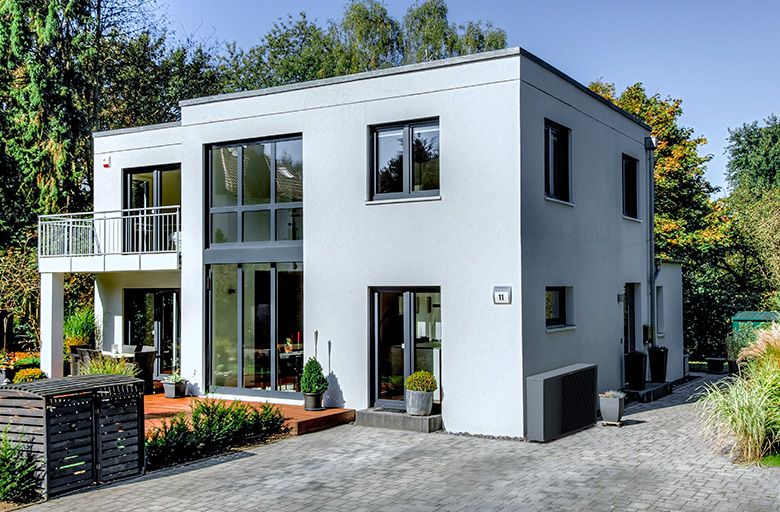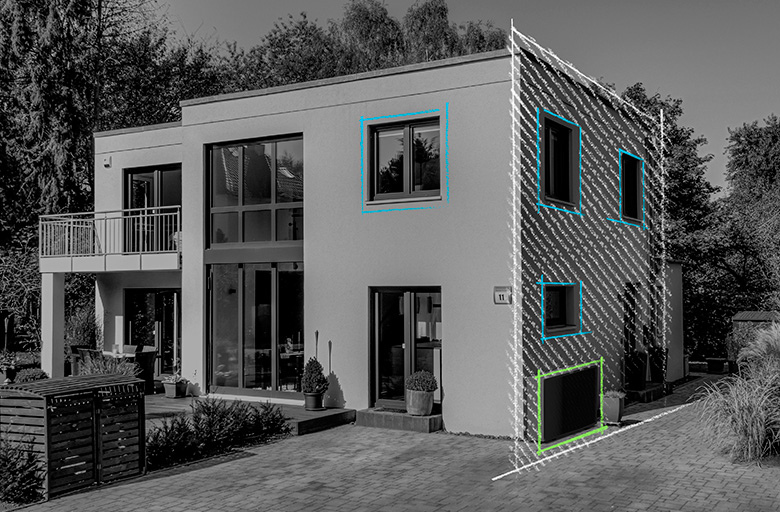 Shadow sides. Square objects such as windows and doors appear darker. The same holds true to all residential buildings and led us to a new design concept. (It is applicable to both Europe and Japan.)
Shadow side of the building
Shadow side of the outdoor unit
One side is the "silhouette" of the house. Square objects, such as windows and doors, often appear darker on the shadow side. We thought we could leverage the shadow effect of the house, which represents the installation environment. Another side is the "shade" of the outdoor unit itself. We used the grille to cast a deep silhouette on the outdoor unit and selected a color to enhance it. Effectively using these two types of shadows is the key concept of this design.
Practical Grille with Stylish Design
A large front grille is the most important element to creating the shadows of the design concept. All the other outdoor units that I had seen before were not entirely covered by a grille. In this sense, the design significantly differentiates the outdoor unit from others.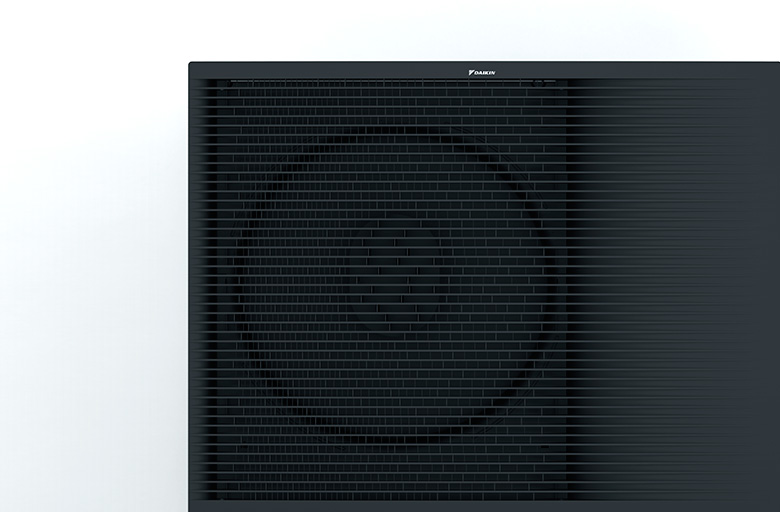 However, we struggled in product development. Because the grille is made of resin, a mold design is necessary for forming. As the part size increases, the degree of difficulty for quality assurance increases more than usual due to such factors as additional locations where the resin is poured, more complicated mold design, and need for greater pressure. Having never manufactured such a large grille, some members initially wondered, "Can we really do that?" In addition to the slim grilles and other elements of design, considerations must be given to various functions, including sound, performance, snow resistance, and safety, to meet the test standard. We created many prototypes and repeatedly modified and examined them with engineers.
Never having done this before, I could see the value in working through this type of process and shared the aim of the development team to create a beautiful outdoor unit design by providing a breath of fresh air from Europe. I believe this is the reason we could overcome such a great challenge.