TIC MISSION
As the global control tower for technology,
the Technology and Innovation Center (TIC) generates
differentiated technologies to contribute to business for the Daikin Group and
provide solutions to issues affecting society.
MESSAGE FROM
THE CENTER DIRECTOR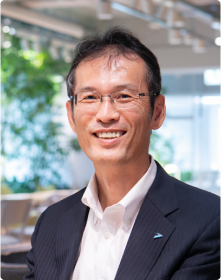 Yuji Yoneda
Executive Officer, Daikin Industries
General Manager, Technology and Innovation Center
The Technology and Innovation Center was established in November of 2015 to develop products and technologies with distinguishing qualities and impact for the sustainable growth and development of that Daikin Group.

Amid the rapidly changing business environment, we have cast aside the boundaries of "proprietary technology development" and eagerly embraced "collaborative innovation" to hone our core technologies and accelerate the development of products and technologies. In this way, we are striving toward business contribution to the Daikin Group and solutions to the issues affecting society.

Furthermore, as engineers ourselves, we actively visit the frontlines of global markets and actual sites with high aspirations and expertise and continue to exist as a group overflowing with vitality that insatiably creates innovation in new products, technology, and services.

We invite you to join us and take part in confronting new challenges together.
Biography
Joined Daikin Industries, Ltd. in 1987. He is a rare development engineer at Daikin with experience in the development of all products, including residential and commercial air conditioners, HP water heaters, and other housing equipment products. He has promoted quality-oriented product development with a focus on the actual place, the actual thing, and the reality.

In June 2015, he was appointed as the director in charge of air conditioning product development, and in November of the same year, with the establishment of the Technology Innovation Center (TIC), he was appointed as the center's director, actively engaging in open innovation with companies, universities, research institutions, and startups around the world.

He leads company-wide R&D from manufacturing to air conditioning core technology development to DX and environmental response.