Design engineer Hideki Yoshimoto recently became the inaugural recipient of the Lexus Design Award, a commendation that aims to identify, nurture, and support up-and-coming creators who will create a prosperous society and future. In becoming a design engineer, Yoshimoto studied aerospace engineering at the University of Tokyo and design at the Royal College of Art in the UK and continues in activities today to create a unique world uniting the two fields of technology and design. So, how does a design engineer conceptualize "Air"?
Designers and Engineers Aim for the Same Spot, Differing Only in Method
Mr.Yoshimoto,you undertake various industry-academia collaborative projects at the Research Center for Advanced Science and Technology (RCAST) of the University of Tokyo. What types of projects are you currently working on as a design engineer?
Yoshimoto:
Since much of my latest research involves collaborations with companies, I can't go into specifics, but there are always many ongoing projects such as development of a new system using drones and development of media applying artificial intelligence. Other efforts include a project for solar cell modules along with the design and development of new products relating to machines and mechanisms in the field of mechanical engineering.
At Tangent, which I founded in London in 2015, I was mostly engaged in projects with luxury brands, and many of my early jobs leveraged my artistic abilities. But since assuming duties as Project Associate Professor of the University of Tokyo in 2020, I think my activities for Tangent have also shifted in response in a way that seems strongly conscious of technology.
When I first meet someone, I always introduce myself as a design engineer. So, what is a design engineer? First, engineers and designers have their respective viewpoints, but their aims are ultimately the same. In other words, "What can we do to make things better?" Whether the object is tangible or intangible, both engineers and designers are people engaged in monozukuri. In that sense, I think their objectives are the same.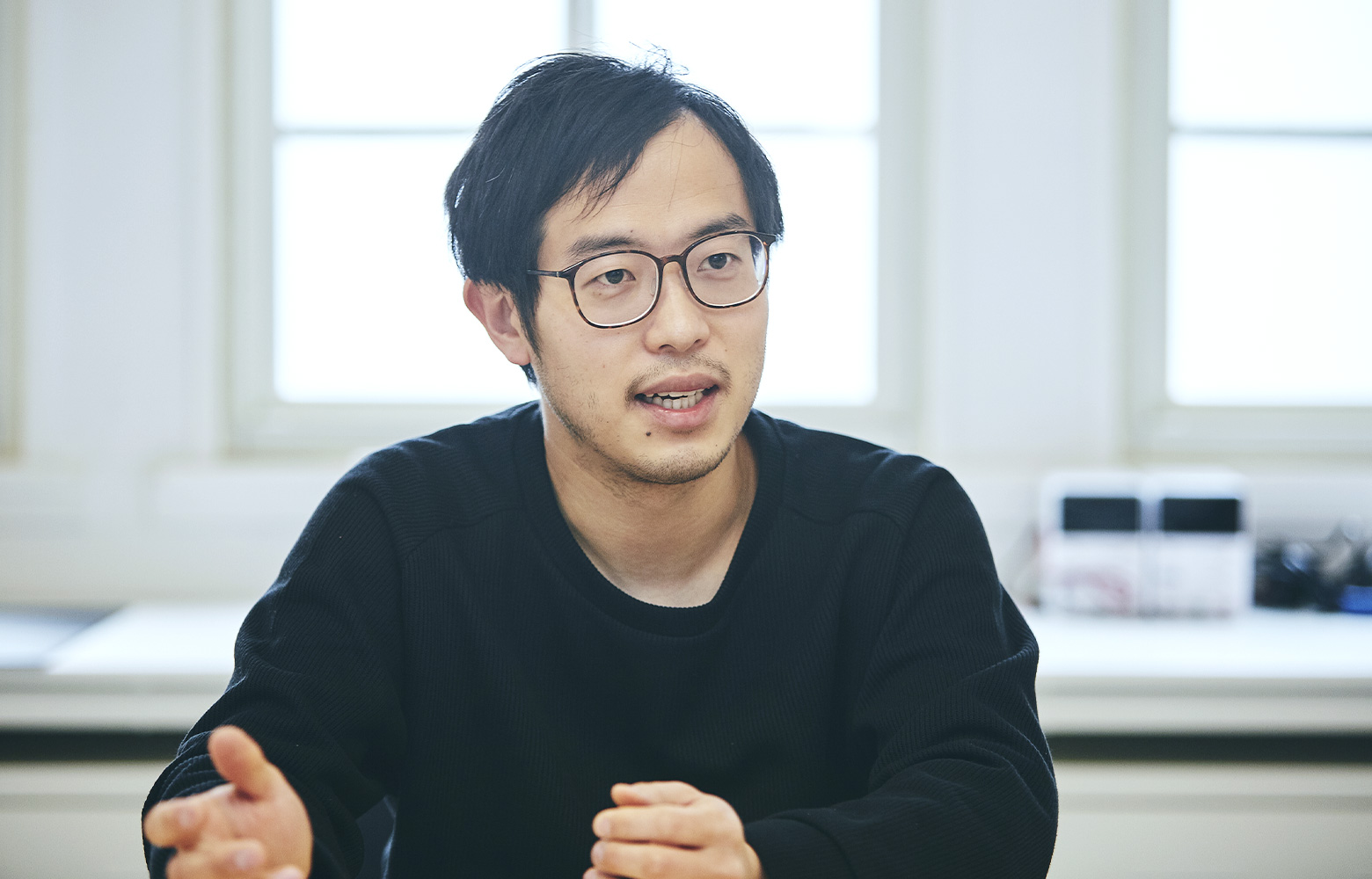 Then, what's the difference? The engineering field basically targets things controlled by the laws of physics. Among them, engineers strive for ways to improve the properties of objects through such efforts as raising efficiency, increasing speed, and lightening weight. Since there are various and complex constraints depending on the objects being handled, the study of engineering, from machines and electricity to cells, is extremely segmentalized, and specialists are divided into their respective fields. Thinking systematically, or what may be described as logical thinking, is essential.
Conversely, the objects being targeted by designers mainly concern human emotions and sensations, fashionable styles, and personal comfort. Human emotions reside outside the world of logic and cannot be understood by the laws of physics. I have an image of taking out unique ideas on a blank canvas. Actually, that kind of thing is also very important in engineering. Both manners of thinking are essential for the objectives of monozukuri.
What I strive to accomplish under the name of design engineer is to look at the technology that engineers usually confront from the slightly diagonal perspective of a designer. It might not always be more efficient, but technological applications have to appeal to human emotions and sensory perceptions on some level that evokes a good feeling or touches the heart. It is this aspect that may open up new demand or markets that had previously been thought unattainable by engineers.
With this in mind, my present feeling is to integrate the two different perspectives into my thinking.
Strongly Impacted by the Grandeur of Traditional Japanese Crafts
Having undertaken numerous projects, including luxury brands, which one was the most impressive?
Yoshimoto:
While all my work has been meaningful, being able to deeply draw upon the culture of my own country in a project merging traditional Japanese crafts with contemporary design left a strong impression on me.
The occasion was the opportunity to design the new trophy for the Lexus Design Award. Working on the Lexus Design Award brought back many memories and was similar to my experience in creating Tangent. The award targets students and fledging designers from among the younger generations and uncovers the rough, uncut diamonds that have yet to be recognized in the world. These efforts have been underway for a long time in the project, and I wanted to express their significance and grandeur.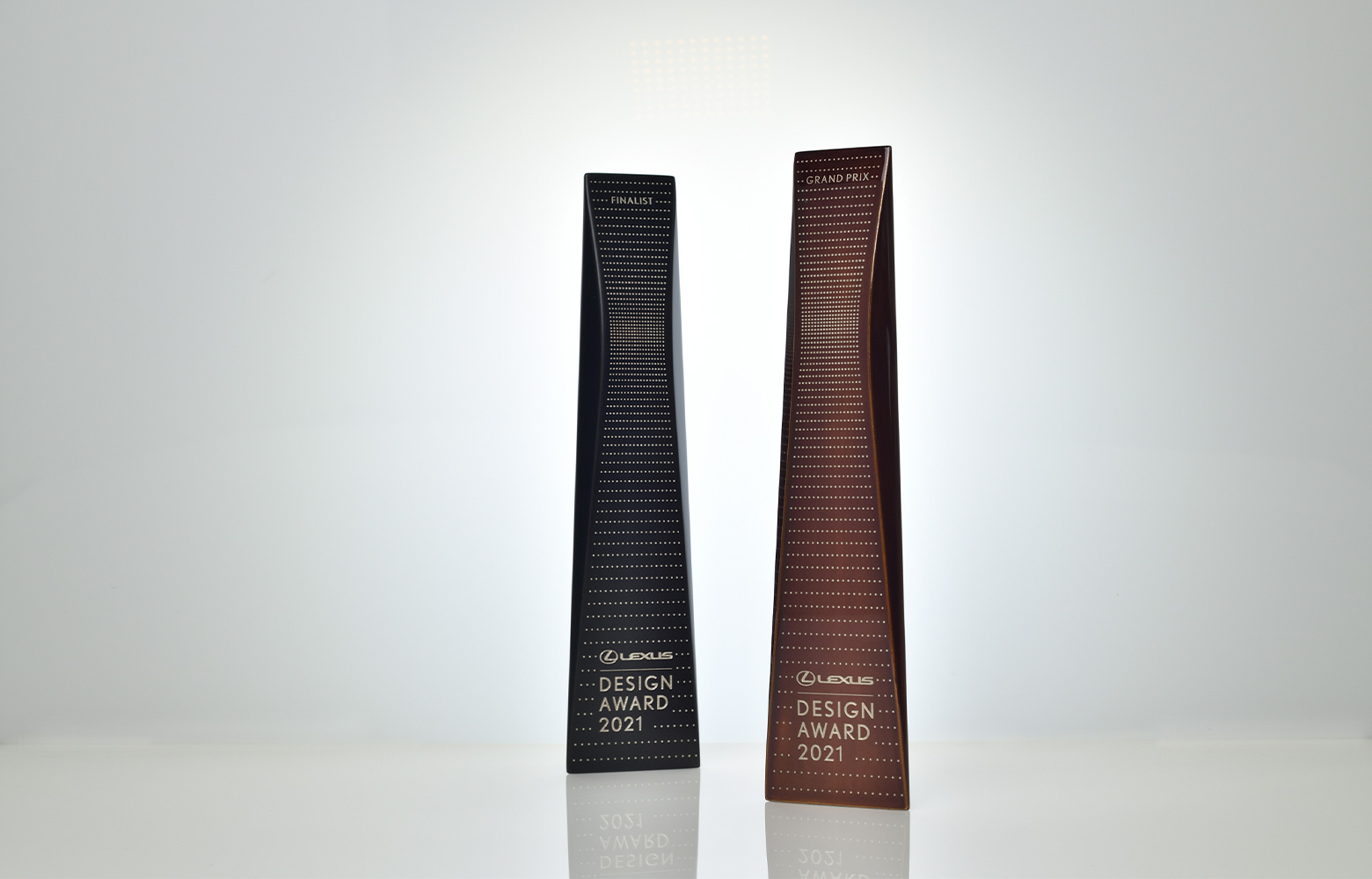 This trophy was made from a piece of wood in the shape of a prism and neatly cut to produce two simple curves on the front of the trophy similar to the X shape of a spindle grille displaying the Lexus icon. Next, a carefully calculated graphic pattern was processed on the emerged surface. When neatly cut, the brilliance of the rough diamond buried inside is drawn out. That is the image that I tried to create.
The trophy was finished with urushi lacquer of Kawatsura Shikki (Lacquerware), a traditional craft of Akita Prefecture, Japan. The trophy for the Grand Prix winner, in particular, was finished using a unique lacquer technique called "Byakudan," which creates a deep impression in which silver glitter can be faintly seen underneath the openwork lacquer. Over several years or decades, the openwork lacquer of Byakudan gradually becomes transparent due to UV-ray exposure. Just as the achievements of a recipient grows in the future, the silver sparkle of the trophy also becomes increasingly more brilliant and shinier. That was also part of my thought process for the trophy. The trophy could only have been completed after a contemporary idea encountered a traditional Japanese craft and the people who inherited it.
Fusion of Technology and Traditional Handiwork Creates Spiritual World of Buddhism
It seems that you worked on a new project related to Koyasan.
Yoshimoto:
Recently, I produced and dedicated a 7m wide wall artwork lavished with Kanazawa gold leaf for the alcove of a special guestroom named "Gachirin" that had been newly established in Ekoin, a famous temple located on Mount Koya.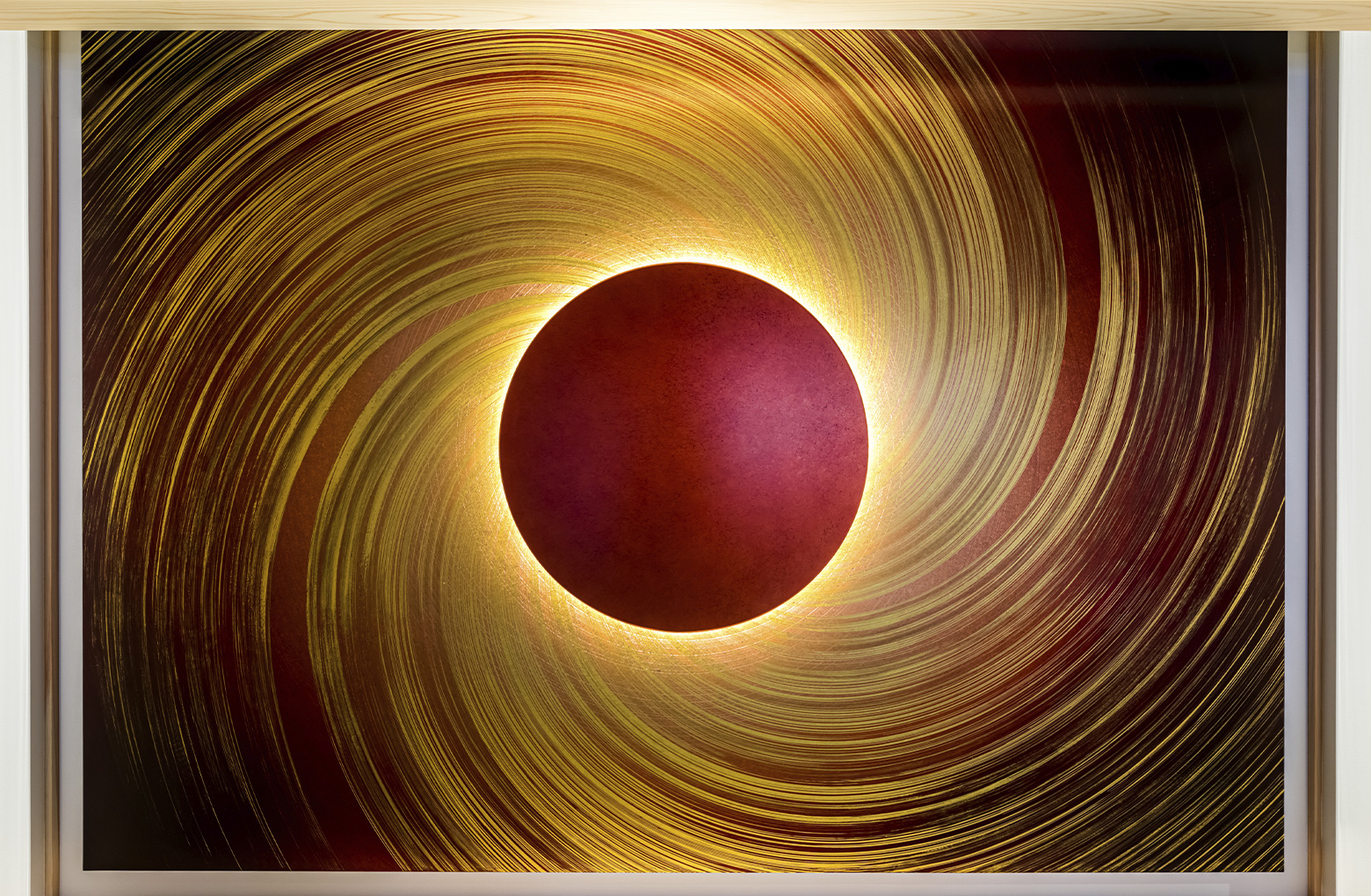 Photo courtesy of Kankan
The Kōyasan Shingon sect of Japanese Buddhism has passed down a type of meditation called Gachirinkan, or Full Mood Meditation. The method calls for gazing at a perfect circle that resembles a ring around the moon, reflecting that ring in your heart, spreading the image of that ring to your entire body and the entire room, and then finally to the entire universe. This work was inspired by the sight of a ring around the moon. The vortex of gold leaf that springs up from the perfect circle spreads across the wall to represent a landscape that seems to warp and spread to another dimension of the universe. My thought in creating this artwork emanated from my desire for people to experience the teachings of Kobo Daishi (Kukai) in this space where the ring around the moon connects to the entire universe and then extends to everything that exists in this world.
Along with this artwork, I also designed a new program for a meditation experience offered exclusively to guests of this special guestroom.
Ekoin has a dojo for meditation and a program in which overnight guests typically gather at the dojo to learn how to meditate from a priest. Guests who stay at the special Gachirin guestroom, however, can privately experience meditation by gazing at this artwork in their own room as a special meditation program.
For more than 1200 years, the teachings of Kobo Daishi (Kukai) have been passed down unchanged to present day, and a creator like me can interpret them and create new works of art. Koyasan has its own flow of time that continuously develops, and the teachings of Kobo Daishi are further passed down to the future in various ways. In this meditation experience, I hope people experience the spatial expanse and connection of "being one with the whole universe" in addition to the flow of time and history.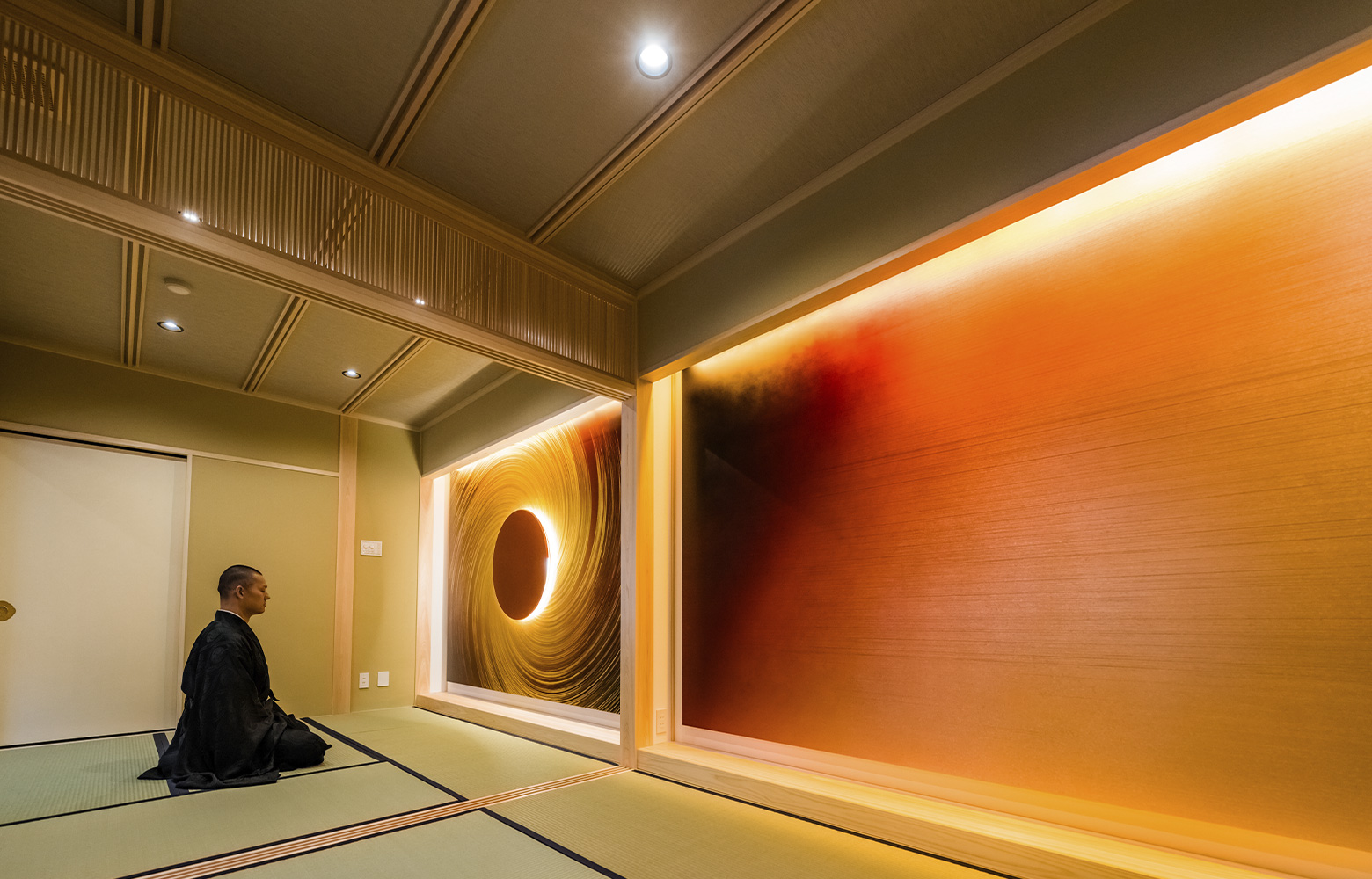 Photo courtesy of Kankan
I was able to produce this artwork that interlaces various expressions of Kanazawa gold leaf including brass foil, pure gold leaf, and aluminum foil through the kind cooperation of Hakuichi Co., Ltd., a prestigious manufacturer of Kanazawa gold leaf and related products. The vortex pattern that spreads to the universe was created by computer-aided drawings and the detailed workmanship performed by the hand of a craftsman. The result achieves a collaboration between technology and Kanazawa's traditional techniques for a fusion of technology and handicrafts.
The ultimate goal for me remains unclear, but I think it is very significant to connect traditional crafts and technology. I want to take on various challenges in the future, but even when I use technology, I would like to continue placing importance on a monozukuri approach and process to make the best use of inventiveness without compromising the amazing workmanship of craftsmen.
Air surrounds everyone from the time of our birth. Give thought to its added value.
How does a design engineer see the existence of air?
Yoshimoto:
If air no longer existed, almost all living things on earth would die, so it is immeasurably important in the first place. I think Daikin is trying to add value to air and create "better air" to make life much nicer and more comfortable. To do this, both emotional and technological perspectives are necessary. I think that the combined approach of both engineers and designers will enable Daikin to ultimately achieve its aim of creating better air for users. How do people feel air? Not only do they perceive it based on numerical values and parameters achieved with mechanical sensing, but they also feel it through their own bodies and five senses. What will the new experience of the air be? I have been paying close attention to the vector to perceive air with these kinds of senses.
Furthermore, from a macro viewpoint, air covers the entire earth without borders. Even if air in a room doesn't seem to connect to outside air, there is an exchange of air. Cooling a room with an air conditioner makes the air outside the outdoor unit hotter. By perceiving air as a large connecting system, I think you can discover new added value for air.
The Research Center for Advanced Science and Technology of the University of Tokyo which I currently belong to is the place to develop new fields at the extreme cutting edge of technology. Here various vectors point in all directions like thorns. I have just started taking on challenges. I would like to move forward without forgetting to have thorns while fully enjoying both the difficulties and pleasures of breaking new ground.