Don't Cross Their Path, Don't Entice Them
Since the late 1800s in Hokkaido, it was government policy to eradicate brown bears, regardless of whether they were harmful to humans. The result was a dwindling of the bear population to the point they became an endangered species. With the situation reaching a crisis level, in 1990, the government reversed its policy in order to protect brown bears.
In recent years, the brown bear population has recovered somewhat. But with this has come increasing instances of brown bears entering areas of human habitation.
This is a particular problem in the Shiretoko Peninsula, where in a confined area there are the ecosystems of wild animals, fishermen, and farmers, as well as large numbers of tourists.
To protect the brown bears while also keeping humans safe, it is necessary to clearly separate human and bear territory.
And once bears know what human food tastes like, they continue to come back to human habitats. People must under no circumstances feed the bears or leave garbage unattended.
For bears and humans to coexist in harmony, it is crucial that humans stay out of the way of bears and do not entice them.
Shiretoko brown bear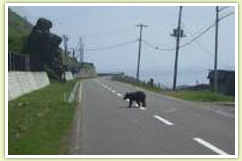 Brown bear crossing a road
Note: The photos on this website are courtesy of the Shiretoko Nature Foundation.