Conveying the Importance of Forests, and Passing on Shiretoko's Forest to the Next Generation
It takes years to restore a forest to its original state — perhaps a century or two. Therefore, in order to carry on this lengthy effort, it's crucial that our current generation pass the torch to people of the next generation so that they can continue the mission of caring for, protecting, and nurturing our forests. To this end, we are fostering our successors — the children of the Shiretoko region, and all people in Japan and around the world who care deeply about Shiretoko — by conveying to them the important role that forests play and the need to restore them.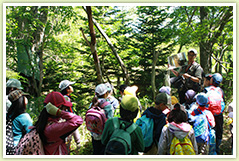 What Daikin is Doing to Help
We're providing teaching materials and support to groups that offer environmental education to children in the form of hands-on nature outings and other events that foster children's love of the natural environment.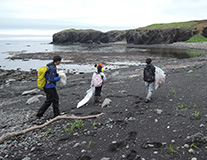 People who visit Shiretoko learn about the role of forests and forest restoration activities.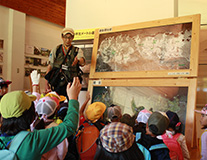 Helping Foster Coexistence Between People and Brown Bears, a Key Link in Forest Growth
Brown bears are at the top of the food chain. They wander freely between the high mountains and the coastal areas of the Shiretoko Peninsula, eating things like fish and berries, which they excrete as feces that nourishes plants and transports seeds that eventually grow into trees. This makes the brown bears a crucial link in forest growth.
However, in Rausu Town on the southeast of the peninsula, the forest where bears live is right behind people's homes, and bears often appear in the coastal neighborhoods where people live.
To solve this problem, fences with a light electrical charge were erected in order to keep bears out of the human habitat, thus protecting the bears and ensuring that people are safe.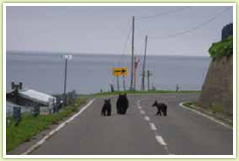 Brown bear near a person's home
What Daikin is Doing to Help
To ensure that the brown bears, which play a key role in maintaining the forest, can coexist with human residents, the electric fence is maintained and managed and PR activities are conducted.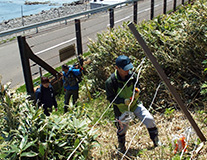 Note: The photos on this website are courtesy of the Shiretoko Nature Foundation.