Humidifying Type Streamer Air Purifier(MCK70Y)
■Outline
An air purifier that evolved from the heightened awareness for air quality and lifestyle changes due to COVID-19 pandemic and which led to Dakin reviewing its production system to deliver greater confidence and comfort in air through its humifying type air purifiers.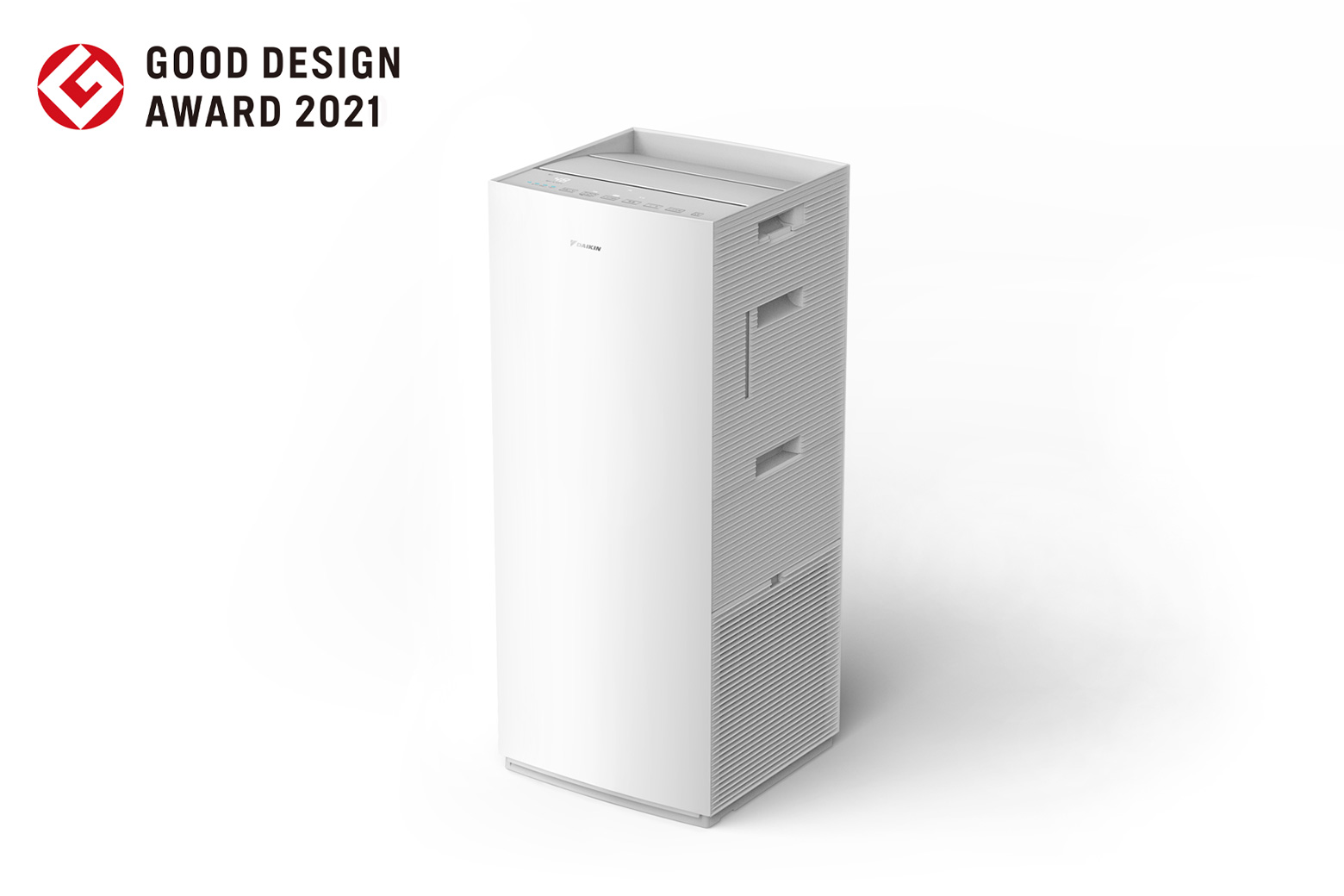 ■Jury Conclusions
There is a pleasant sense of unity in the lineup. First, the design suggests that this sense of unity emanates from the alignment with a product concept rather than the aligning of ideas merely to create an attractive appearance. This type of thinking cultivates an uncompromising commitment to product workmanship.
■Thoughts from the Designer
In this development, we conscientiously reviewed all elements of function, molding, operability, and CMF, and devoted our full attention to designing an air purifier that suits our daily lives. Because all of us involved in development worked together with a commitment to every detail, we are truly pleased to receive high praise in this way for excellence in product concept and workmanship.
Designer: Mana Yamashita
In these times when our values toward air are dramatically changing, I think that air purifiers will become an essential part of our lives. With this in mind, we once again approached development by challenging creation of an ambience and ideal for the air environments in which we live. As we move forward with an eye on the changing lifestyles of each era, we will continue to provide products and experiences with a cozy fit for our customers in which that they can feel comfortable air.
Designer:Kiriko Higashiyama
Air purifier Air purifier for Southeast Asia
■Outline
An affordable air purifier designed to be compact, silent, yet capable for small living and working spaces in urban areas, providing access to clean air without compromising comfort and aesthetic.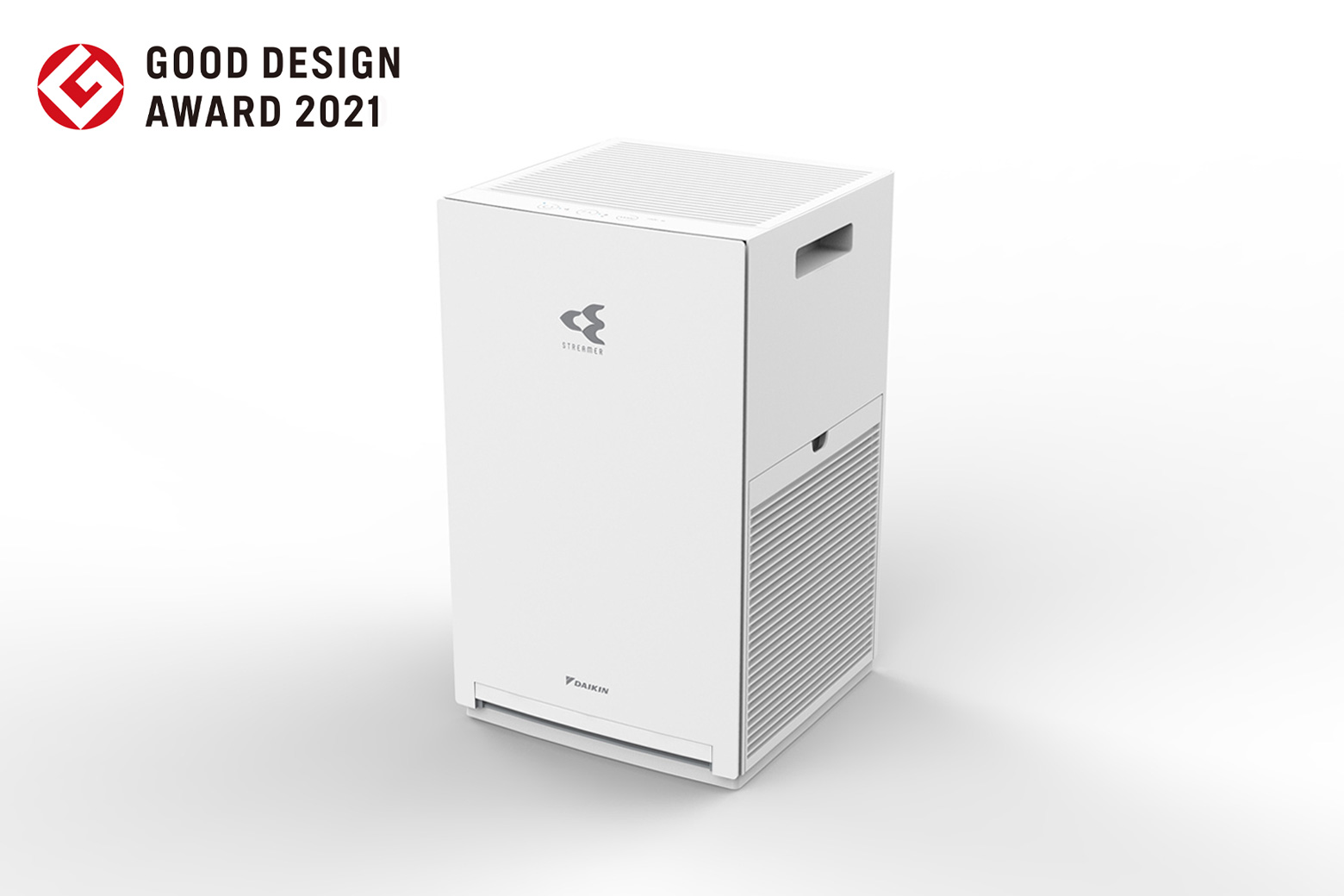 ■Jury Conclusions
Although specifications for air purifiers vary according to residential environments, the environment in which this product is used is accurately incorporated into the design. The reassurance felt despite its compact size is a testament to meticulous care taken in its design. In terms of form, something with a beautiful outline is sought, and this product certainly meets aesthetic expectations.
■Thoughts from the Designer
We believe that clean air technology should be accessible to everyone. Therefore, we designed an affordable and compact air purifier for smaller spaces in developing countries in the ASEAN region. Aesthetically, the design consists of simple clean surfaces and details expressing air movement. Our hope is to give users peace of mind as they focus on their day-to-day lives.
Designer:Ben Ong Seow Yan, Nicholas Ee Cao Cin, Sarah Zulaikha Sufian Binti Sufian
Air Conditioner (V/VX series)
■Outline
A residential air conditioner that takes in fresh outdoor air while air conditioning.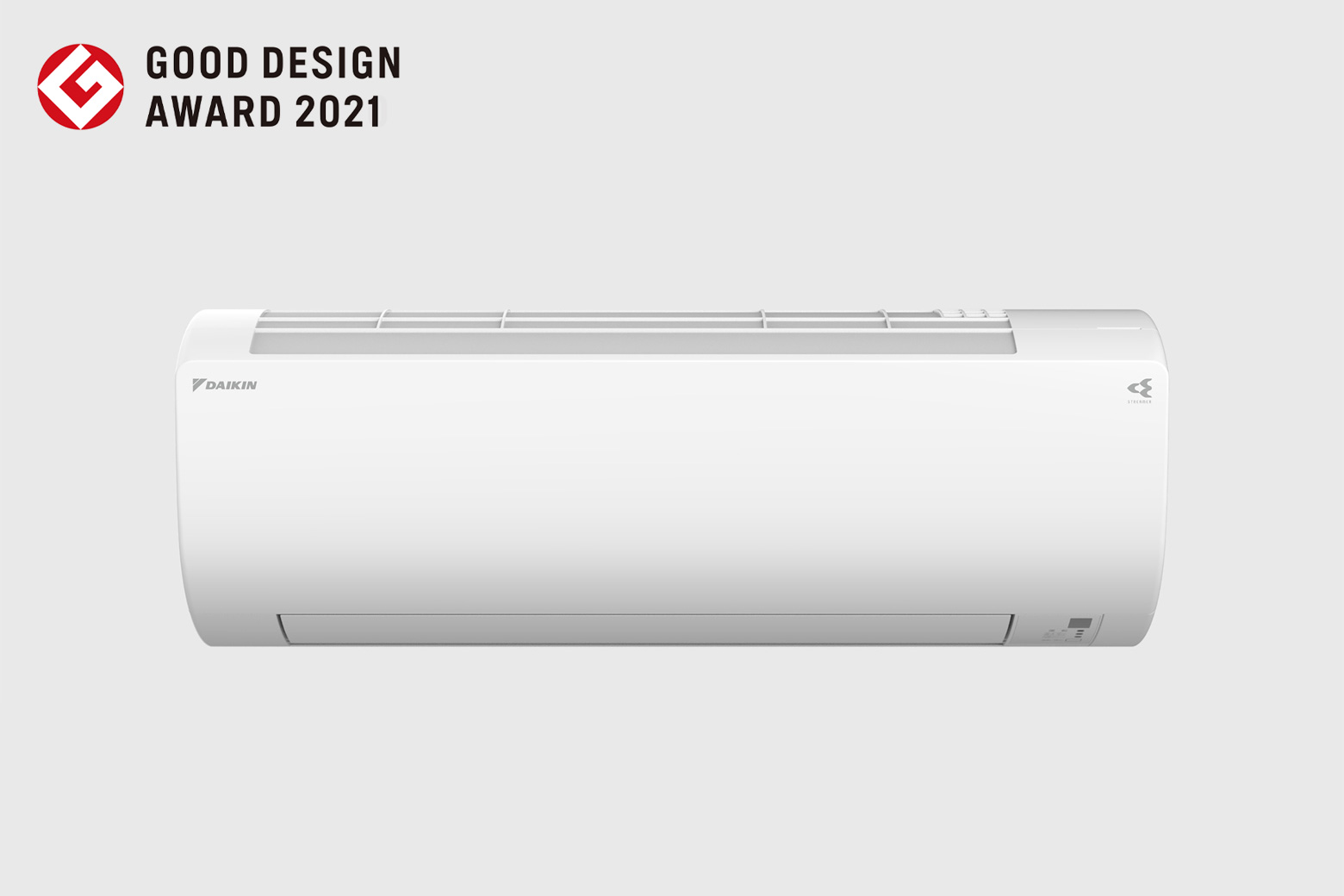 ■Jury Conclusions
For the growing need for ventilation because of the COVID-19 pandemic, the company reviewed the necessary functions for ventilation and quickly responded by combining its existing in-house technology in a design that also achieved a low price and compactness. Even on-site installation has been simplified with such considerations as keeping the conventional sizes for refrigerant piping and air intake pipe, which eliminates any need for additional construction work. In this way, the product corresponds to the situation in the home remodeling market.
■Thoughts from the Designer
An image firmly in my mind during development was seeing the back of a hair stylist friend who worked in the winter with all the windows and doors open due to COVID in temperatures where the maximum high was below 10 degrees. Now with the greater interest in ventilation, we endeavored in development to deliver ventilation without discomfort to as many people as possible. It came down to us developing an advanced mechanism to enable ventilation as a standard air conditioner while pursuing universality that blends into daily life.
Designer: Takaaki Sanagi
Air Conditioner (Ceiling-suspended cassette air conditioners for India)
■Outline
Ceiling cassette type air conditioner that provides "new air conditioner options" in India, where wall-mounted air conditioners are mainstream, and incorporates main body dimensions from a housing survey in India to deliver a flexible installation method that can be adapted to the site even for worst-case scenarios.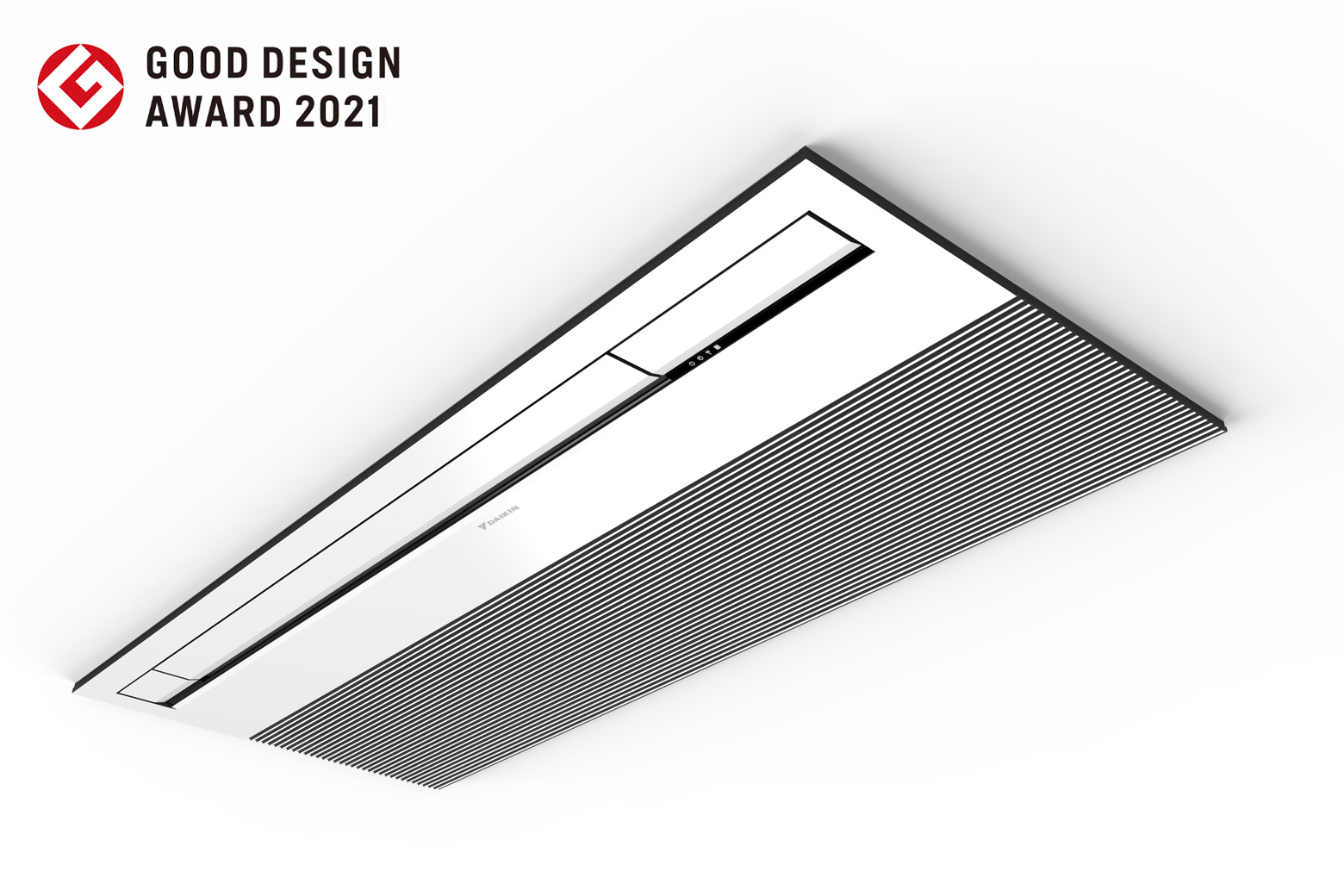 ■Jury Conclusions
Rather than simply changing the shape and improving functions of conventional products, a ceiling cassette type air conditioner was proposed by reconsidering the optimum structure for residential air conditioners to solve installation issues in India. Concerning the external appearance, attention focused on what was needed as equipment for India in living spaces that originated in the British style. It receives high acclaim for molding that is noiseless and harmonizes with building materials while combining with an adjustment system that can handle different ceiling dimensions depending on the site.
■Thoughts from the Designer
With its history and harsh natural environment, a unique and beautiful lifestyle and architectural culture has developed in India. However, in modern urban cities, many modern buildings and residences can be seen that depend on equipment. Within this rapid urban development, problems with differences between building standards and equipment dimensions become apparent at the installation stage. This design beautifully complements a variety of sites and is a new form of air conditioner born of the sunlight in India.
Designer: Takaaki Sanagi
Portable Air Conditioner (Carrime) (Carrime2)
■Outline
Portable air conditioner that brings comfort when spending time in small air environments where it is difficult to install air conditioners such as terraces, kitchens, dens, and skip floors.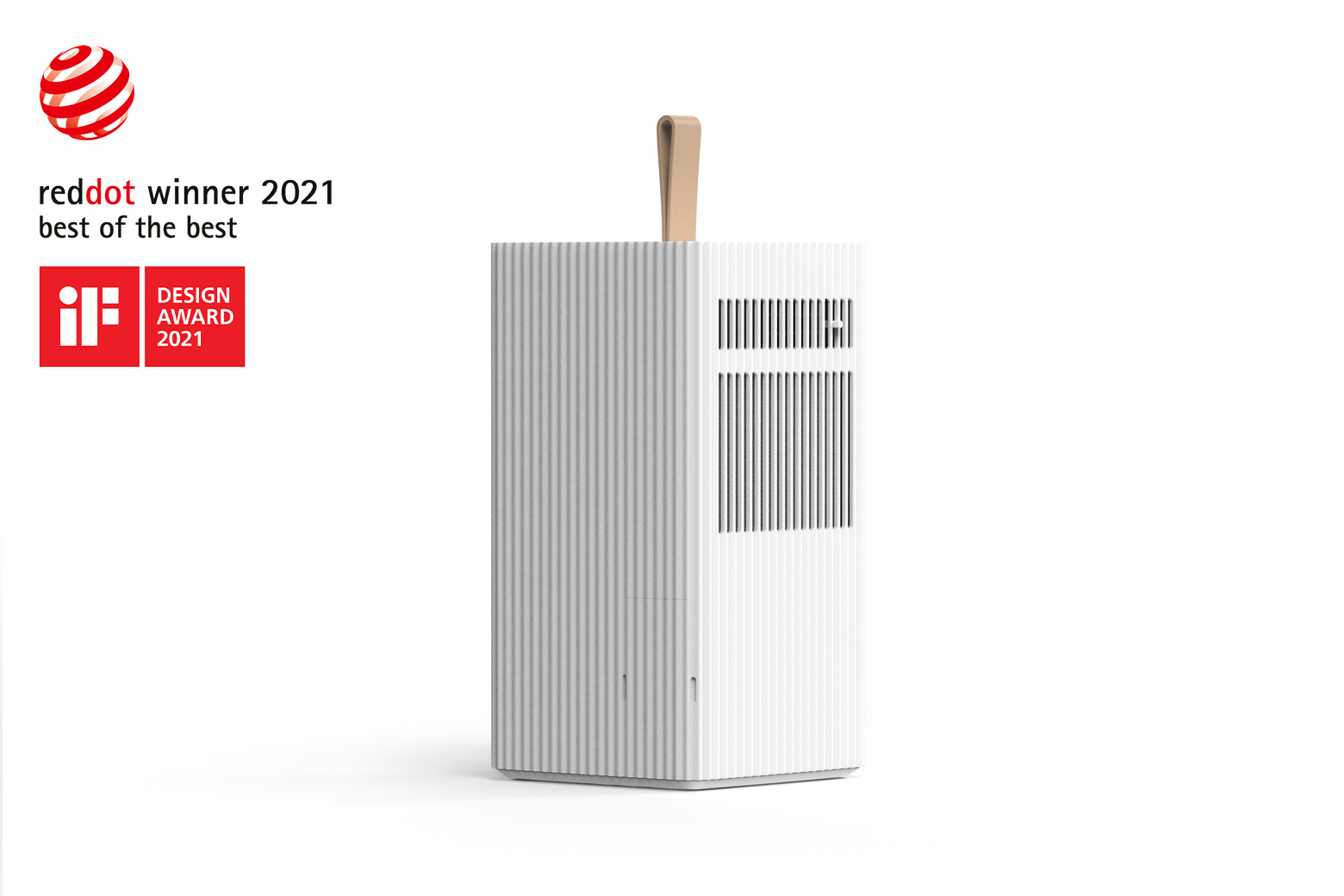 ■Red Dot Jury Conclusions
This highly functional portable air conditioner showcases an impressively minimalist design. It features an iconic language of form that aestheticizes its surroundings. The high-quality leather handle on the top integrates as a visually surprising design element and allows this unit to be easily carried around for placement in any room. High comfort in use is offered by its discreetly integrated and easy-to-operate control elements.
■Thoughts from the Designer
This portable air conditioner is a new product genre that allows a greater range of air conditioning use at home in spaces where air conditioning had not been previously used.
I'm extremely pleased to receive this accolade for design that we created from scratch for an air conditioner that a person can carry around and freely place in the house.
Air Conditioner (C/CX Series)
■Outline
A compact air conditioner that redefines the relationship between the ceiling, walls, and air conditioner through airflow and provides new options to the installation environment.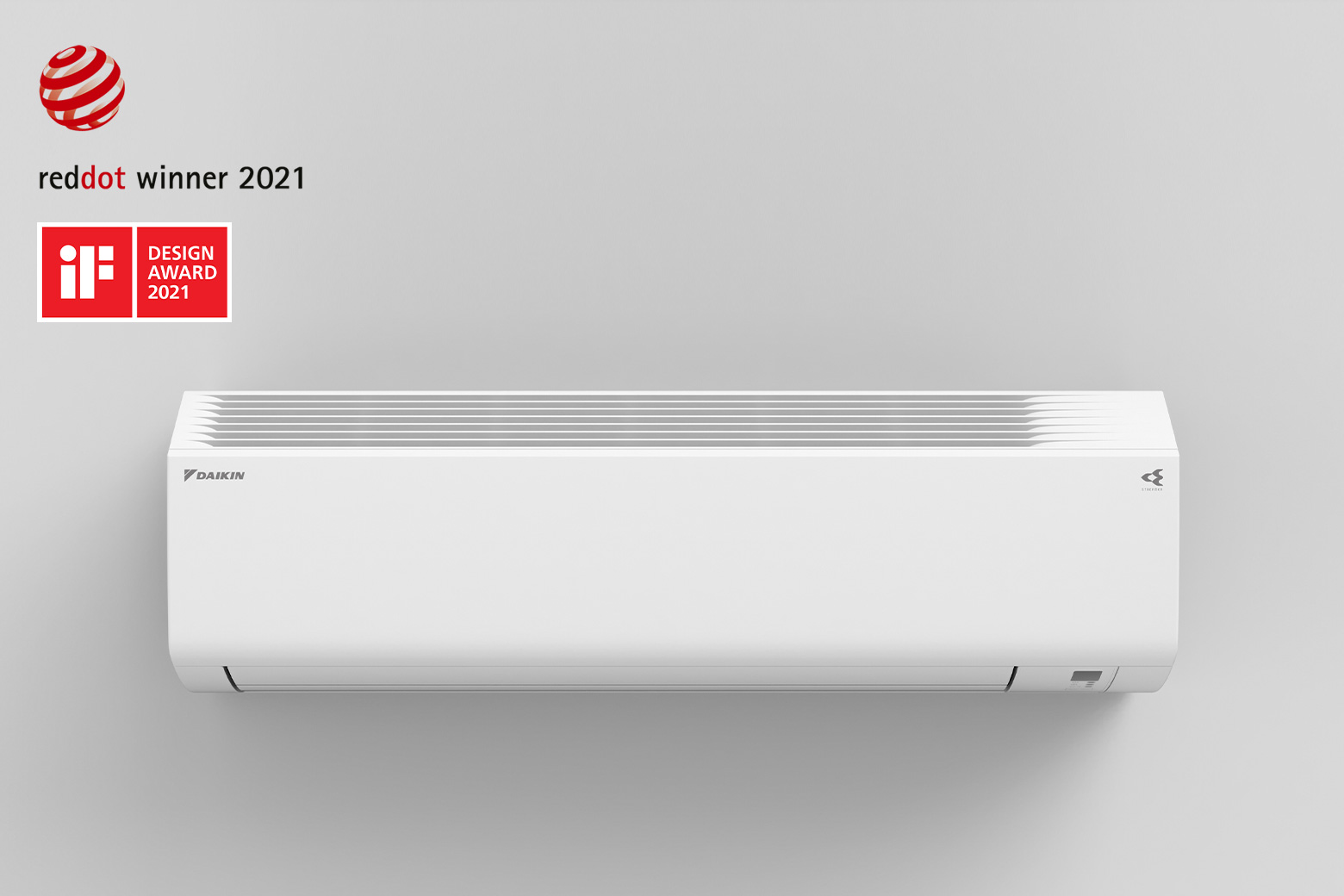 ■Red Dot Jury Conclusions
The beveled top edge is an effective design feature that significantly expands the installation options of the H250.
■Thoughts from the Designer
Locations for installing air conditioners face various restrictions. As the penetration rate for air conditioners increases, so does the number of incongruities that occur between the air conditioner and the on-site installation site. This places a heavy burden not only on users, but also for contractors who visit more than 10 sites a day during peak periods. To confront the installation issues for modern air conditioners, we've increased the degree of flexibility for installation location and created a new shape of air conditioners that harmonizes with the ceiling surface of the room.
Designer: Takaaki Sanagi
Air Window / Ventilation System
■Outline
A concept model integrating windows and ventilation equipment to provide a refreshed air environment even in areas where it is difficult to open windows and ventilate due to the air environment and living place.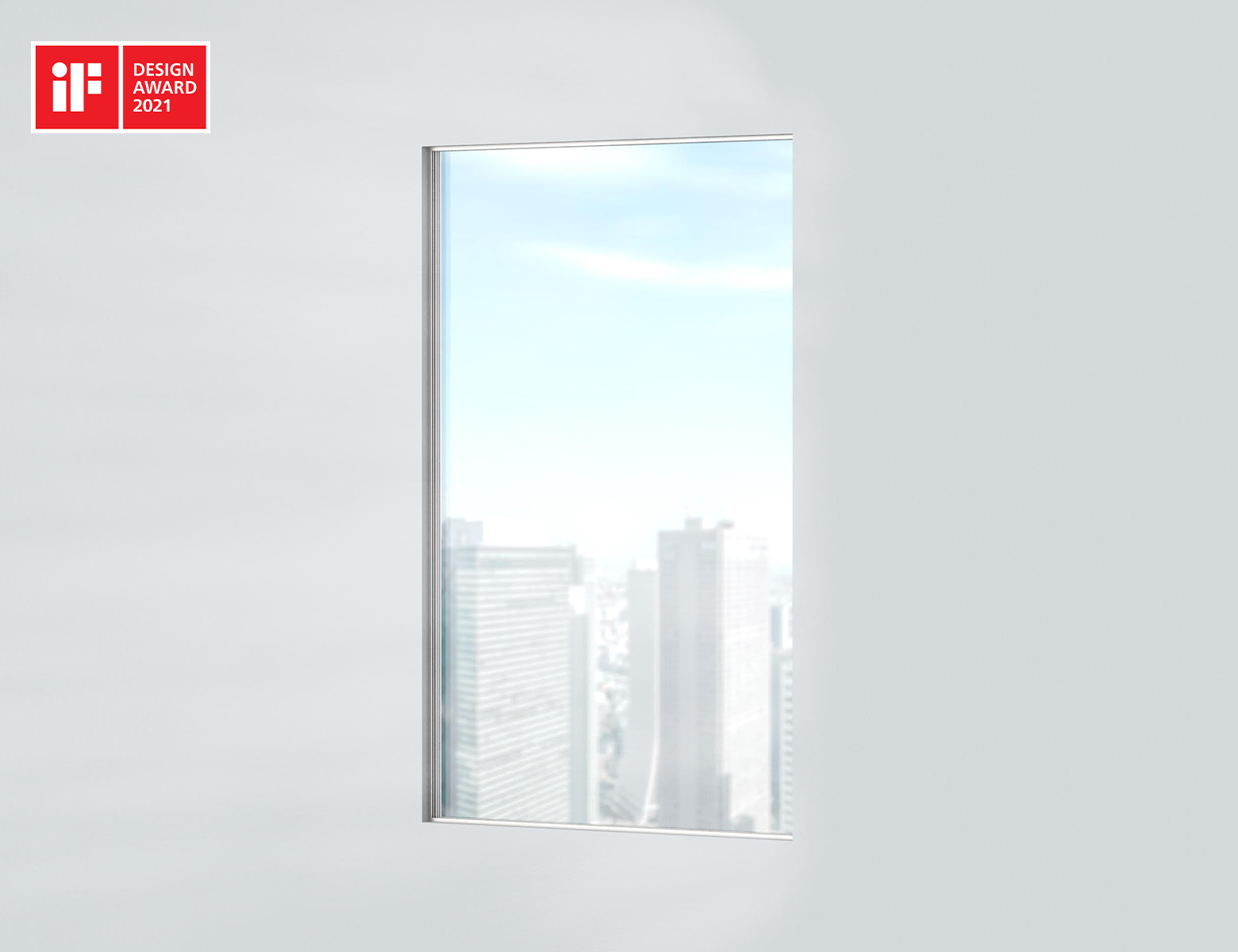 ■Thoughts from the Designer
At Daikin, we not only research existing air conditioners but also perform research on new air conditioning equipment to improve human living environments. This is a concept model integrating windows and ventilation equipment as a new form of ventilation.
I would like to continue exploring ideas that can be updated for air environments.