Air Conditioner (DAIKIN EMURA 3)
■Outline
This residential air conditioner completely redefines what an air conditioner should be by reexamining the remote controller and air conditioner experience from the customer perspective. In adopting the refrigerant R32, which lessens environmental impact, it earned a class A+++ rating in energy efficiency in the European market where environmental initiatives continue to advance.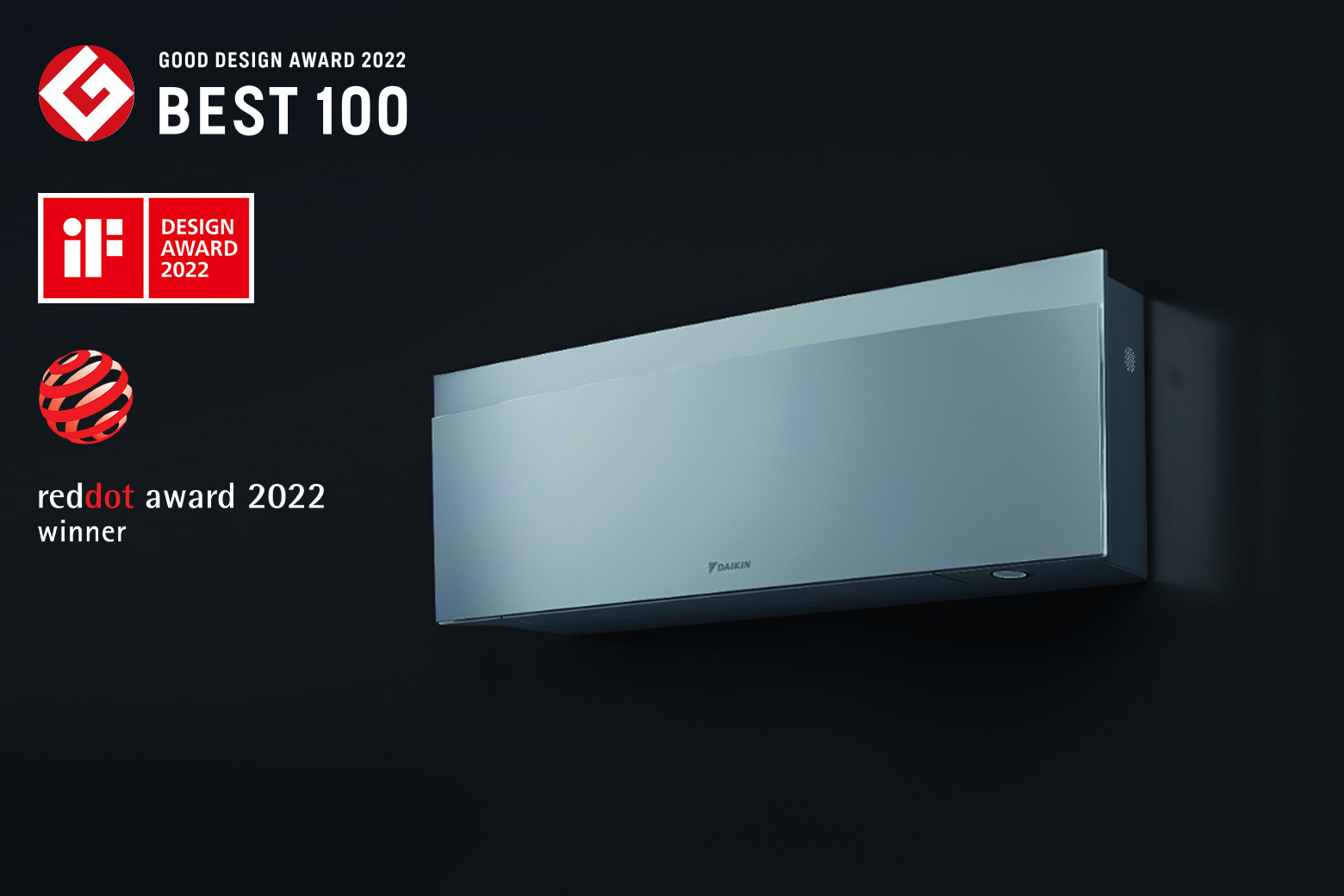 ■Red dot Jury Conclusions
With its soft lines, the highly functional Daikin Emura III air conditioner is a visual highlight and appears less like a technical device. The functionally designed outdoor unit is also well suited to its purpose.
■Thoughts from the Designer
The high acclaim that this product design for Europe has received, even in Japan, is extremely meaningful and a great honor. Realization of this product represents not only our design efforts but also the challenges we were able to undertake from frequent discussions with our colleagues in Europe. This recognition will undoubtedly serve as a source of inspiration for us to further challenge the possibilities of design and air.
Designer: Hiroyasu Kosuge
Oxygen Concentrator (Oxygen Concentrato)
■Outline
Demand for oxygen concentrators surged during the COVID-19 pandemic along with the need to lower costs ranging from installation to maintenance services. This oxygen concentrator confronts the issue of greater affordability while reducing lifecycle costs through the development of a lightweight, compact unit that can be installed by a single service provider. From home to hospital use, it provides outstanding utility in a wide range of applications.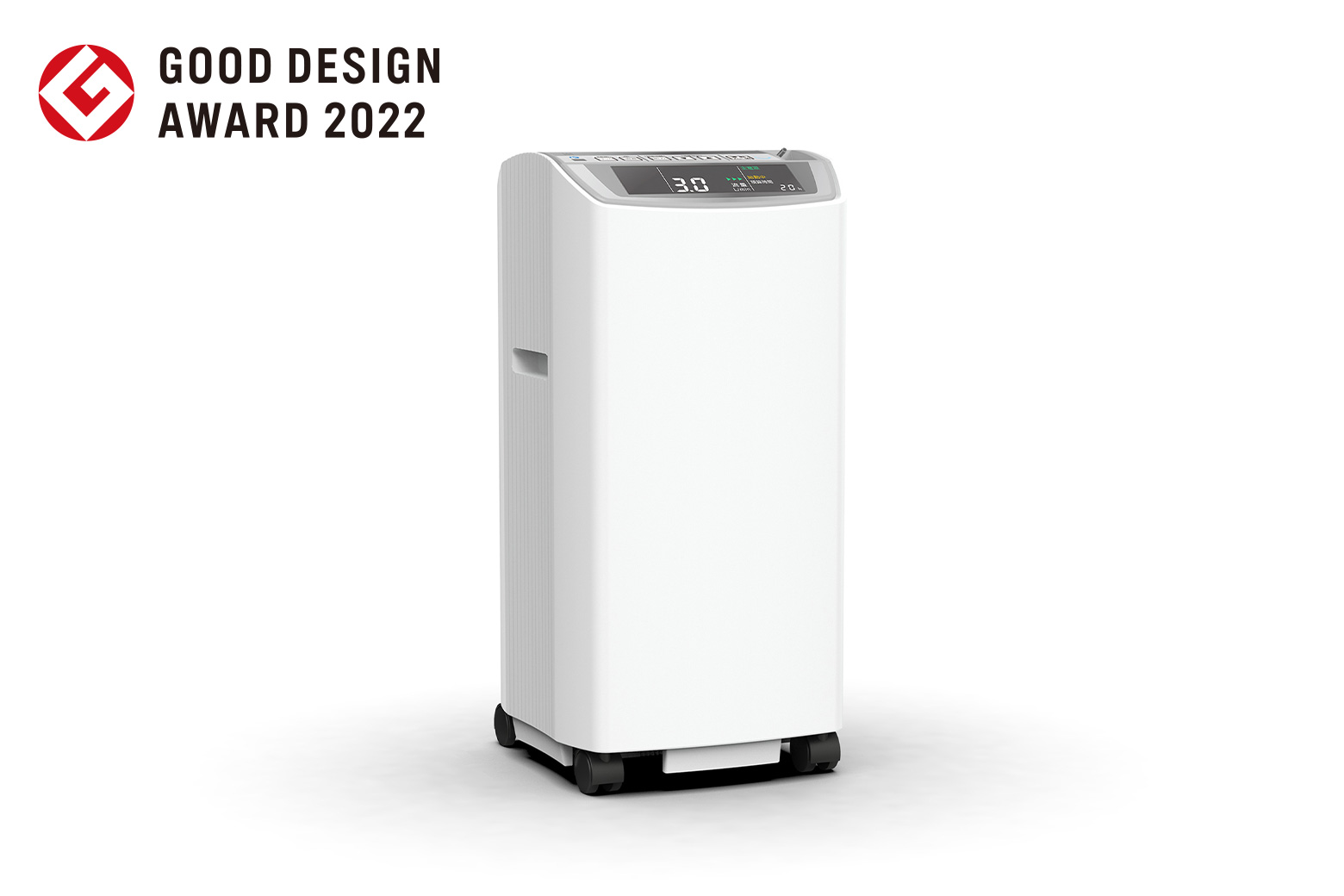 ■Thoughts from the Designer
Oxygen concentrators are not only used in homes, but they are also used at oxygen stations and hospitals. To provide all people with a healthier life in the "With Corona" era, we would like to provide an extraordinary usage experience to not only actual users but also to all those who are involved, including service contractors, while also reducing installation, maintenance, and management costs so that the many people who need oxygen concentrators can easily afford and use them.
Designer: Kentaro Niki
Air Purifier (Commercial Air Purifier)
■Outline
With the spread of COVID-19, measures against infectious diseases are widely demanded by the general public as economic activities become more revitalized. This product provides safe, reliable air environments by powerfully purifying and disinfecting the air. It is the industry first commercial air purifier equipped with deep ultraviolet (UVC) LED technology.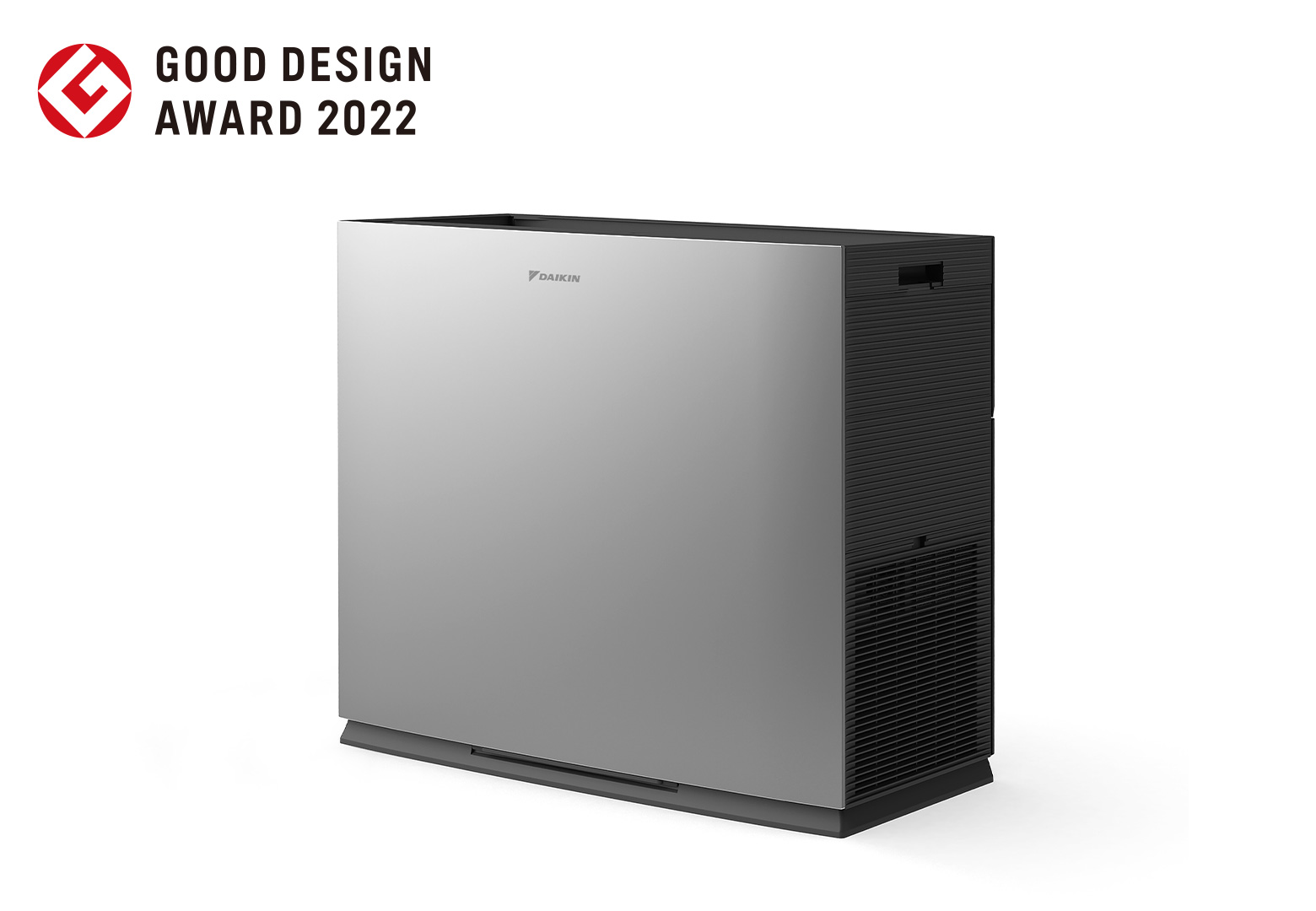 ■Thoughts from the Designer
Social activities are increasingly resuming even as COVID-19 pandemic continues to linger. Working from the idea that the people leading their lives in the "With Corona" era should be able to live their daily lives in good health and safety, I believe it is the role of a company involved with air and its designers to provide security and peace of mind for the indoor air quality and air environments surrounding people in public places. For this reason, I would like to increase the value of the air experienced in the air environments where our products are installed.
Designer: Kentaro Niki
Currently, many people are increasingly taking interest in the air quality of not only their homes, but also of the restaurants, bars, and public places where many people come and go. We believe that people can spend a more enjoyable time when comfortable air is maintained. I hope that this product will help people have a good time in restaurants and public places. Our aim is to create environments where you can have a good time, and I would like to continue to produce such products in the future.
Designer: Aoi Saito
Air Purifier (Ceiling Mounted Cassette Type UV Streamer Air Purifier)
■Outline
With the growing interest in air quality, we are seeing more and more air purifiers in offices and stores. However, there are spaces where floor installation is difficult. These include educational institutions that are delaying introduction of floor-standing air purifiers due to safety concerns, such as tipping over, and small stores that must avoid overcrowding. This air purifier can be installed on the ceiling and captures rising droplets to purify spaces without occupying excessive space.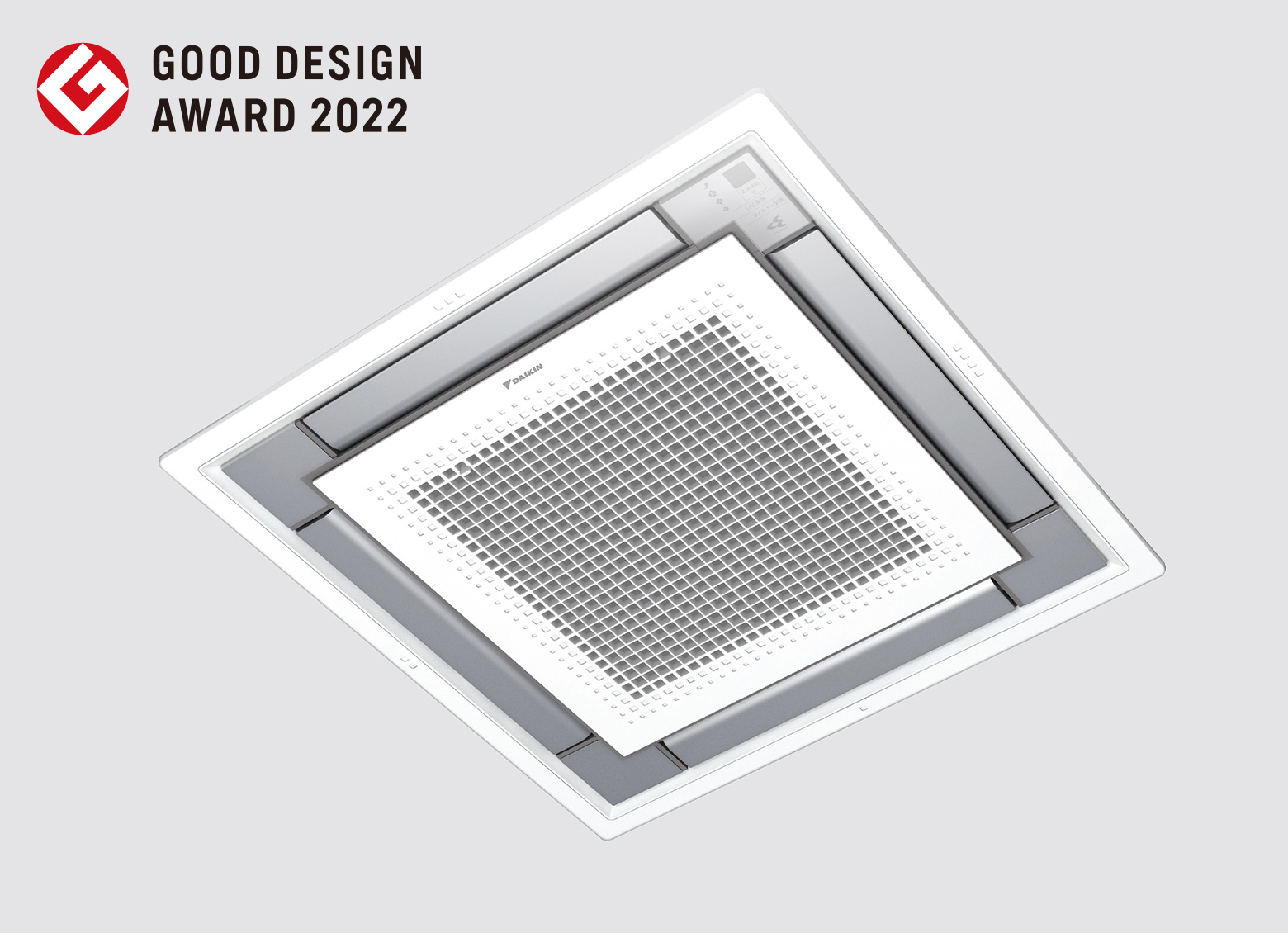 ■Thoughts from the Designer
As the number of air spaces needing air purifying increase, I hope that we will be able to provide a safe and comfortable air environment to more spaces by preparing products that precisely meet needs.
Designer: Mana Yamashita
Air Purifier Purchasing Service (Custom Style)
■Outline
A modular design of an air purifier enables it to be reconfigured for customized orders of functions and colors, and the availability of various function combinations allow it to precisely meet diversifying needs for air quality. This purchasing service facilitates these customized orders to build new relationships with customers while reducing CO2 emissions from overproduction and transportation through customized orders that permit only the necessary number of products to be manufactured.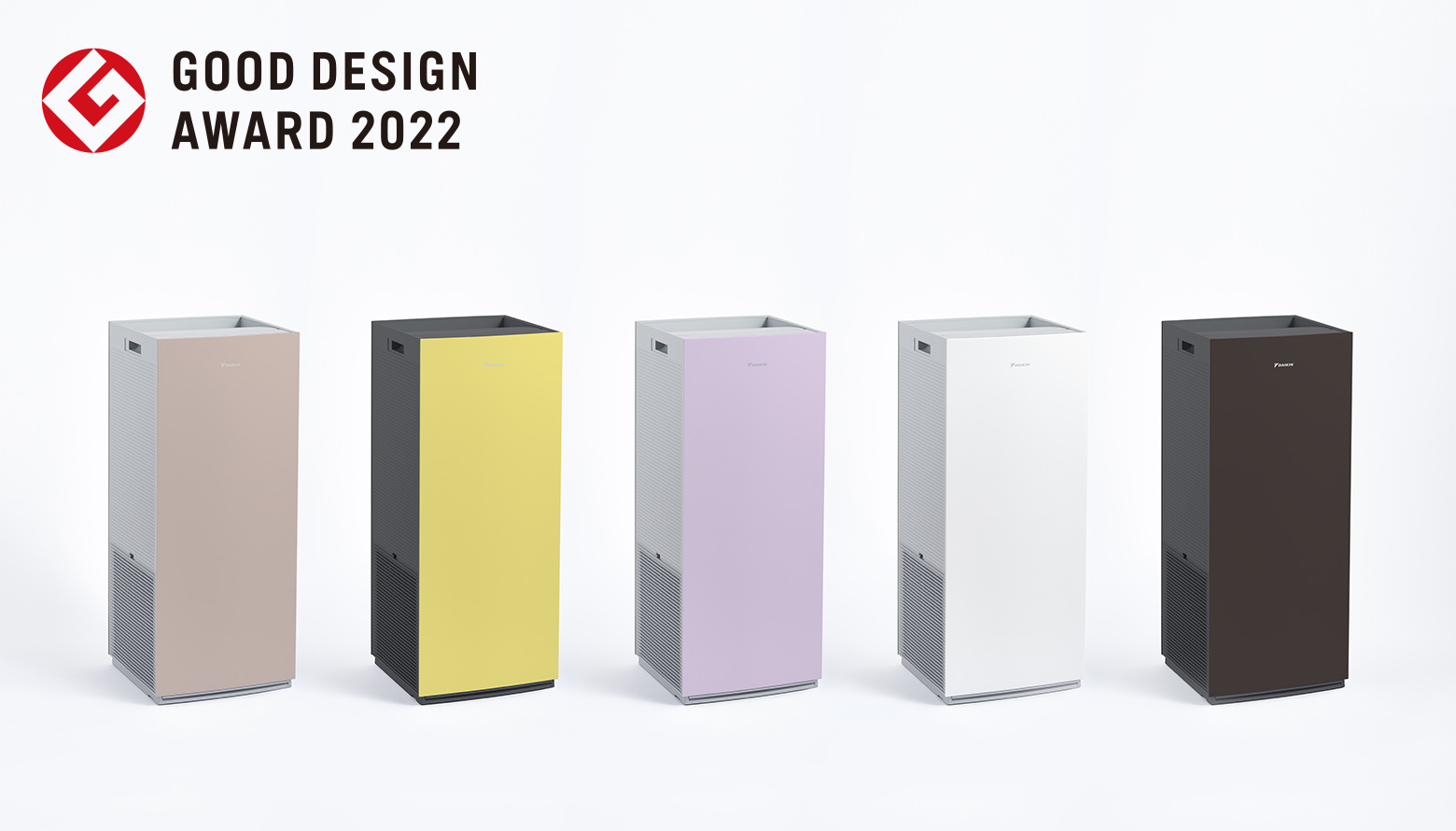 ■Thoughts from the Designer
An order service that enables customization for desired functions and color at the time of purchase became the new initiative. We thought that it was necessary to adapt products to each person rather than having each person adapt to the functions of the product. Taking advantage of this service as an opportunity, we would like to deliver products that are based on the desires of each individual person.
Designer: Kiriko Higashiyama, Chihiro Yoshikawa, Mana Yamashita, and Junichi Ikeda
Humidifying Type Streamer Air Purifier (MCK70Y)
■Outline
MCK70Y is an air purifier with a humidifying function that creates a healthier, more comfortable indoor environment. Its tower design employs air ducts that excel in quiet operation and makes it possible to rapidly clean air over a wide area. Not only does it complement any interior, but its useful features, such as easy-to-replenish water humification tank, helps realize seamless operation and comfort. Moreover, a modular construction in which blocks are stacked for each function simplifies future model changes.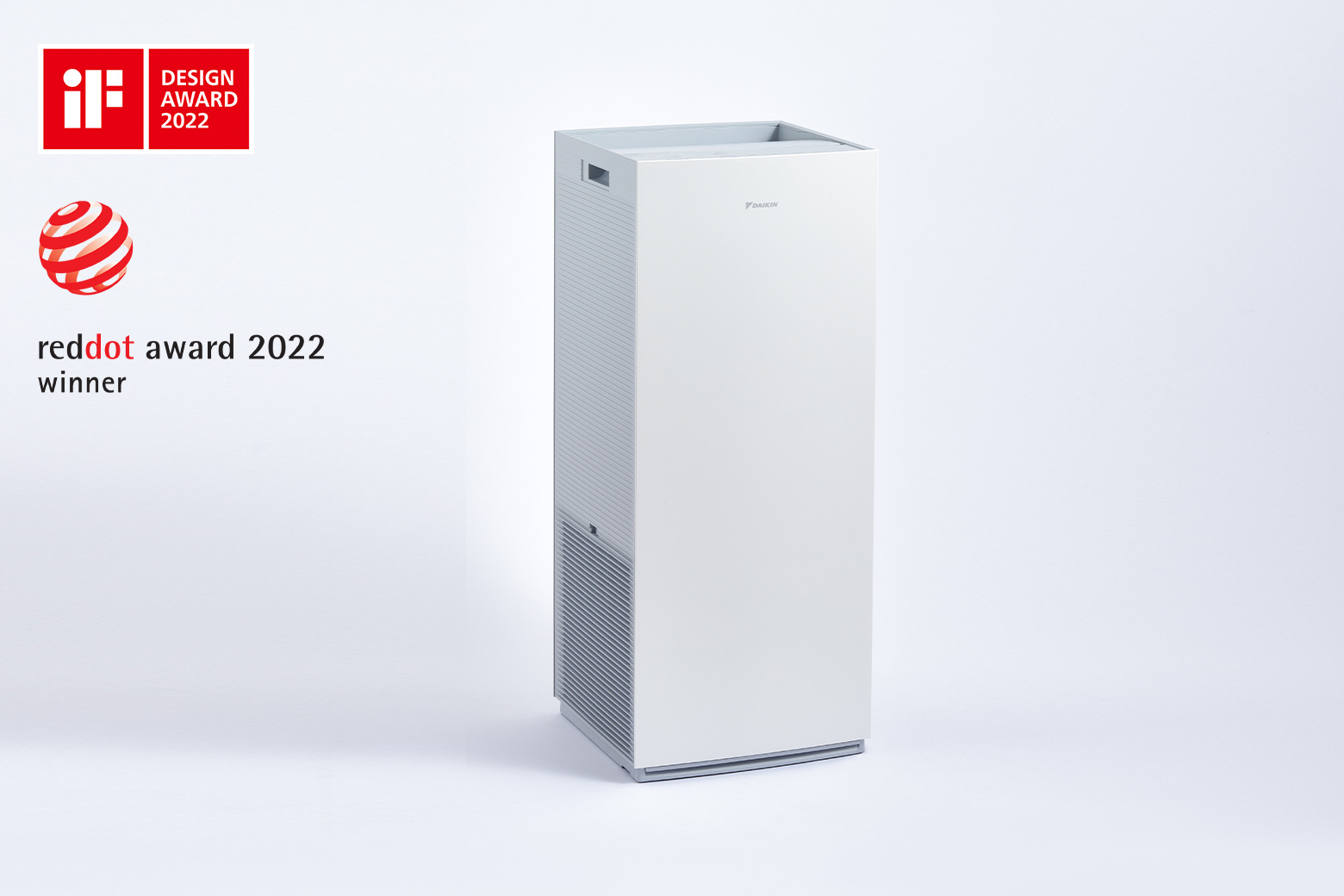 ■Red dot Jury Conclusions
With their exceptionally purist design, the air purifiers can be integrated into any interior. In addition, they convince with the clever dual water supply.
■Thoughts from the Designer
The value for which air is perceived has greatly changed due to changes brought about by COVID-19, and air purifiers are now being sought from around the world. The MCK70Y humidifying air purifier was reimagined for use in space in terms of appearance, construction, CMF, and operability. I am honored that its harmony with indoor interiors and usability of water supply have received high acclaim, even from overseas.
Designer: Mana Yamashita, Kiriko Higashiyama
Residential Multi-split System Air Conditioner for the Chinese Market DAIKIN Air Mirror Flagship Series
■Outline
This multi-split system air conditioner is for high-end residences in China. It offers comfortable air environments through a balance of temperature, humidity, and airflow for all indoor spaces including living rooms, bedrooms, bathrooms, kitchens, and walk-in closets. With a lineup for a wide range of needs, the air conditioner features a slim, interior panel for downward airflow to accommodate the increase in installations of indirect lighting to living room ceilings in China.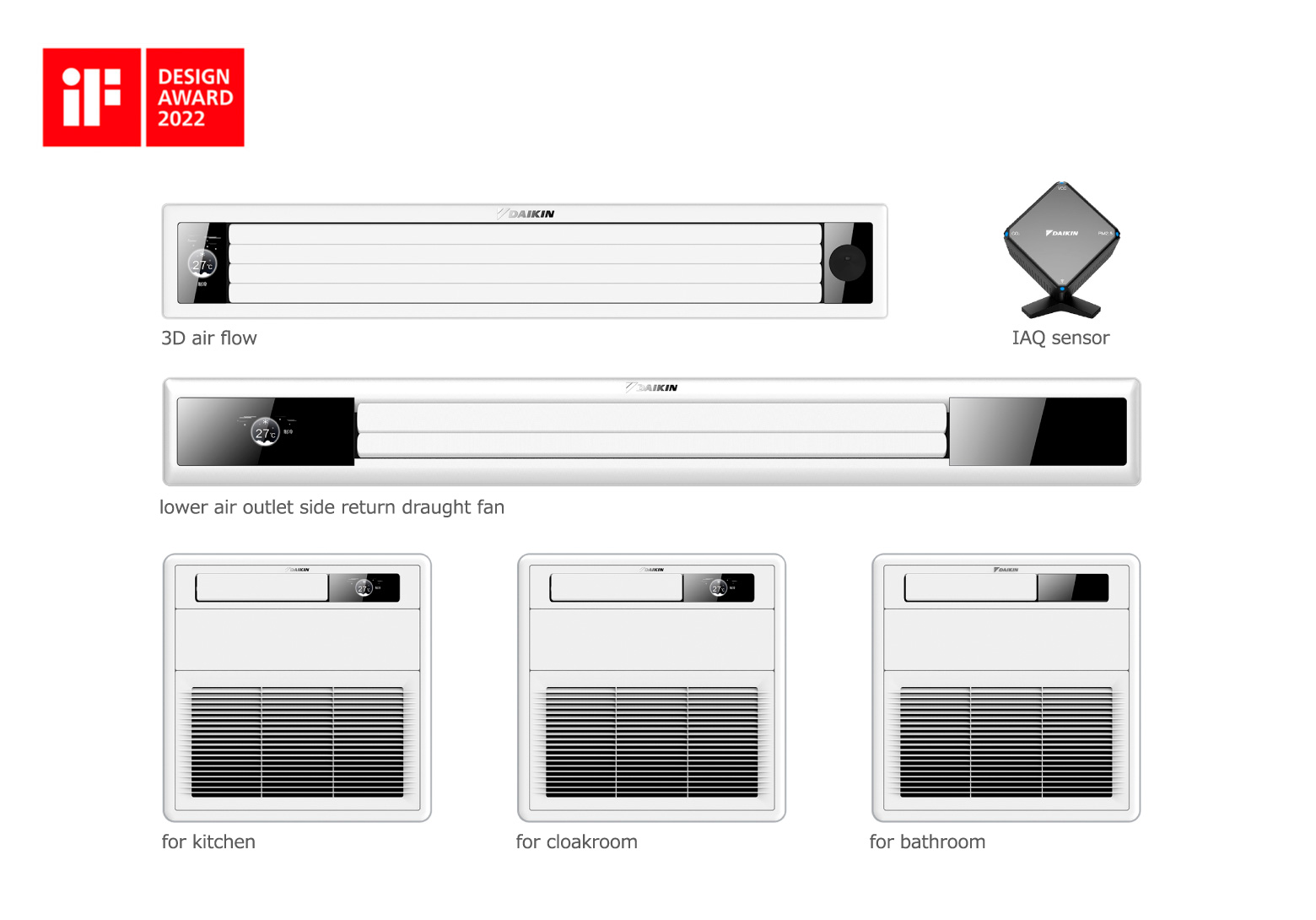 ■Thoughts from the Designer
Emphasis was placed on providing a high-quality finish with a simple design that incorporates optimum size and linear design for each space. In response to the heightened interest for air quality from the COVID-19 pandemic, the indoor unit of the air conditioner shows information in real-time for the Daikin Air Quality Sensor, which detects such qualities as CO2 concentrations and PM2.5, to provide customers with a feeling of security and confidence.
Designer: Wang Zheyuan, Zhao Shuangshuang , Xie Nini