Where is the Project Site?
In the far reaches of southwest China are numerous mountain ranges and gorges that constitute the headwaters of a river system spreading throughout Asia and providing a vital source of water. Diverse and rich ecosystems have nurtured many unique species of wildlife including the giant panda. However, the forests are rapidly receding due to human development. Despite reforestation efforts, problems like livestock grazing and the cutting of trees for firewood are putting forests in a critical situation. Other problems include farming, which places a huge burden on the region's soil, and wildlife poaching. The project covers the village of Ganpu in Aba Prefecture, Sichuan Province, China. About 1,000 ethnic Tibetans live in this village.
What's the Project About?
The project will promote agroforestry, under which mutually beneficial development of forestry, agriculture, and livestock raising will create more productive use of the land and more diverse livelihoods for people. The aim of the project is to improve the livelihood of locals while achieving sustainable use of the land. Surveys are also being conducted on changes in the productivity of the land in order to gauge the effectiveness of the project, and a PR campaign is educating the public on matters such as climate change and farming methods with minimal environmental impact.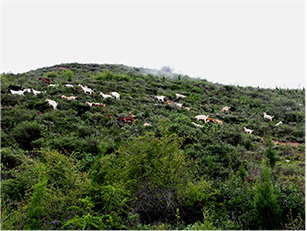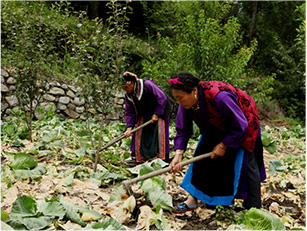 © Conservation International/photo by Biao Yang