Where is the Project Site?
The Shiretoko Peninsula is located on the northeastern edge of the Japanese archipelago. From the mountain range that runs along the center of the peninsula, to the shores where ice flows reach, Shiretoko has a diversity of nature and wildlife. For the life forms of Shiretoko's land and sea that constitute a rich ecosystem, and for a natural environment that fosters rare plant and animal life, the area was registered as a UNESCO World Heritage Site in 2005. Forests were lost on a part of the Shiretoko Peninsula long ago due to factors including the clearing of land for farming, and to regenerate these forests, efforts were made to foster saplings and plant trees. Unfortunately, tree growth proved difficult as Sika deer ate many of the saplings. Another problem was the close proximity between human inhabitants and brown bears, an animal at the top of the food chain and a crucial link in forest growth.
If you'd like to learn more about Shiretoko, please see the pages below.
What's the Project About?
To protect the natural environment of Shiretoko, Daikin Industries Ltd., the Shiretoko Nature Foundation, and the towns of Shari and Rausu signed an agreement to work together on two initiatives. Under the Project to Restore the Rich Diversity of Shiretoko's Forests, the parties are erecting deer fences and putting tree-bark protective nets on trees to prevent the Sika deer from eating the saplings, and planting Japanese Judas trees and other deciduous trees in order to bring back the forest to its original state and restore its biodiversity. Under the Project to Protect and Pass on Shiretoko's Value as a World Heritage Site, the parties are teaching those who will carry on the work of caring for the forests — children and all people who visit Shiretoko — about the important role that forests play and about what is being done to protect them. This project is also aimed at fostering coexistence between humans and brown bears.
If you'd like to learn more about these projects, please see the pages below.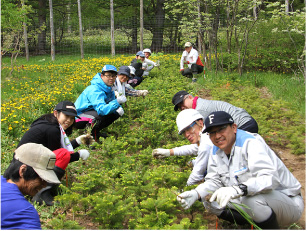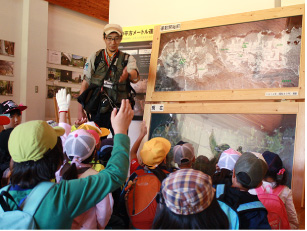 ©Shiretoko Nature Foundation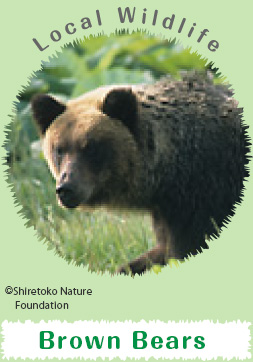 Brown bears play a crucial role in forest growth. Through their feces, they transport the plants and seeds that eventually grown into new vegetation, and they nourish the soil. However, they also impact fishing and farming activities when they enter human habitats, making it necessary to implement strategies for preventing incidents between humans and bears and avoiding the resulting damage.