Where is the Project Site?
The island of Java in Indonesia is one of the most densely populated tropical islands in the world. Over the past few decades, agriculture and other human activities have resulted in the disappearance of most of the forests that once covered this island. The last remaining forest area, on the west of Java, has been preserved as the Gunung Gede Pangrango National Park, and it is home to many endangered wild animals. This forest performs the vital function of providing water to surrounding villages and five municipalities including Jakarta. But there still continues to be illegal entry and occupation of the Park, as well as illegal logging, all of which place countless burdens on the wildlife living here.
What's the Project About?
Many of the farmers living around Gunung Gede Pangrango National Park are poor. Daikin began activities here in 2008, not only planting trees in degraded land, but also trying to provide locals with alternative forms of income such as agroforestry and ecotourism. The aim is to ensure long-term protection of the forest and a stable economy for locals without having to depend on cutting down trees. The project also aims to use the water and electricity provided by the forest to improve the living environment of communities. This project has garnered a reputation for promoting understanding of the importance of nature, and for allowing locals themselves to protect and rejuvenate forests on an ongoing basis.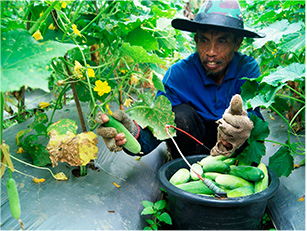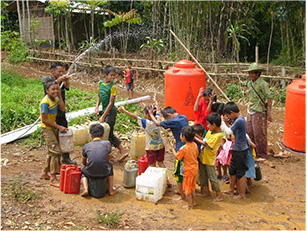 © Conservation International/photo by Anton Ario